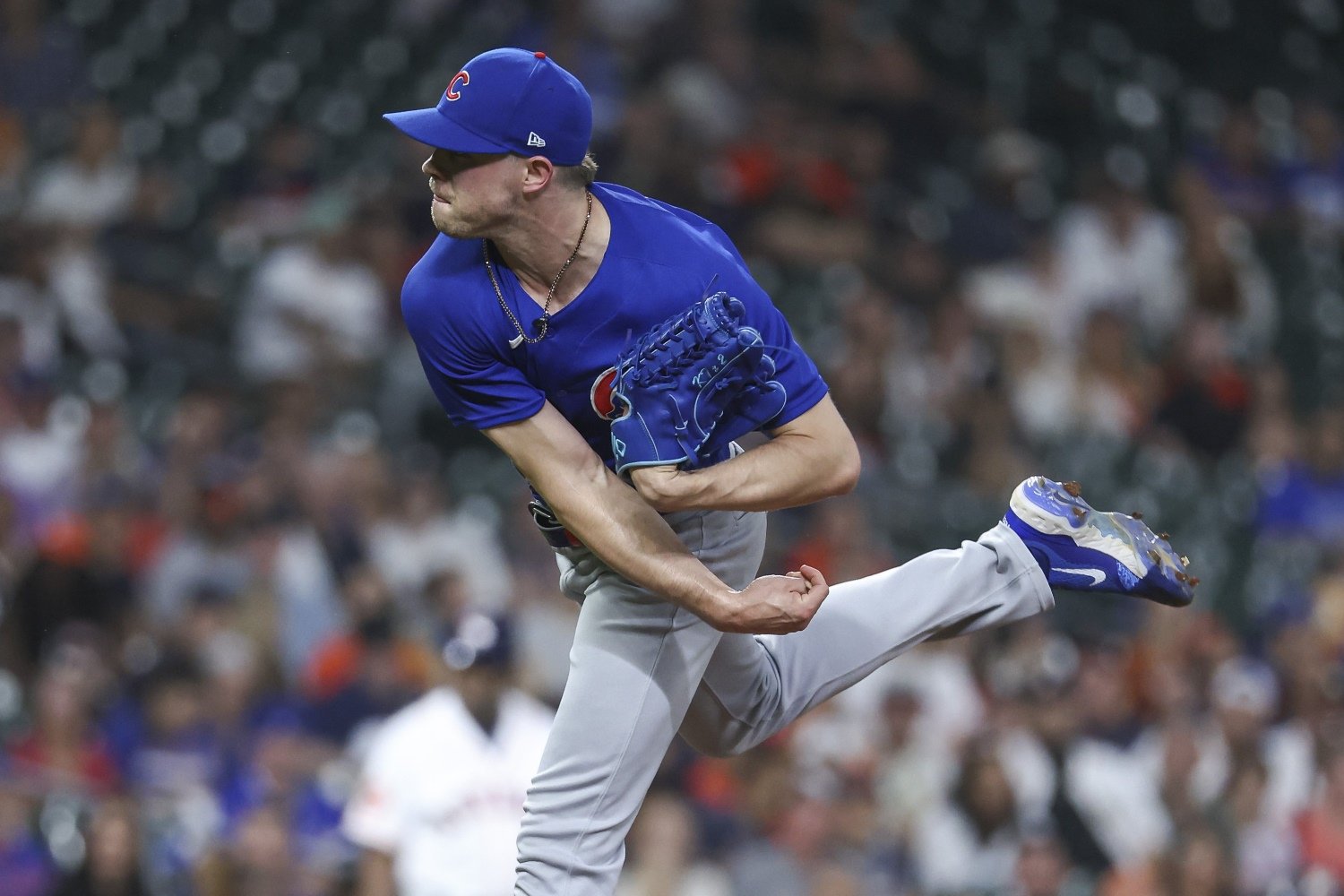 Image courtesy of © Troy Taormina-USA TODAY Sports
It's almost unfair to start an article by confronting Keegan Thompson so directly. After all, until his lousy outing Wednesday night (three batters faced, two well-struck hits including a two-run homer, a walk, three earned runs), his ERA was 2.95, and his Win Probability Added (the best single statistic to measure the value provided by a reliever, though not to predict his future utility) was a solid 0.5. Yet, it seems pertinent, and because of one of the factors in his struggles, it also seems fitting.
Thompson's surface-level numbers looked fine, before Wednesday, and his most granular numbers did, too. He left the concerningly low velocity from spring training behind. He has good movement and spin on his key offerings. He's generating roughly average swing rates and whiff rates. 
In between the bird's-eye view and the microscopic one, though, is an important middle ground, and it's there where red flags have been up all year for Thompson. Even before Wednesday, he was getting too few strikeouts for a high-leverage reliever; issuing too many walks for a high-leverage reliever; and failing even to manage contact as well as he did in the past. That suggests that there are some failures of sequencing and situational awareness at work.
Here's one such issue: Thompson is attacking the strike zone too often with his hard stuff on the first pitch of plate appearances. Of the 91 batters he's faced this year, he's started 46 with either a four-seamer or a cutter in the strike zone. That rate, just over 50 percent, is the 20th-highest out of more than 200 pitchers who have faced at least 50 batters this year. In other words, Thompson is coming right after guys, but at times, it's a bit too direct an approach. Yainer Diaz led off the bottom of the ninth with a single Wednesday night. Prior to that, hitters had only been 2-for-11 when putting the first pitch in play against him, but there again, some luck and the small sample involved are obscuring the reality. When Jake Meyers hit a 1-0 cutter out of the park, that Diaz single became a big deal in a hurry.
This isn't something unique to Thompson. Entering Wednesday, the Cubs had thrown some version of a fastball somewhere in the zone to start 38.9 percent of all plate appearances this year. That was the highest rate in baseball. Throwing strikes to begin an at-bat isn't a bad idea. Hitters tend to be more patient on that pitch than they are as the count progresses, and it's better to be ahead than behind. Still, throwing a fastball (or fastball-like pitch, be it a four-seamer, a sinker or a cutter) in the zone in a count in which the batter might be hunting such a pitch is risky. No team in baseball has allowed as many first-pitch hits as the Cubs.
Thompson's issues run deeper. One thing we might be learning right now is that he's better-suited to true long relief, where the margin for error is a bit wider and the need to miss bats with intense stuff and lots of whiffs is a bit less acute. His command of the cutter is also lousy right now, and he needs that pitch in order to be at his best, against both righties and lefties. Still, one thing he and the team can do a bit more thoughtfully going forward is to begin each matchup with the mentality of already being fully engaged in battle with the hitter. They need to try to induce a few more chases with breaking stuff out of the zone, or steal a few more called strikes with offerings that mess with the opponent's timing.
There's one more thing that might be in play here. Thompson is a bit less mechanically efficient and a bit differently aligned this year, and it could be contributing to his problems. Here's a clip of Thompson last summer, during one of his stints as a starter.
 And here he is this year, also with the bases empty, but now in his full-fledged reliever mode.
 In the name of whatever tweaks he's made to his stuff, he's setting up all the way at the extreme first-base edge of the rubber this year. He's not using the drop step miniature windup he used last season, which is giving his delivery a slower start, and he's never quite getting up to the level of extension he had last season. He's releasing the ball a bit less far down the mound, and before he does, his head is carrying him a bit farther off his driveline.
All of these are small changes. Some of them even make some sense, if you think about the different ways Thompson probably intended to attack hitters this spring in his newly bullpen-exclusive role. They add up to some meaningful differences, though, and so far, those differences aren't for the better. Thompson needs to clean up his mechanics a bit, and he also needs to rethink his approach within at-bats. Not unlike the Cubs as a whole, he still has a chance to have a great 2023, but as is true of the team, the need for some major adjustments has grown urgent and daunting.