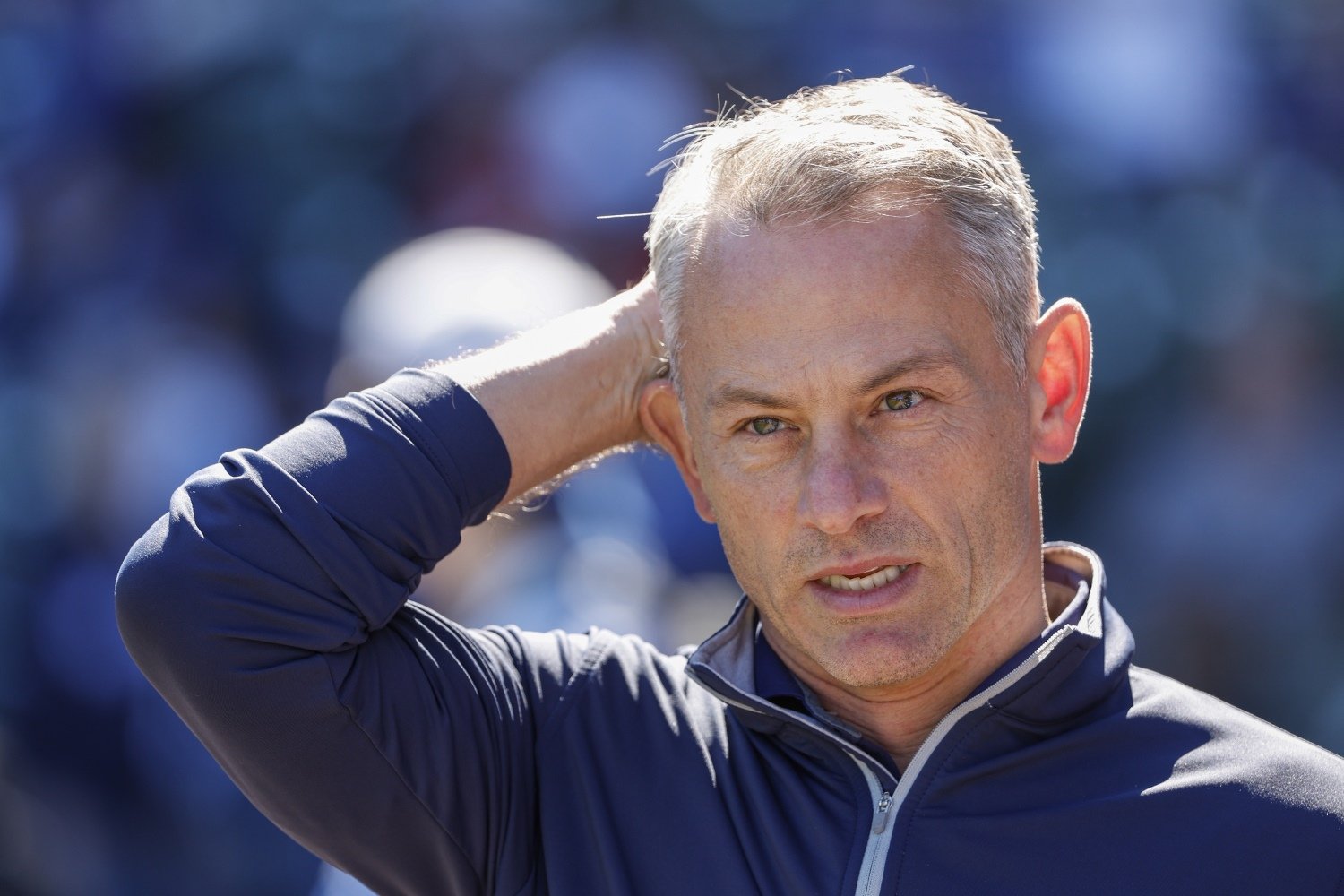 Image courtesy of © Kamil Krzaczynski-USA TODAY Sports
The MLB trade deadline is almost never dull. We're always in for at least some action in the moments leading up to it. The overall ambiguity surrounding buyers and sellers in 2023 has also led to what seems like one of the more unpredictable trade deadlines in recent memory. A number of the surefire names that were available for those on the buying side have already been moved, many of them a full 24 hours or more before the deadline itself.
It's left a thin market even thinner, with just a very small handful of names remaining out on the market. Surprises could occur, of course, but from the perspective of the Chicago Cubs, the obscurity of the timeline necessitated moves prior to deadline day. In moving swiftly, the team was able to secure two important pieces of their roster for the stretch run: Washington Nationals corner infielder Jeimer Candelario and Kansas City Royals reliever José Cuas. 
Candelario essentially fortifies the positional group. We'll see what the configuration itself looks like. He's obviously adept at third base, defensively. But with Nick Madrigal performing at a very high level with the glove and finally starting to come around with the bat, you do wonder–and this is, perhaps, some of my own pro-Madrigal bias–if we could see more of Candelario on the opposite side of the infield. The need for offense is greater there, after all. Of course, his bat is objectively better than Madrigal et al., so it stands to reason he'll grab the bulk of the starts. If he's plugged in at first, you're looking at less Mike Tauchman time, as Cody Bellinger mans the infield with less regularity. So the group itself is set, but we aren't super sure how it'll look regularly quite yet. 
The larger questions in the wake of the Cubs' dual Monday transactions is how the pitching staff could continue to take shape in the hours leading up until the deadline. Cuas is a decent addition, coming from a brutal Kansas City squad. He'll generate some whiffs, and the Cubs' enhanced pitching infrastructure could do him some good in the late going here. But while strikeouts and whiffs are part of his game, he also has a propensity for hard contact. He's surrendering Barrels at a 13.0-percent rate, and his HardHit%, at 44.6, sits just 16th percentile. 
So ultimately, he doesn't move the needle much for the bullpen. The Cubs lead the bottom half of the league in bullpen ERA (3.99), are middle-of-the-pack in FIP (4.05), and are in the bottom 10 in the league in BB/9 (3.96). Cuas helps them in an area where they're already succeeding with the strikeouts, but doesn't help them to compensate for those shortcomings. 
As such, the expectation–now that the team has solidified itself as buyers–is that at least another arm is on the way. Could they return to Kansas City for someone like Scott Barlow? He has late-game experience and far better peripherals than his former Royals compatriot. He's two years older than someone like David Bednar, with only one year of arbitration left (in comparison with Bednar's three). Thus, the cost within the trade and the payroll implications would be far less impactful, in addition to the fact that Barlow wouldn't come from a team within the Cubs' division.
Across town, Keynan Middleton represents another option in middle relief, having a solid year out of the White Sox bullpen. Aaron Bummer would fit nicely as well, though as the Sox are less inclined to move him. Given his contract (which includes an additional year and two option years), the cost could be greater. Colorado lefties Brent Suter and Brad Hand are additional options that wouldn't come at quite as high a cost. The same goes with righty José Cisnero and southpaw Chasen Shreve, out of Detroit. If the Cubs really wanted to cash in on the reunion-type moves, Alex Lange is another potential arm out of the Motor City.
Should the Cubs look to the starting front, options start to narrow a bit. Jack Flaherty is an impending free agent, but the St. Louis Cardinals may still be reluctant to move him to their archrival. Michael Lorenzen and Eduardo Rodríguez could also cost more than what the Cubs are willing to give up if they're satisfied with their starting staff, while names like Rich Hill, José Quintana, and Carlos Carrasco probably don't offer much more than you could get from someone like Drew Smyly or Hayden Wesneski. 
Regardless, options certainly exist, to say nothing of the myriad talks likely happening that involve less obvious names. It's a matter of for which role the Cubs are seeking relief help, and what they're willing to pay. Luckily, neither deal made on Monday should cause apprehension out of Jed Hoyer's office. While each of DJ Herz, Kevin Made, and Nelson Velazquez present certain levels of upside, it's well-documented that the organization is also heavy with similar profiles for each.
We're likely finished seeing moves on the position player front. It's tough to see an addition to the starting staff, given that the Cubs are at least somewhat set there and considering the dearth of available starting pitching. Any impact addition will likely be to the relief corps. And, again, given that the Cubs are now buyers in this market, it simply must be an impact addition. Cuas makes the bullpen deeper, but not necessarily better. A Barlow or a Bednar or even a Bummer takes it to a much more satisfying level. It's just a matter of what Jed Hoyer and the rest of the brass are willing to shell out in order to bolster the group.