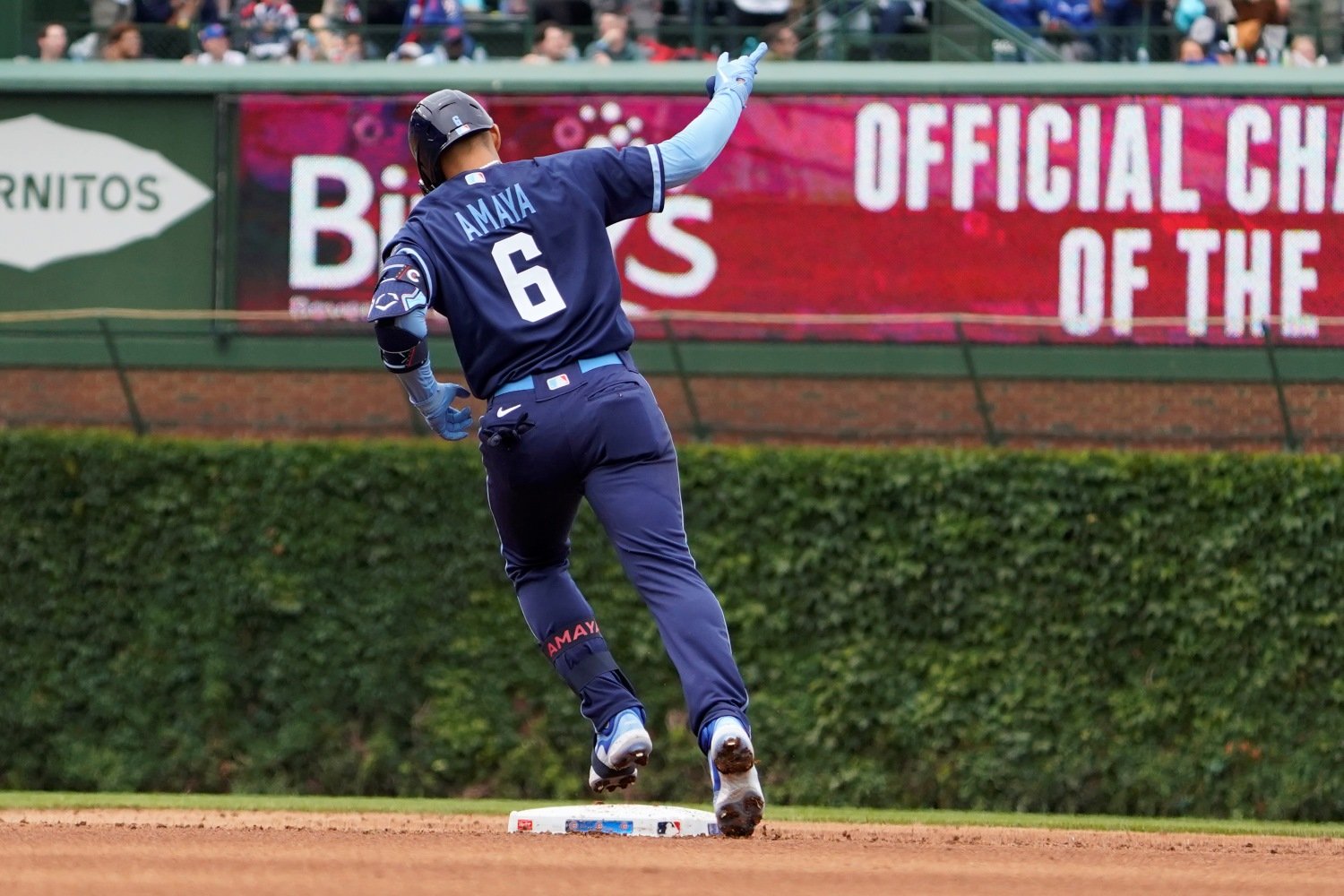 Image courtesy of © David Banks-USA TODAY Sports
A concussion suffered by Yan Gomes forced the Cubs to call up Miguel Amaya from Double-A Tennessee in early May. That stay on the roster only lasted about a week, but Amaya got the bump to Triple-A Iowa thereafter. Three weeks later, he was back with the parent time, this time thanks to his own stellar production and the team's need for a jolt on offense. Alas, either that wasn't really the reason (maybe it was a clerical error, and everyone was too embarrassed to say so!), or no one told David Ross that it was. 
Upon returning to the roster, Amaya started six out of seven games--three each at catcher and designated hitter. Since then, though, he's only been written into five of the 18 starting lineups Ross has constructed. During that time, he's gotten into the game late only twice (and one of those really came right at the end of his streak of playing every day, on June 11). He had only 19 plate appearances over the final 20 days of June, and started July by riding the bench, too. 
This can't be explained by performance. Since June 11, Amaya had batted .313/.421/.625 (before his pinch-hit strikeout Sunday night). Sure, that's in a minuscule sample, but he can't magically succeed in chances not given to him. Over the same span, in twice as many plate appearances, Yan Gomes is hitting .265/.375/.294. He's done well to grind out at-bats and extend innings by getting on base, but his power is on summer sabbatical. Gomes has gotten half the work behind the plate, and Tucker Barnhart is getting an even share of the other half with Amaya. Barnhart has hit .250/.333/.438 in 18 plate appearances, a searing hot streak that has his seasonal OPS almost up to .500, but even during it, he's fanned seven times. 
Obviously, Gomes and Barnhart are trusted, veteran receivers behind the plate. As glowing as everyone's comments about Amaya's defense have been so far, it's not surprising that Ross trusts both of them more than the rookie who's had so little experience even in the upper minors. This team is desperate for offense, though, which should have dictated an extra start or two for the man with some obvious and instant upside at the plate over the last three weeks.
Failing that, Amaya could slot in as the designated hitter. Christopher Morel has gotten seven starts there over the span in question, and Seiya Suzuki and Ian Happ each grabbed a little time there in order to manage their workload during the slog of late June in a long season. Still, that Amaya only fitted in twice in that role during this window is jarring. 
Where is Amaya being squeezed? It begins with third base, really. That's where the return of Nick Madrigal, and the everyday playing time he's gotten, has closed off an avenue to playing time in the field for Morel. Madrigal has been good, but as the Cubs drifted punchlessly through June (a month in which they were 24th in MLB in slugging average), he would have been a candidate to sit out occasionally in favor of someone who could cure that shortcoming. 
Morel finally got penciled in for a start at the hot corner Sunday, but even then, Amaya was benched. Here's where the rubber meets the road with the greatest force. It was Trey Mancini who started at DH instead of Amaya. Mancini, slugging .351 for the season but a positively sizzling .389 during this stretch that has seen Amaya sidelined, has 22 plate appearances since June 11. He's the first right-handed bat off the bench. He's gotten time at first base and at designated hitter. He's been a costly disaster, worth -1.2 Wins Above Replacement according to Baseball Reference and actually hurting the Cubs even more than that, but the skipper can't find the gumption to park him in the doghouse, and the front office can't summon the humility to admit their mistake and cut bait.
Farming out Amaya again shouldn't even be under discussion. He's 24 years old, with good health and developmental momentum on his side for the first time in two years. As one of three catchers on the roster, he doesn't even pose a daunting challenge in the management of the roster. He's far from a guaranteed source of production, but the Cubs need to give him roughly twice as much playing time as he's gotten over the last 25 days. If they fail to do so, they'll shortchange themselves in both the short and the longer term.