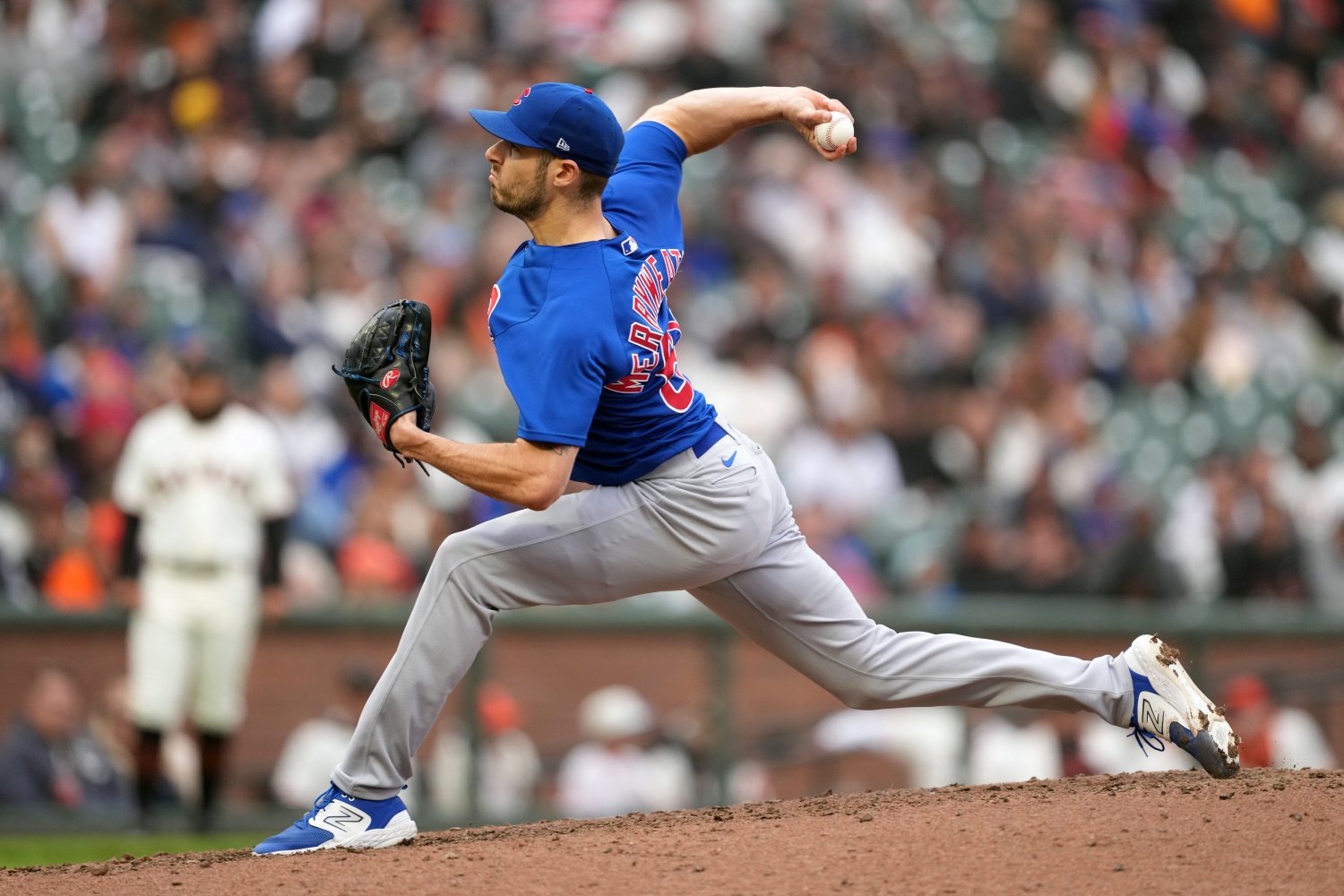 Image courtesy of © Darren Yamashita-USA TODAY Sports
In mid-January, the Cubs claimed Julian Merryweather on waivers. He'd spent the previous four-plus years in the Blue Jays organization, after just about an equal amount of time with Cleveland after they drafted him in 2014. He was intriguing, because he throws hard, but it was easy to view him as the next in a line of reliever dice-rolls who would probably come up with the wrong number and be shunted off elsewhere within six months.
Now, it looks a whole lot more like Merryweather could have a stay of four-plus years in a third consecutive place. It's not just that he's put up respectable numbers (a 32.6-percent strikeout rate and .640 opponent OPS making up for too many walks and a couple of missteps in high-leverage opportunities). It's that Merryweather represents the full-fledged return of the effective fireballer to the Cubs bullpen. He's just one piece of that puzzle, and the team has to hope that he's far from the most notable by this time next year, but even as a figurehead, he's noteworthy.
Merryweather threw 100.7 miles per hour on one fastball this weekend against Baltimore. It was not only the fastest pitch thrown by a Cub this year, but the fastest by any Cub since 2016, when the team had Aroldis Chapman for a couple of months and he threw roughly the 250 fastest fastballs in franchise history. Together with Nick Burdi and a couple of others, Merryweather will help ensure that the Cubs don't show up on another chuckle-inducing fun fact leaderboard at the end of this season, as they have over the last few.
Technically speaking, it's not true that the Cubs were late in realizing that velocity is non-negotiable in a modern bullpen. They not only helped fuel the evolution of the fireballer beginning with the emergence of Kyle Farnsworth and Juan Cruz in the early 2000s, but had a fistful of truly terrifying hard throwers over the years just after PITCHf/x turned its electronic eyes on things. Remember the reliever versions of Jeff Samardzija and Andrew Cashner? Remember Chris "No, the Other Chris Carpenter" Carpenter? How about Henry "No, the Other Henry Rodriguez" Rodriguez? Briefly, Hector Rondon and Pedro Strop even scraped 100 miles per hour, in addition to their other virtues as relievers. 
Ever since the Brandon Morrow signing went bust, however, the team has shrunk from the risk associated with prioritizing pitch speed. Over the last year or so, when they've tried to walk back that walkback, it's looked clumsy, and it's often ended badly. 
Finally, with Merryweather, they're demonstrating a real grasp of the subject. It's important to find and cultivate velocity, but velocity for its own sake is inutile. You have to get a pitcher to do something else well. They should throw strikes with their heat. They should change eye levels by mixing their pitches. They should have some movement or spin characteristics that accentuate the difficulty of hitting their fastball, rather than canceling it out.
Ironically, those are the very things that were missing for Merryweather for so long, and those shortcomings were why he was available at all. He didn't miss bats, because his fastball too often flattened out, and none of his secondary offerings created enough deception to get swings to expand the strike zone. He gave up too much high-value contact, because he too often left both his fastball and his changeup in the fat parts of the zone.
The Cubs' first important step, then, was to realign Merryweather so that he wasn't just throwing hittable pitches, one after another. They managed it by sliding him slightly further toward third base on the rubber. With better angles of attack, Merryweather's changeup (which still moves essentially the same amount, and in the same direction) now often runs off the plate away from a lefty, where they can't do much damage, and often can't even make contact. His slider, with a naturally vertical shape, hasn't suffered at all from the shift, and he's throwing it more often. As a result, hitters now have to cover the entire zone, and they see fewer meatballs.
His delivery is almost unchanged. Any tweaks there have been subtle, but they're sufficient. He's matching the release points on his fastball and slider better, and the combination of that improved efficiency and the adjusted angle has increased the rate at which hitters chase his changeup outside the zone.
In an effort to streamline things, the Cubs and Merryweather have eliminated his curveball. He's all fastball, slider, and changeup now, and against righties, he's become extreme, willing to throw the slider over 60 percent of the time--including some sweepers that take advantage of a lateral movement that wouldn't have been productive before he slid over on the rubber.
With a violent delivery and without elite ride on his fastball, Merryweather probably won't ever matriculate to the status of relief ace, for this team or any other. Merely to bring him this far, though, shows that the Cubs now have a better idea of how to tame and augment the talents of guys like him. As little as a year ago, it wasn't clear that they could do so, and that made it hard to have faith even in their burgeoning collection of pitching prospects. Right now, Merryweather is a weather vane, telling us that the winds of change are blowing in the right direction for the Cubs' pitching infrastructure. Since we're expecting a new shipment of high-end arms within the next two years, that's very good news.