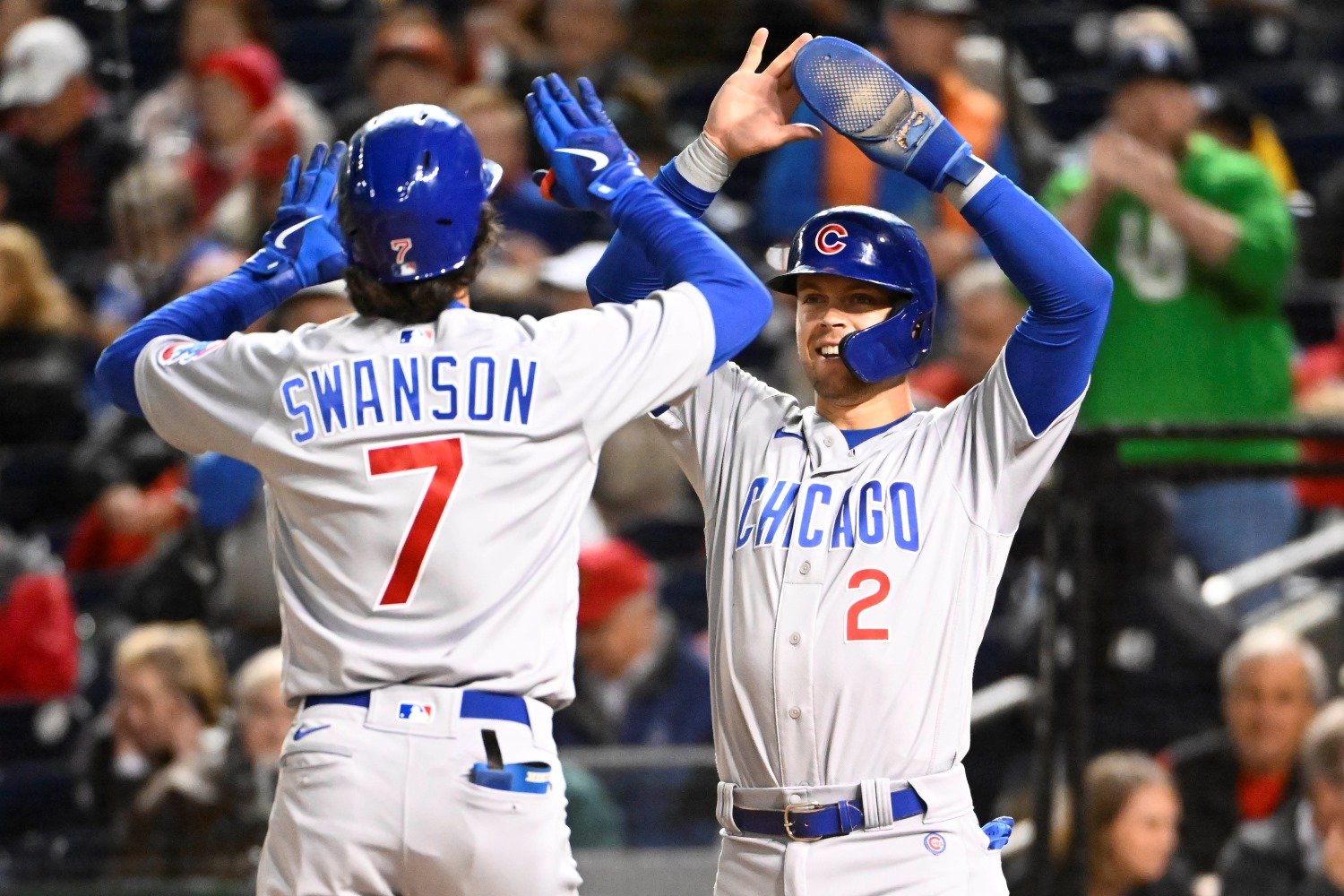 Image courtesy of © Brad Mills-USA TODAY Sports
In the top of the fifth inning Monday night, the Cubs had MacKenzie Gore right where they wanted him. They'd pushed across two runs with some great two-out hitting in the top of the first, and forced him into a second long inning in the top of the third. They had a 2-1 lead entering that fifth frame, and Gore had already thrown 86 pitches.
That was, quietly, a pivotal moment in the game. It's so subtle you could easily miss it, but that's a crease in the origami of a contest that can change the shape of it radically. With Nico Hoerner leading off and facing Gore for the third time, that was a huge opportunity to gain some cushion in a tight game. The window of that opportunity can close with a sharp snap, though. When facing a starter who has struggled and whose pitch count is climbing, there's always a risk that the opposing manager will lift them for a fresh and more formidable reliever, before you can cash in on the work you've done to that point.
That the Cubs pushed Gore, who is more or less Washington's ace this year, to that edge as early as the start of the fifth was to their advantage, because it made it harder for Dave Martinez to pull the trigger on a pitching change. No manager wants to turn to his bullpen early on a night when he had his best starter going--least of all when his pitching staff is rather thin, overall, and he's just opening a four-game series. Still, the clock was ticking. The Cubs needed to score quickly.
Hoerner and Dansby Swanson made it happen. In a fairly long at-bat, Hoerner managed a bloop single. Swanson, on a 1-0 pitch, got a fastball and ripped it into the bullpen beyond the left-field fence, and just like that, the game opened up. It folded in the Cubs' favor. It's so simple as to defy analysis, but in the dichotomy between doing and not doing damage at that kind of moment lie many wins.
On Tuesday night, the Cubs felt the scrape of the other side of that dichotomy. They had their chance in the top of the sixth. (There's the first mistake. By failing to put more pressure on Trevor Williams in their first two trips through the order, they used up more of the true clock of baseball--outs. Martinez could count down from 12 much more comfortably than from 15.) A one-out walk by Ian Happ was enough to get Williams out of there, in favor of fellow ex-Cub Carl Edwards, Jr. Already, the window of opportunity threatened to close, with the Nationals ahead 1-0.
Cody Bellinger, however, has been good enough to break right through some closed windows this year. He not only doubled Happ around to third, but did so on a high, inside, cutting fastball from Edwards--a pitch even the best previous versions of Bellinger were not able to consistently hit with such authority. His resurgent April and early May are as exciting as Swanson's killer instincts. 
After that, though, things took a too-predictable turn. Edwards, whose repertoire lends itself more to reverse platoon splits than ever after the addition of a changeup to the mix, intentionally walked Seiya Suzuki, loading the bases for Edwin Rios. David Ross wisely pinch-hit Trey Mancini for Rios, in a perverse reclamation of the anti-platoon advantage. Mancini had a good at-bat, too. He worked a deep count, laying off a couple of tough would-be putaway pitches and fouling off fastballs up in the zone. Ultimately, though, Edwards struck him out, on a high changeup--a mistake pitch that turned out to be unhittable. 
After that, Eric Hosmer was due. To be fair to the much-maligned Hosmer, he didn't strike out, and he didn't go down on one or two pitches. He got ahead in the count, 2-0. He fouled off a couple of high fastballs, too. Ultimately, though, he hit a somewhat pathetic pop-up to shortstop, on which the launch angle was higher than the exit velocity. 
In the long season, Swanson will come to the plate in big moments, and he'll end up failing to come through, just as Mancini and Hosmer did Tuesday night. Already, each of those guys have had nights where they came up with big hits in those situations. That doesn't mean they'll all balance out, though. There will be more good moments for Swanson than for Mancini, and more for Mancini than for Hosmer. It's those moments that turn out to be inflection points in games at which the difference between those guys becomes most clear.
Tuesday night was always likely to be a Cubs loss. It was a night that saw Hoerner's on-base streak snapped, and on which Keegan Thompson simply didn't have his good stuff. The stark contrast between Monday and Tuesday isn't about the potential that either particular outcome could have been reversed. It's about the fact that Swanson represents the team's existing commitment to winning close games, whereas Mancini and Hosmer represent their unwillingness to deepen that commitment. Matt Mervis would not have been anywhere near a sure thing to come through in the sixth inning Tuesday, but he'd have given the team a better shot than Hosmer.