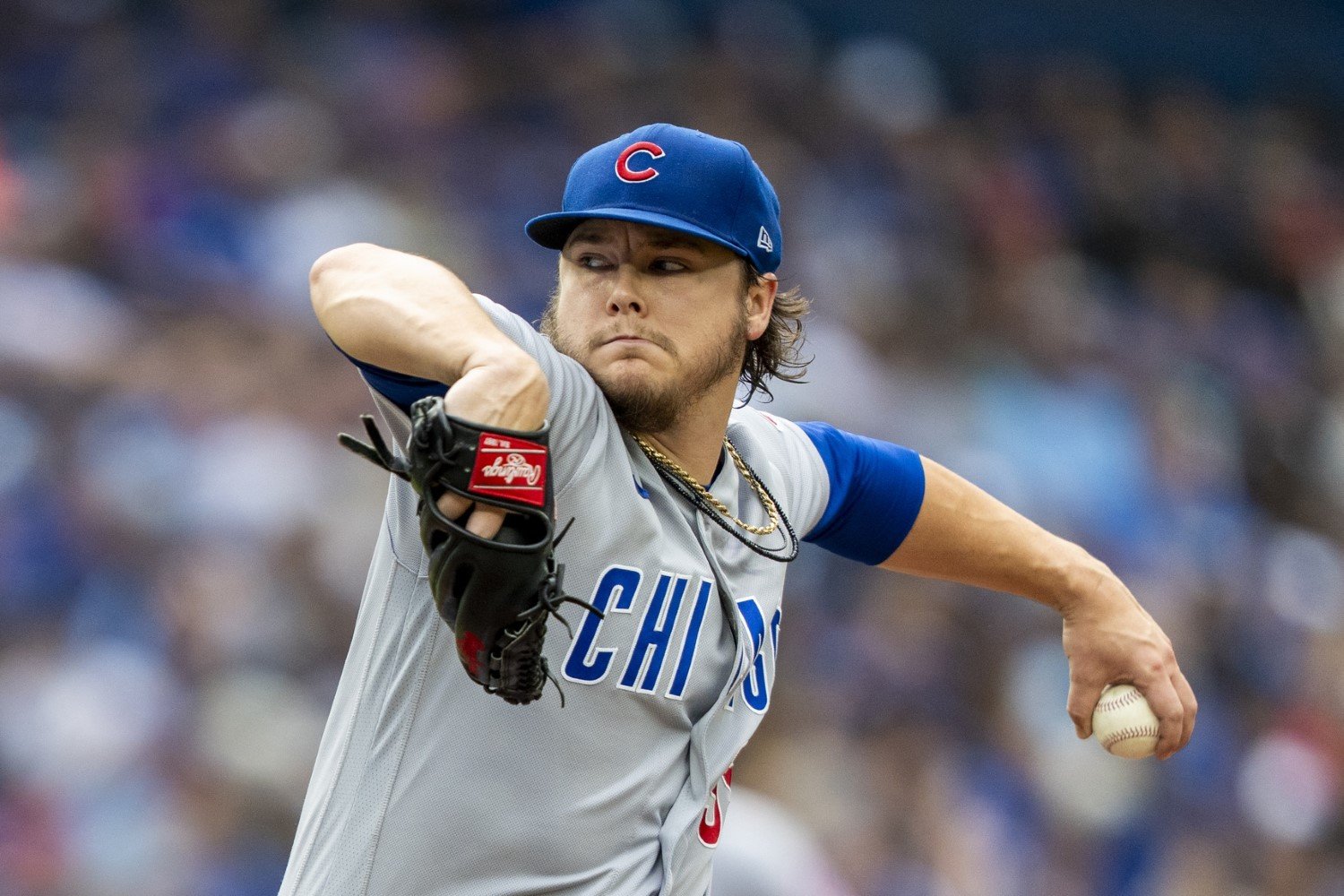 Image courtesy of © Kevin Sousa-USA TODAY Sports
After his start Saturday in Toronto, Justin Steele has 126 innings pitched this season. That's seven more than his previous career high, which he attained last season--before being shut down for the year with an injury after his start on Aug. 26. That was at the end of a lost campaign, though. This time around, the Cubs need their All-Star southpaw to be available and fully functioning all the way into October. That will require the occasional concession.
This isn't (or at least, it ought not be) about keeping Steele's total seasonal workload below a certain number in order to protect him for the future. The famous Verducci Effect, named after baseball columnist Tom Verducci, is the alleged increase in the likelihood of injury if a pitcher logs more than 30 more innings in a season than he did the previous year. It became very famous in the early 2000s, as teams rapidly embraced the relatively new concept of shielding young hurlers from injury. The problem with it is that it's complete bunk. Never worry about the Verducci Effect. It was a junk finding by a reporter far out of his depth.
Even the misguided Verducci was focused mostly on pitchers in their early and mid-20s, and Steele turned 28 last month. Again, then, raw innings total should not be a category about which the Cubs or their fans worry much. They're still going to be careful, though, because of Steele's specific history and his skill set. Last season was the first time he ever got to 100 innings pitched in a professional campaign. He wasn't shut down out of sheer proactivity then, either. A strained lower back shelved him, and made the decision easy. 
He's had hamstring issues. He missed time earlier this year with a forearm strain, an unwelcome reminder of the Tommy John surgery he underwent back in 2017. Durability has always been a major question for Steele, and because of his unique two-pitch attack, the Cubs have to do everything in their power not only to keep him healthy, but to ensure that he pitches at something close to full strength every time he takes the mound. The lack of a third pitch or overpowering velocity leaves him thin margins for error, compared to most similarly good pitchers.
That's why, even though Steele last started Saturday and Jameson Taillon went Sunday, it'll be Taillon Friday afternoon at Wrigley Field, with Steele coming back Saturday on a full six days' rest. Despite the bad Marcus Stroman news, the organization has decided to make the most of the schedule quirk that left them with two off days this week, after the one they had last week between their road series against the Mets and Blue Jays. Steele is the beneficiary. Taillon will go on regular rest.
The decision probably isn't solely about getting him extra rest, either. From here, one can vaguely map out the rest of the season for Steele, and it's likely to look like this:
Saturday against the Royals

Next Thursday in Pittsburgh

Aug. 29 against the Brewers

Sep. 3 in Cincinnati

Sep. 8 against the Diamondbacks

Sep. 15 in Arizona

Sep. 20 or 21 against the Pirates

Sep. 26 in Atlanta

Oct. 1 in Milwaukee
This way of aligning things sets Steele up to pitch in all but one of the Cubs' remaining pivotal series: both of the ones against the Brewers, the one against the Reds, both against the Diamondbacks, and the one in Atlanta during the final week. It only requires them to use a sixth starter once, and that on a getaway day in Colorado on Sep. 13. They also have the flexibility, this way, to decide against using Steele the second time they see Arizona, and to send him to the mound in that last game against Colorado, after all. The nicest thing about it might be that Steele sets up to start the first of their games in Atlanta, and thus to be on regular rest for the season finale. If that game turns out not to be important (either because the Cubs are eliminated by then, or because they've sewn up a playoff berth), they can scratch Steele, but this gives them the option to use him if the season is on the line.
The first priority, at this point in this season, is getting as much good work out of Steele as possible, in order to increase this team's playoff chances. It will sound cold and calculating, but Steele is due to begin getting paid better via arbitration this winter. He's 28. The Cubs should protect him from overuse, but only insofar as it aids him in being ready to win the most important games of this season. This is no time to be coddling pitchers. This is no Stephen Strasburg 2012 situation, and the Nationals were just plain wrong to baby Strasburg that year, anyway. If things go as hoped, Steele has nine more starts left in this regular season, and the chance of another four or five in October. The goal should be, as safely as possible, to get him over 200 innings when all is said and done.