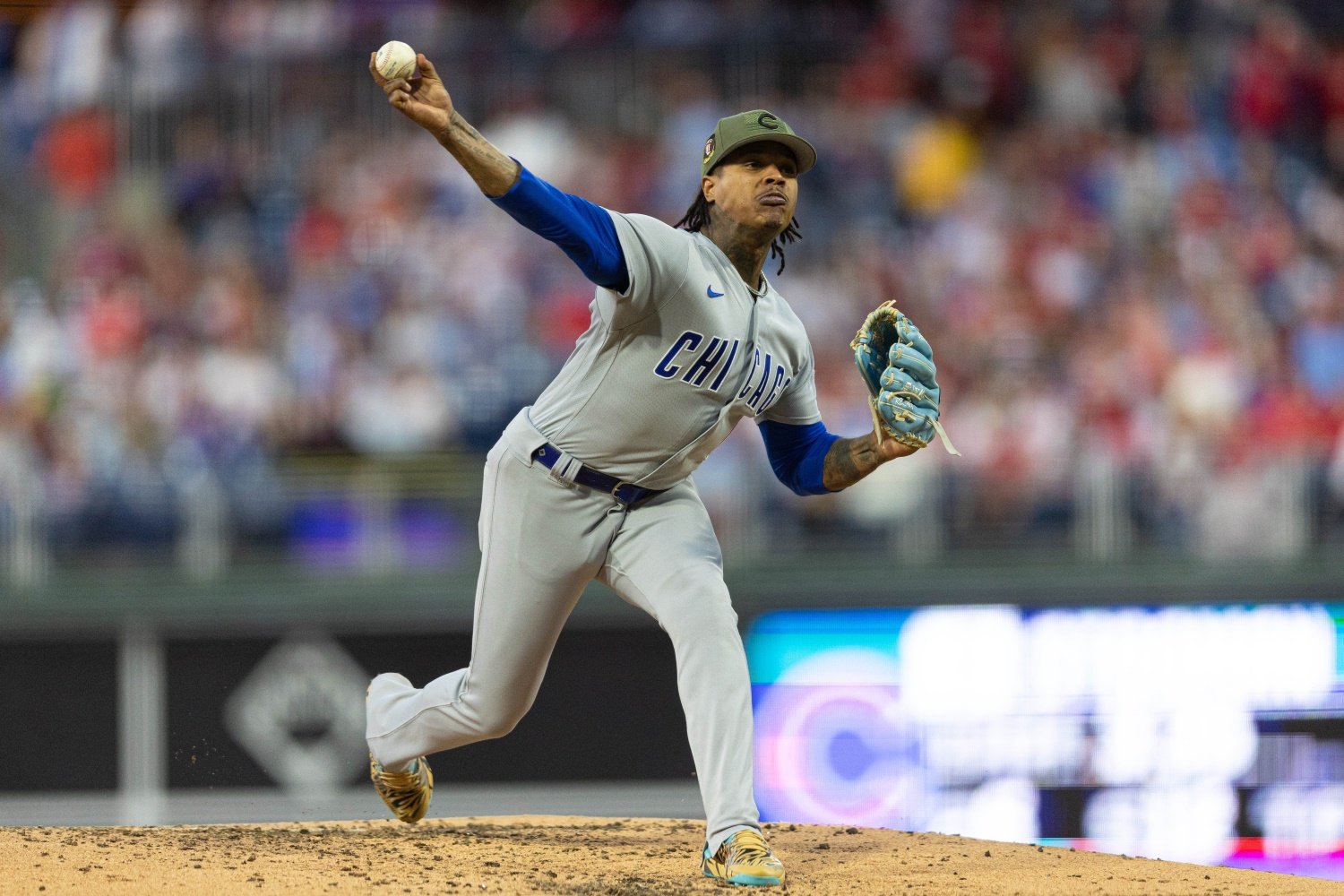 Image courtesy of © Bill Streicher-USA TODAY Sports
There's no full-scale reinvention happening here. Marcus Stroman will (probably) always be a sinker-first pitcher, and the Cubs prefer to have their pitchers sink or cut their fastballs, anyway. When pitching coach Tommy Hottovy and the rest of the team's pitching infrastructure got ahold of Stroman, though, they did have some idea of finding greater utility for his four-seamer.
Stroman has always had above-average spin on his stuff, especially his fastballs. His short stature ensures a low release point. Those things, in combination, should ensure the ability to attack the top of the zone and get whiffs with a riding four-seamer. That's the theory, and it's why Stroman was open to trying it out.
It did not work. Last year, Stroman used his four-seamer about 12 percent of the time throughout the first two-plus months of his campaign. During that time, he had an ERA of 5.32. After he returned from the injury that sidelined him from early June through mid-July, his ERA dropped by more than half--and so did his use of the four-seamer.
The correlation there does not imply causation, in either direction. Stroman's cutter took a beating early last year, too. He struggled with location and sequencing. His problems went beyond the fastball, in whatever form. Still, it's clear that the 2022 version of Stroman was not able to make effective use of that pitch, in the broader context of his arsenal.
Stroman is no quitter, though. Height doesn't measure the willingness to make thoughtful adjustments, and to try again if something doesn't work, any better than it measures heart. He's come back in 2023 with a better plan for weaponizing the fastball. He's almost exclusively using his sinker and slider (or sweeper, or slurve, or maybe it's really some of all three; he befuddles each of the major pitch-classification systems) against right-handed hitters. Against lefties, though, he's a kitchen-sink guy, and one of the many looks he's giving those hitters is the true, rising fastball.
His velocity is down by a mile per hour, but Stroman is getting just as much spin on it as he achieved last year. His spin efficiency is, technically, diminished, yet he's getting more movement--more rise, and a bit more run. Partially as a result of that (but also because he's locating and plotting it better), he's getting those whiffs he and the Cubs imagined when they first started tinkering with this last year. 
In fact, of the 361 pitchers who have thrown at least 50 four-seamers this year, Stroman has induced whiffs on the 14th-highest share of opponents' swings. He gets a lot of help from the fact that he's using the pitch only tactically and selectively, but even so, his results are staggeringly dominant.
Here, in a nutshell, is why. Here's a pitch Stroman made in a 1-2 count against the Twins' Byron Buxton, in what was otherwise his only truly bad outing of this young season.
 And here's one to which he went on 2-2 against Kyle Schwarber, in his last start against the Phillies.
These are both fastballs up and away. What's striking, though, is how perfectly Stroman located each, given that Buxton is right-handed and Schwarber is a lefty. Using the threat of the rest of his repertoire to his advantage, Stroman is throwing that four-seamer to a spot where hitters think it's a very hittable sinker, and getting relatively feeble swings when it turns out to be a pitch with such different movement.
The problem Stroman had with his four-seamer last year was that he couldn't keep it out of the meaty part of the strike zone. It still didn't get hammered, but it was often fouled off and rarely missed altogether.
This year, only 11 pitchers have had a lower Called Strike Probability on their four-seamers than Stroman, according to Baseball Prospectus. Hitting the edges and using the top of the zone better has naturally led to more whiffs.
This is part of a broader strategy with which Stroman seems very comfortable this year. He's not nibbling, exactly, but he's not giving in to anyone. His walk rate is up, not because he's lost any capacity for throwing strikes, but because he seems determined to work at the edges of the zone and try to force weak contact. Before the season began, he talked about the trust he had in the team's reinforced defense, and that seems to have been a very earnest sentiment. 
Stroman is chasing some strikeouts, but only indirectly. What he's primarily doing is trying to keep the ball in the park, and trusting that even if he issues an extra walk or two, he can then get some quick, low-danger contact, and that his fielders will come through for him when that happens. He's done that with a bifurcated pitch mix based on handedness, and with some loving tweaks to his mélange of pitches--and with a newly badass old-fashioned fastball.