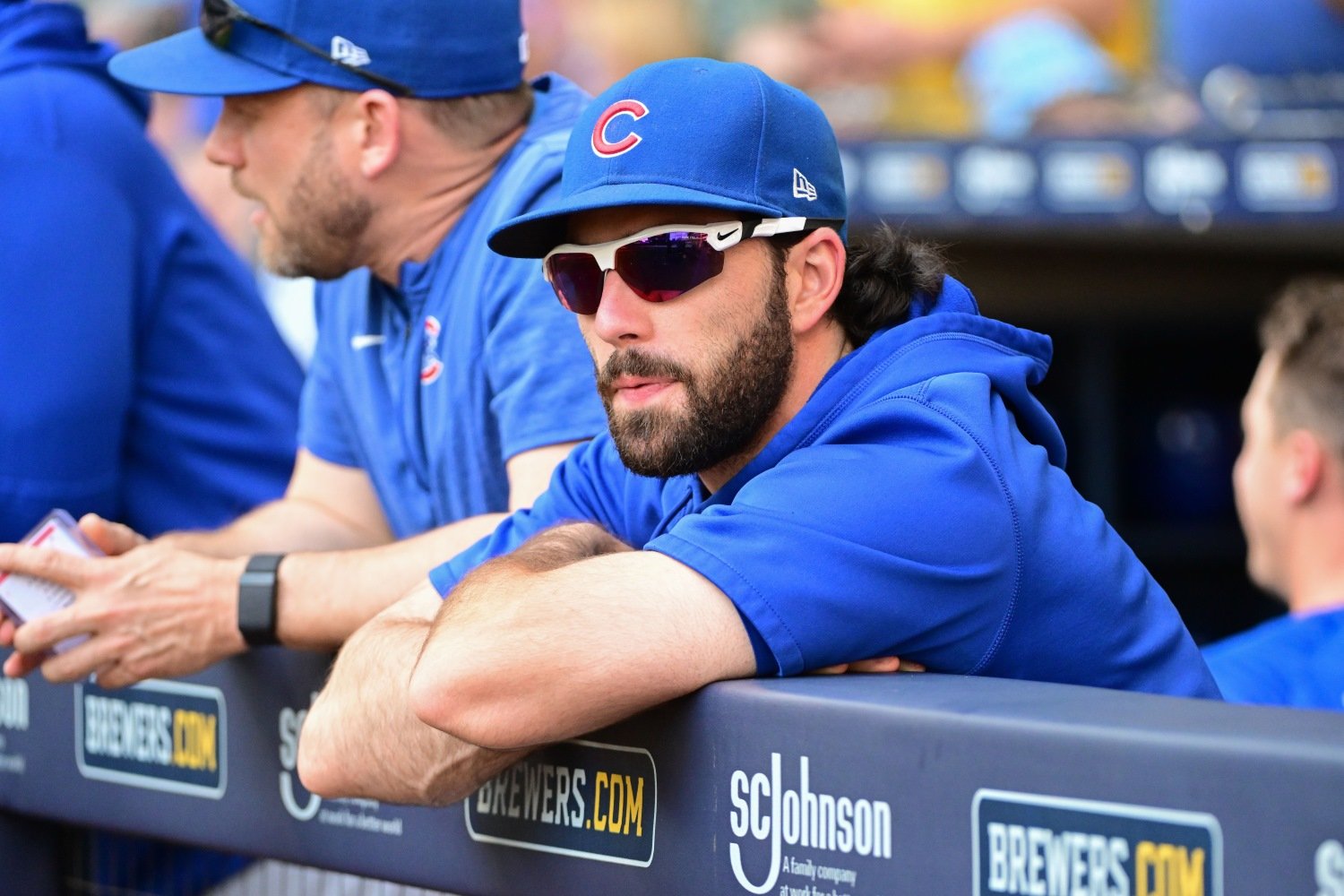 Image courtesy of © Benny Sieu-USA TODAY Sports
He simply laughed and told me that he would remind me of this when the Cubs lose some crushing games while in the middle of a playoff race in September. Fortunately for me, he has either forgotten that this conversation happened, or just decided to be nice about it. 
By my early April expectations, it would be very easy to shrug our shoulders, tell ourselves that while the past few weeks of baseball stunk, the Cubs exceeded expectations anyway, and that it was still a good season. It might even make us all feel better.
The issue with that is that it completely ignores the context under which the Cubs were playing baseball in September. At the time of my comment, Eric Hosmer was their starting first baseman, which should be enough to lower anyone's expectations. Consider each of the following:
Nico Hoerner and Dansby Swanson are both among the top 30 position players in baseball, according to FanGraphs's WAR. 

Cody Bellinger has a 134 wRC+.

Ian Happ is continuing to perform as he did in his career-best 2022 campaign. 

Seiya Suzuki, while he did struggle at times, has a 126 wRC+, and has shown the ability to be one of the best hitters in baseball. 

Mike Tauchman came up and played his way into an everyday role and is a valuable contributor. 

Christopher Morel took a step forward, for the second year in a row. 

Nick Madrigal proved to be a capable everyday third baseman. 

Miguel Amaya proved he is, at least, a valuable backup catcher at the big-league level.

They added the best available rental bat at the trade deadline, in Jeimer Candelario.

Justin Steele will get Cy Young votes. 

Kyle Hendricks got healthy and posted almost a three-win season, by FanGraphs WAR. 

Javier Assad and Jordan Wicks contributed in very meaningful ways. 

The Cubs have the fourth-best run differential in the National League.

Entering play on September 7, the Cubs had an 89.8-percent chance of making the playoffs, and had a 3.5-game cushion in the Wild Card standings. 
Had I known each and every one of those things in April, do you think that I still would have said meaningful baseball in September would have been enough? Probably not. 
Did some other things go wrong? Of course. Marcus Stroman was either injured or completely ineffective for the entire second half of the season. Jameson Taillon did not have a great first season with the Cubs. The team got almost no contributions from Keegan Thompson, Brad Boxberger, or Brandon Hughes, who all figured to be valuable contributors out of the bullpen. 
Oh, the bullpen. Sure, the bullpen was running on absolute fumes for the final month, without Adbert Alzolay and Michael Fulmer. However, the Marlins played a good chunk of September without Eury Perez and Sandy Alcantara, two of their best pitchers. Everyone is tired and deals with injuries at this point in the season. Besides, the bullpen was the one area this front office could hang their hat on, after the way it performed the past few seasons. This year, it completely failed them. But that is a conversation for another time. 
The bottom line is that way more went right than wrong, and it's so important to take advantage of that. What if any one of Swanson, Happ, Hoerner, or Steele gets injured for a good chunk of next season? What if they can't replace Bellinger's production, or they bring him back and he isn't as productive?
The Cubs got favorable, healthy outcomes from a majority of their most important players, and they failed to capitalize on that and make the playoffs. Regardless of preseason expectations, what their run differential was, or what their record was in one-run games, that makes the season a failure.