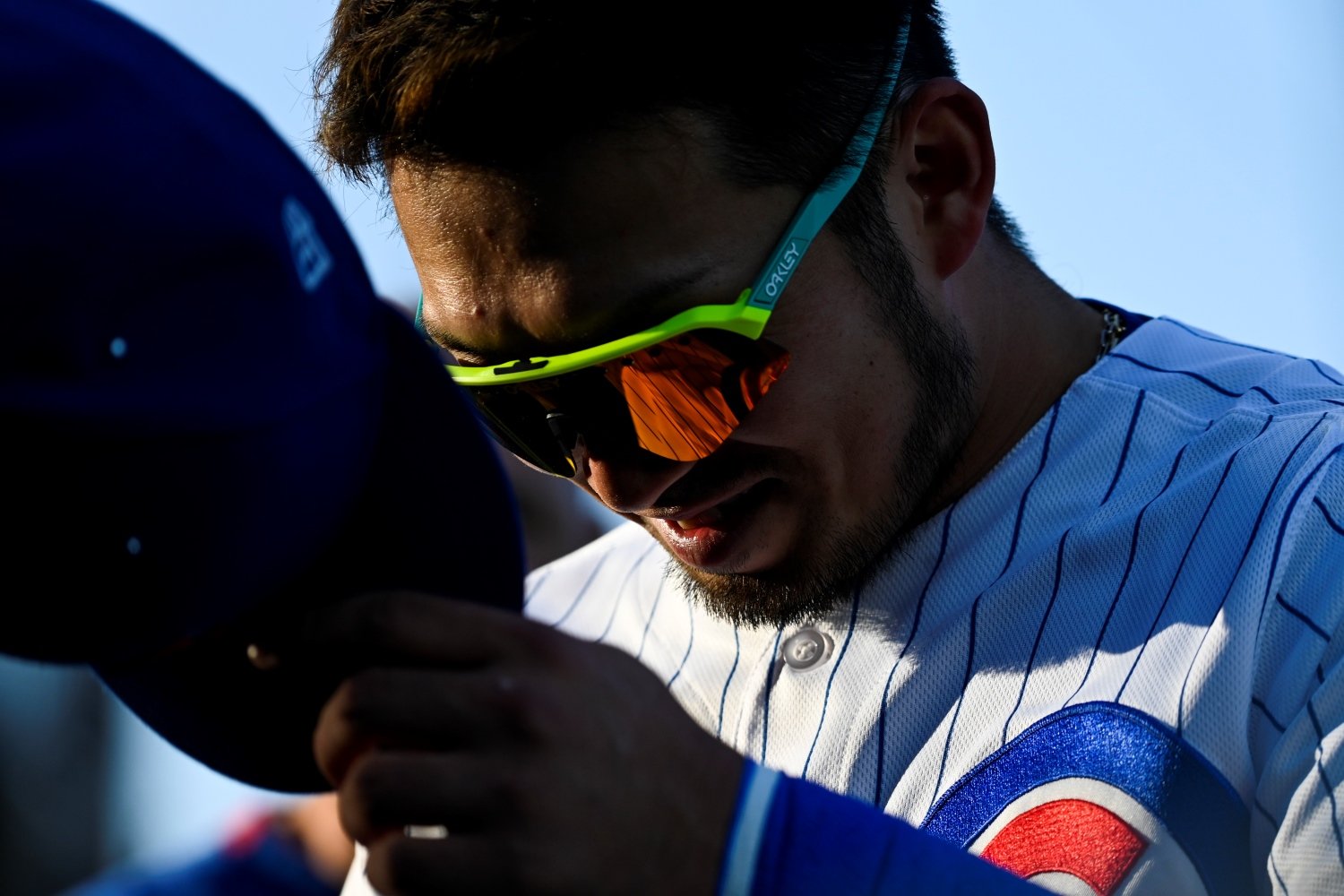 Image courtesy of © Matt Marton-USA TODAY Sports
Against one of the best pitchers on the planet Tuesday night, Seiya Suzuki collected two hits in his first two at-bats. The batted balls both had an exit velocity north of 111 miles per hour, and the second of them (at 113.2 miles per hour) was the hardest-hit ball of his career. It helped that Shane McClanahan is left-handed; Suzuki has crushed lefties of late. Still, the game was just one more marker on what has been an unstoppable climb for the Cubs right fielder this year.
Suzuki has hit over 50 percent of his batted balls this season 95 miles per hour or harder. Contrary to popular opinion, he's not creating an inordinate share of that hard contact on the ground, either. He's elevating the ball often enough, and he's pulling it considerably more (around 39 percent, up from 28 percent in 2022), allowing him to reap something closer to the full benefit of that ability to make hard contact. He's taken a clear step forward, and games like Tuesday night remind us that he could still take another one.
In some ways, Mookie Betts is a reasonable comparison for Suzuki. Their batted-ball data is quite similar. Suzuki whiffs more often, but has an equally discerning eye at the plate. An MVP award probably isn't in his future. After all, when Betts won his, he was 25. At that age, Suzuki was playing in NPB. Still, that's the level of sustained excellence of which Suzuki is capable. Because of the lockout-shortened spring training of 2022, some nagging injuries throughout last season, and the tragically-timed oblique injury he suffered this spring, we had to wait until now to see him hit his stride, but it was worth the wait.
With a .310/.414/.552 batting line for the month of May, Suzuki is demonstrating the ability to live up to the cleanup role to which he's been assigned on this team. He might hit more doubles and fewer home runs than the average slugger of this era, because his hardest-hit balls seem to cluster in a slightly lower launch angle band than do those of most similar hitters, but his power, plate discipline, and pure hit tool all appear to be above-average right now.
Nowhere is the comparison to Betts or the enforced circuity of his development more clear, though, than in right field itself. Suzuki struggled mightily with the adjustment to playing defense in MLB, where there are fewer domes, more day games, and different visual backgrounds to navigate. He lost an untenable number of routine fly balls in the sun, the sky, or the lights last year, and that problem even followed him into 2023. As he's been able to get healthy and take more reps, though, he's shown tremendous progress. That, too, was on display Tuesday night.
WHAT A CATCH BY SEIYA SUZUKI ? pic.twitter.com/S6LP78AO0B

— Cubs Zone

™️

(@CubsZone) May 31, 2023
Notably, Baseball Prospectus's new state-of-the-art defensive metric (Defensive Runs Prevented, or DRP) had him as 5.4 runs to the good even last season, when other metrics and (often) the eye test maligned him. This season, the other metrics are beginning to agree, and he looks much more comfortable reading the ball off the bat, leading to plays like the one above. He's already shown off an excellent arm, too.
In a season marked by high highs and low lows, nothing has yet excited me quite as much as seeing Suzuki do what he's doing. He's the star the team hoped they were getting, at the discounted price made possible by the acknowledged risks of bringing a player to a new continent while paying a handsome posting fee. He's not only the key to the team staying in contention in 2023, but a cornerstone around whom they can build for the next few years.