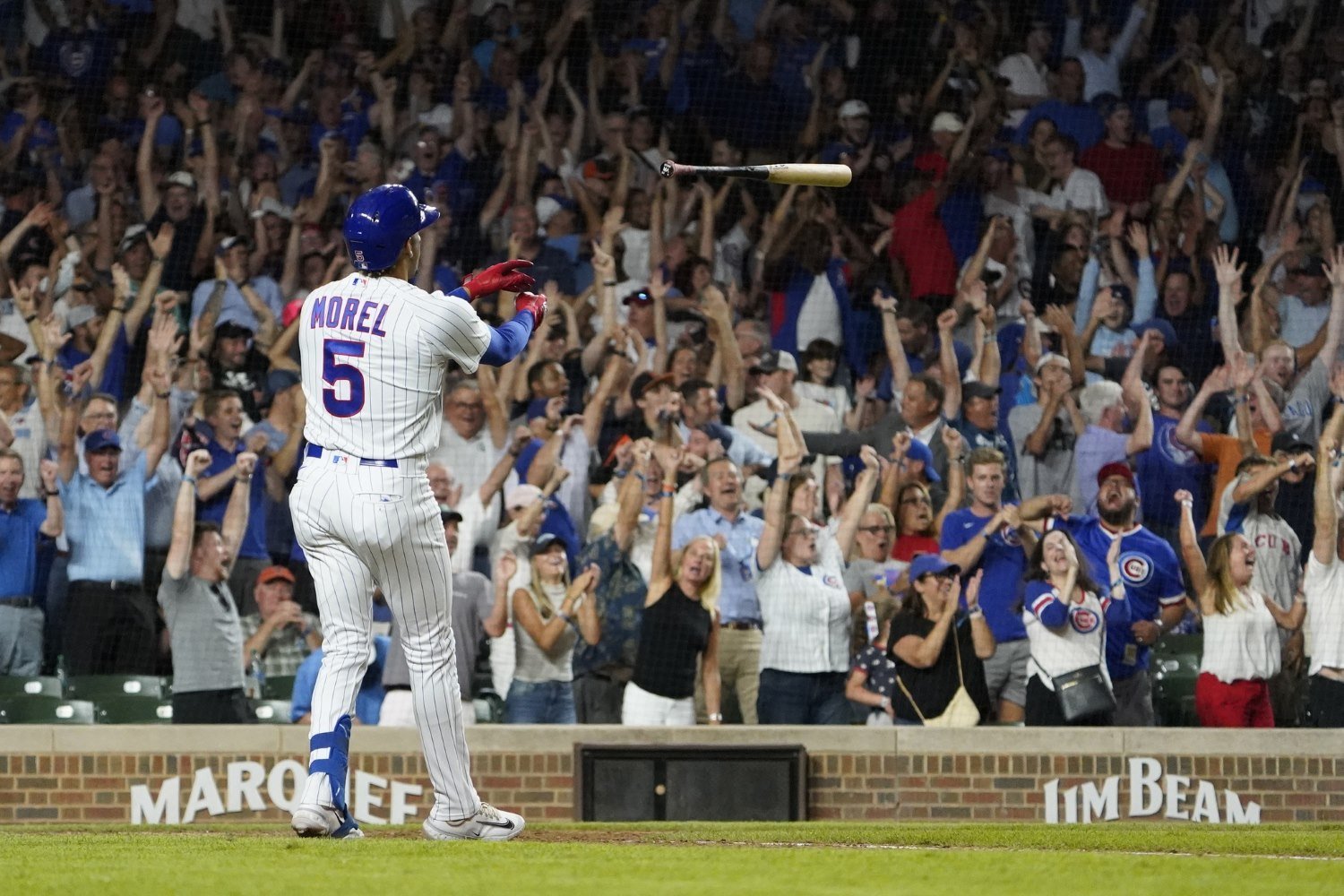 Image courtesy of © David Banks-USA TODAY Sports
In sports, it's common to see perfectly good teams (who everyone knew to be good all along) talk incessantly about how no one ever believed in them. Unearned indignation is the one performance-enhancing drug no one has banned yet. If and when the 2023 Chicago Cubs achieve something significant enough to elicit those champagne-soaked "I told you so"s, though, they'll have come by them more honestly.
I've lost count of the number of times I've considered this team to be on the ropes, or even struggling to climb up off the very canvas. At the bare minimum, they reached that kind of crisis point:
On May 17, when they lost their fifth straight game by blowing a 6-1 lead in the final two innings in Houston. They'd lost by a combined score of 27-4 in their last two games in Minnesota, and the finale of a sweep at the hands of the defending champions seemed to confirm Chicago's unreadiness for serious contention.

On May 28, when the surging young Reds swept them at Wrigley Field on Memorial Day weekend. The Cubs fell to a new low-water mark of eight games below .500, and into last place in the NL Central.

On June 8, when the Angels completed yet another sweep of the drain-circling Cubs. That pushed Chicago to 10 games below .500, and seven games into their 10-game West Coast road trip, they had scored a total of 16 runs. 

On July 3, when the Cubs went to Miller Park needing to at least split a four-game series with the Brewers and lost the first contest 8-6, thanks to a five-run bullpen implosion over Milwaukee's final two turns at bat. That widened the Crew's division lead to seven games, and the Cubs fell to 38-45. More than halfway through the season, they were slogging toward a win total in the high 70s.

On July 17, when the Nationals won the first game of a three-game set at Wrigley. That made three losses in four games coming out of the All-Star break, for a Cubs team that needed to turn a corner immediately or be disassembled at the trade deadline a fortnight later. Drew Smyly was well into his blue period, and that game was an especially maddening, typical loss. They fell behind, tried to come back, and were insufficient, multiple times. It felt, at that moment, like a microcosm of the season.
Had any of these turned out to be the final blow they all had the potential to be, the front office would have ended up selling off impending free agents (and maybe others) at the end of July. David Ross's future with the team would be highly uncertain--and even that might be a euphemism. Some subset of the players who make up this roster are locked in for the long run, and would have been even if things had turned sour, but much of the surrounding picture might have changed, and the team might have faced another year or more of rebuilding. At the very least, those are five points at which the risk of 2023 falling irretrievably through the cracks was very real.
Every time, though, the team met that challenge. On each of the first three occasions, Marcus Stroman took the ball the next day and did something dazzling. He wasn't just a stopper; he was a momentum-changer. The game immediately following the collapse in Houston was a Friday night in Philadelphia, and Stroman allowed only one run in six innings. On Memorial Day, after that ominous Cincinnati sweep, he one-hit the formidable Rays before a roaring Wrigley crowd. Deep in that desperate road trip, after the Anaheim debacle, he went 6 2/3 innings and allowed just two runs in a bounceback win against the Giants. 
At some point, Stroman went from being a one-man solution to one of the team's problems, as he lost the supernal command of his sinker and slurve he showed early on and tried to pitch through mounting discomfort in his hip. That only underscores another way in which the team has been astoundingly resilient, though. When Cody Bellinger went down for a month, it cleared the path that Mike Tauchman followed back to the big leagues, and Tauchman became an invaluable role player. In answer to Stroman's Memorial Day gem and subsequent injury, Justin Steele was every bit as good on Labor Day.
The day after that miserable loss in Milwaukee, on the holiday that subdivides the unofficial summer of which Memorial and Labor Days are the bookends, the Cubs blew another four-run lead. That time, though, they miraculously froze the Brewers there, and then Ian Happ and Miguel Amaya made a pair of extraordinary defensive plays to win the game in extra innings. The day after they slipped to the very brink of irrelevance with that loss to the Nationals, they trailed again, as late as the sixth inning. but Seiya Suzuki struck a game-tying two-run homer, and then the Cubs scored 14 more times before the end of the night.
The team hasn't just responded to every threat; they've done it with a tenacity and on a scale that seemed unthinkable a moment before it happened. They've looked ill-prepared, or overmatched, and then within an inning or two, they've flipped that script. Suddenly, the other team mishandles a ground ball, or throws a hair wildly. Suddenly, it's the Cubs batters who can't miss when someone hangs a slider. 
Since they escaped the last of the crises enumerated above, the Cubs have been the best team in baseball. Since the All-Star break, only the Dodgers (33-15) and Orioles (33-16) have better records than Chicago's 33-17, and both of those teams came right out of the break streaking. Once that kind of corner is turned, a team acquires the privilege of defining a crisis differently. They haven't been in serious danger of coming undone at any point in the last seven weeks, but there have been moments...
August 16 at Wrigley, when the White Sox (having won the previous night) threatened to hand the Cubs a third straight loss at the front end of what they'd hoped would be a soft spot in their schedule. That was the night when an improbable escape by Michael Fulmer set up even more improbable home-run heroics from Nick Madrigal and Christopher Morel.
Back-to-back walkoff losses this past weekend in Cincinnati, when the bullpen was understandably tired but the offense was less understandably bootless. Not only did the seemingly invincible Adbert Alzolay take a tough loss, but the team wasted truly brilliant pitching performances by Hayden Wesneski, Javier Assad, and even Smyly, and they then trailed three different times Sunday, when a loss would have meant limping out of town with only a one-game lead on the Reds--a lead rendered imaginary by the Reds owning the tiebreaker between them. Instead, they scored 10 runs in the final two innings to make a nailbiter into a laugher.

Tuesday night. Apparently, this is going to be a regular thing now. The Cubs had to come back from down 3-0 and 6-4, but they not only did so, but made the game nigh comfortable in the end. Suzuki had another two-run game-tying smash. Morel had another crowd-detonating three-run homer.
The Cubs are 10-4 in their last 14 games, and three of those four losses were one-run games on the road that came within a few inches of being wins. They're 13-5 in their last 18. They're 22-11 since the start of August, and 32-14 since that outburst against the Nationals that turned out to be the final time they really faced failure. The Brewers have played stellar ball themselves, with a 28-19 record since the break that has stymied the Cubs' designs on the division lead so far.
No matter. The sheer relentlessness of this team won't necessarily push them past Milwaukee, or deep into October, but it's already made this the most resilient team in Cubs history. They've overcome greater adversity than did any team helmed by Joe Maddon, Lou Piniella, or Dusty Baker, so even if they don't go as far as a couple of those teams did, they have proved themselves in a way none of those groups did. The brutal length and intensity of a big-league season sometimes demands that both players and fans stop defining success or failure based on what anyone else does. The Cubs keep winning series, and winning games they look like they're about to lose. Whatever else other clubs do, they're having the best kind of success August and September can offer, and August and September sometimes offer a purer, more lasting memory of success than October can, anyway.
This is far from the best Cubs team in recent memory, and rooting for them hasn't always been fun, by traditional definitions. Yet, they've written a phenomenal story already, and Tuesday night was further evidence that it's not nearly over.