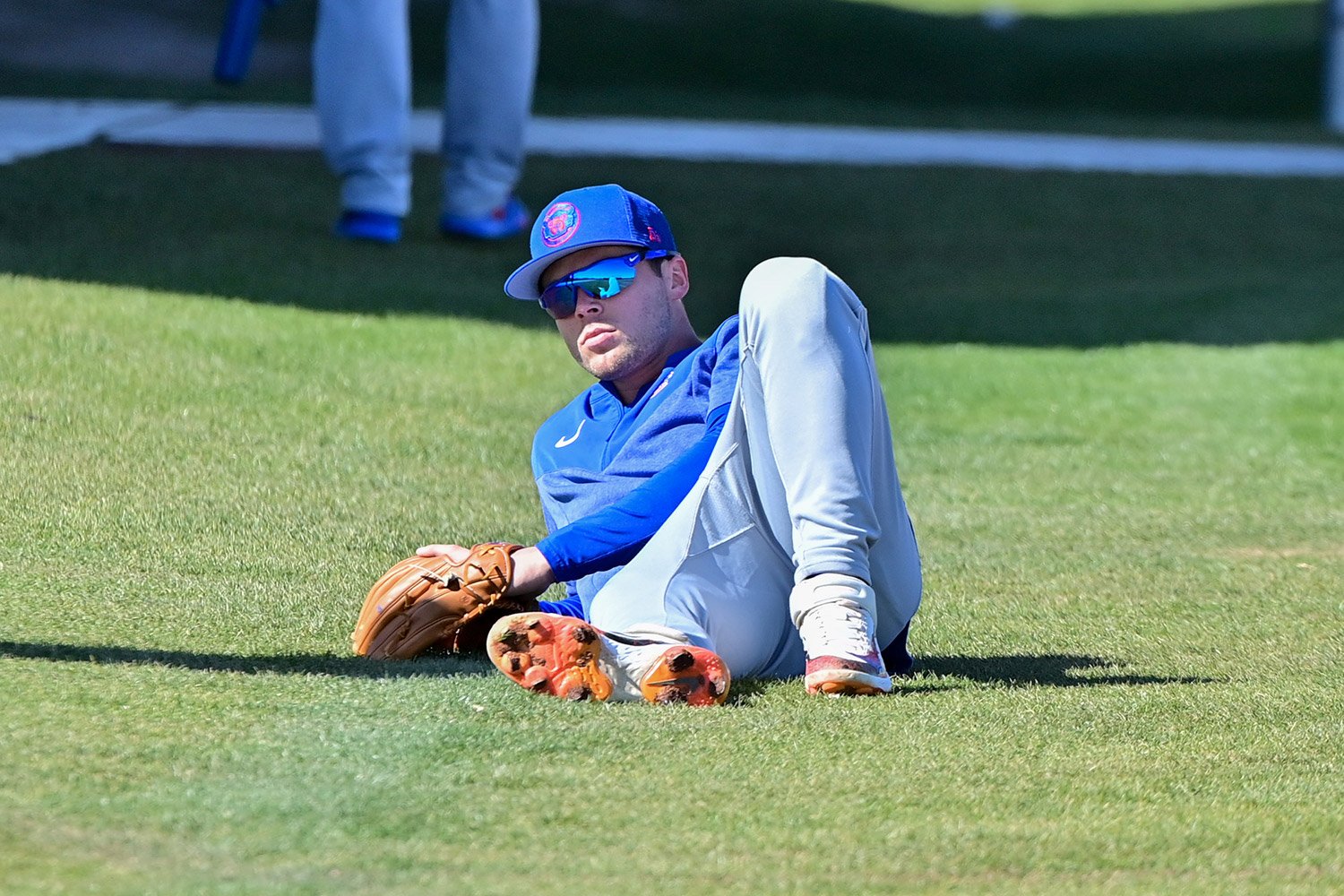 Image courtesy of © Matt Kartozian-USA TODAY Sports
Nico Hoerner was already under the Cubs' control through 2025, and he and the team agreed to a contract for just over $2.5 million for 2023 back in January. This new deal, worth $35 million over three years, extends that team control by one season, and that makes it pretty unusual. Let's talk about what differentiates it from most extensions signed at similar career stages recently, and what that can tell us about the Cubs' direction and the implications of the pact.
By the time a player reaches three years of service time and becomes eligible for arbitration, most of the team's leverage over them has dissipated. As such, the most common types of extensions signed in this window are those that fall on either end of the extension spectrum. Some guys sign seven- or eight-year deals worth nine figures, as Kyle Seager and Freddie Freeman each did last decade. Others sign deals that only cover their arbitration-eligible seasons, or even just two of the three. Shohei Ohtani did that with the Angels a couple of years ago. 
Deals that fall between those extremes are rare, though, and even when they happen, they usually have something this deal notably lacks: a club option for the second year of would-be free agency. Two years ago, the Royals signed former first-round pick Hunter Dozier to an extension that cheaply bought out one year of free agency, but it also gave the team an option on the following season. The Reds signed Tucker Barnhart to a similar deal in September 2017, and the Red Sox did one with Christian Vázquez the following March.
The last truly relevant comparator for this deal that I can find, though–the most recent one that bought out exactly one year of free agency, without an option attached–came back in January 2015, when the Reds committed to catcher Devin Mesoraco. Unlike most of the other guys who sign at this stage (guys like Max Muncy, who did a deal with the Dodgers that gave them an option on his first would-be free-agent season), but much like Hoerner, Mesoraco played a premium position and was in line to reach free agency at a relatively young age. Also like Hoerner, Mesoraco was a former first-round pick.
That many of the guys we're talking about here were catchers underscores why Hoerner was at all interested in this deal, which delays free agency for him (even if it does compensate him pretty fairly for that season, as we'll discuss more in a bit). For a guy with numerous and visible strengths and youth on his side, Hoerner faces a lot of uncertainty. He's sliding to a less valuable and much less valued defensive position this year. Injuries have stunted and slowed his emergence. It makes sense for him to seize upon a significant, guaranteed payday. It just wouldn't have made much sense for him to give away any more team control than that, unless the Cubs were willing to go into the same range Freeman reached years ago with the Braves (eight years and $135 million).
Obviously, that kind of deal wasn't forthcoming. When the Cubs publicly trumpet Hoerner and proclaim him a building block for their future, they're not faking it, but nor is Jed Hoyer given to irrational commitment. Since the megadeal was off the table, it was going to be this kind of half-measure or nothing this spring.
In similar situations, most teams and players simply agree to drop it and check back in after the season. That's why this kind of deal rarely materializes. Therein lies the excitement and encouragement of this deal. It's not just about locking up Hoerner for 2026, or gaining cost certainty for 2024 and 2025. It's really about laying a foundation of commitment. It's a down payment that doesn't demand an overcommitment from either side, but that signifies some investment from each party. 
Right after the deal happened, you could find some people on Cubs Twitter talking about it as a bit of a PR move. I don't think that's wrong, exactly, but it's deeply incomplete. That wasn't a primary or even secondary motivation here. The secondary motivation was locking up one more year of Hoerner's services. The primary one was showing Hoerner (and other players to whom the front office might talk, either now or in the future) that they're willing to try something creative, to bridge some gaps, and to pony up for great people and players. On Hoerner's side, it's an acknowledgment of that gesture, and an intimation that he trusts them. 
Because it pushes free agency one year further away, and because it holds down his earning potential for the next two seasons pretty efficiently, the very structure of the deal encourages both sides to re-engage and do a longer deal if things look good after this season, or after 2024. That's by design. In that way, even though this move changes little for the 2023 Cubs and makes a small immediate difference in their long-term plans, it's a major development. In the long run, its impact will be greater than it seems if viewed through the narrow lens of the contract terms.
1