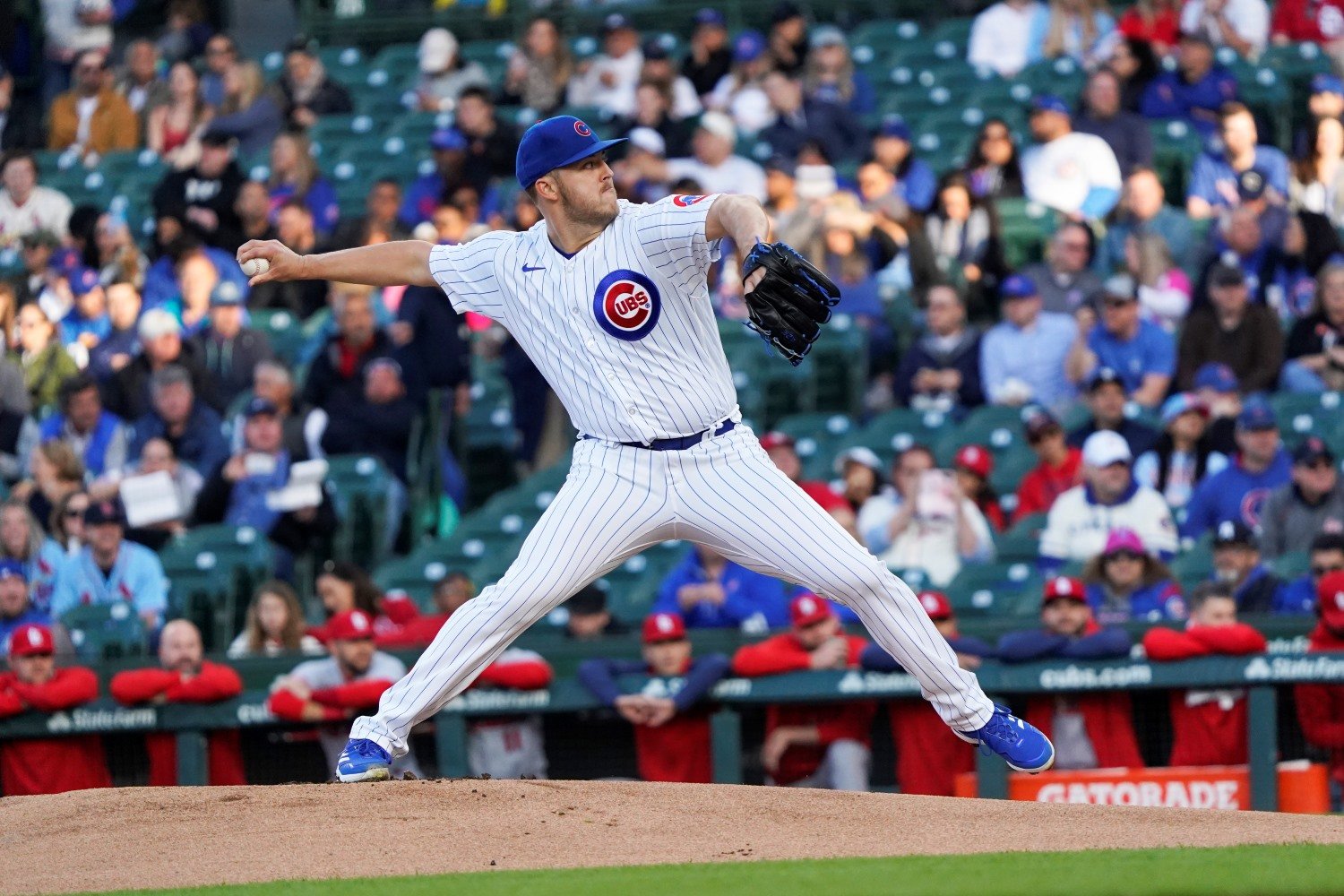 Image courtesy of © David Banks-USA TODAY Sports
Because everyone loves the sweeper, the fact that Jameson Taillon came to Cubs camp this spring eager to work one into his arsenal grabbed all the headlines. A handful of starts into his tenure, though, it's easy to see that there's more going on than the addition of a pitch. 
Obviously, the difficulties Taillon has had getting going for the Cubs have to be ascribed in part to the groin injury that sidelined him for a portion of the season. It's affected his command and control, which are even more important to his effectiveness than those things are to most pitchers. It could also be affecting his power and consistency of movement.
However, there's also another dimension of change at work. Taillon hasn't merely added the sweeper this spring; he's also making radically different choices with the pitches already in his repertoire.
That was against left-handed batters. Here's what he's done against right-handed ones.
It shouldn't surprise us to see Taillon going to the cutter more often. Only the Brewers, Guardians, and Red Sox have thrown cutters more often than the Cubs so far this year. Craig Breslow, Tommy Hottovy, and their cohort don't just like cut-ride fastballs; they also like cutters themselves. (Don't forget, either, that Justin Steele's fastball is still counting as a fastball, even though it moves much more like a cutter these days.)
Taillon is making other changes, too. He just came from the Yankees, who are a franchise focused heavily on the four-seamer. The Cubs, by contrast, love a sinker, especially one that is really defined more by its arm-side run than by its sink, and that can therefore be thrown up in the zone at times against same-handed batters, to induce weak pop-ups and to better set up pitches that change the eye level.
Thus, against righties, Taillon is now backing up that sweeping slider mostly with sinkers, not four-seamers. The sweeper has effectively replaced his curveball against them, and the cutter has become his go-to pitch to attack the outside corner. 
Because of his injury, though, we haven't even come close to seeing Taillon truly figure out what his remixed repertoire is going to look like. I don't think we'd have seen him settle in yet even if he'd been fully healthy, but the stint on the shelf made sure of it.
For one thing, there's a certain lack of conviction in the fastball mix against righties. He's not yet exploring the top of the zone with that sinker at all, so it's not setting up the sweeper the way it could. More importantly, it seems to me that Taillon could choose between the four-seamer and the cutter, rather than trying to utilize both. He might not be able to touch every part of the zone as easily with that adjustment, but pitching isn't a game of hitting every possible spot. 
That leads into another area Taillon and the Cubs could address: he's starting to stretch the limits of what any pitcher can be expected to harness. If he's throwing a four-seamer, a sinker, a cutter, a curveball, an occasional changeup, and two flavors of slider, he might be cannibalizing some of those offerings, and making it harder to sustain the feel required to use them each effectively. New-age pitching analysts and AI-fueled pitch modeling love when a pitcher adds a pitch, but consider Steele, the Cubs' two-pitch ace. Taillon might be better off if he focuses, at least in the short term, on a few pitches in which he has greater confidence or with which he has a longer history. He could always add things back in once he finds some rhythm and success.
Some of this also traces back to the fact that, despite all their talk this winter about instant chemistry and an eagerness to get to work, none of the Cubs' catchers have previous experience working with Taillon. They've been learning how to use his arsenal even as he's been expanding and tweaking it. There were bound to be some hiccups, especially during tense moments within a game when one or more of those offerings isn't effective.
Taillon's velocity, extension, movement, and spin are all intact. He's still a pitcher with big-time upside. He just needs to better blend and sequence his pitches, and that will take time, but it'll happen.