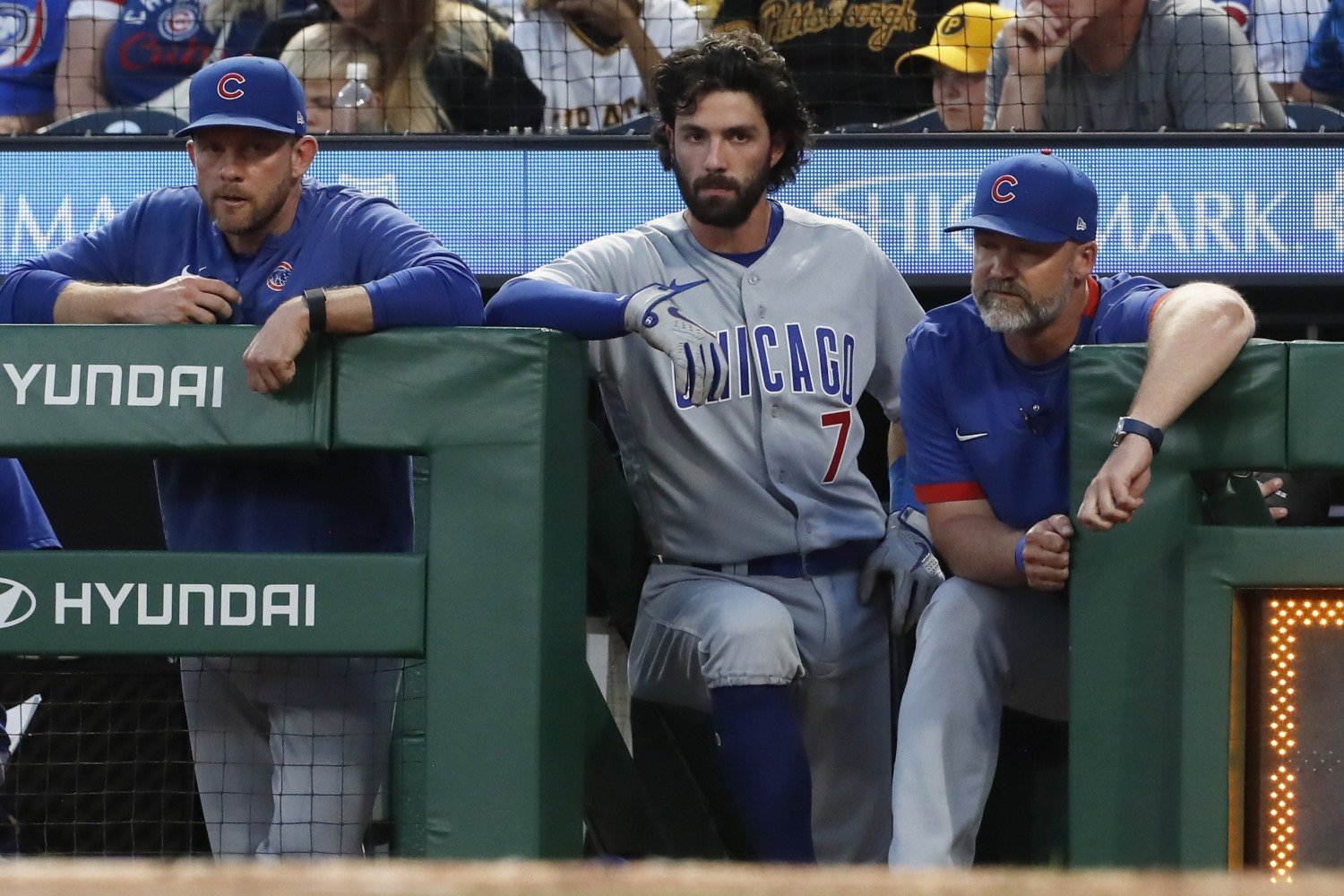 Image courtesy of © Charles LeClaire-USA TODAY Sports
It's no surprise, really, that Dansby Swanson has gone through some prolonged slumps this year. Throughout his strong, decorated career, he's been a streaky hitter. In 2021, he batted .189/.267/.316 in April; .278/.312/.557 from May 1 through June 7; .206/.277/.363 from June 8 through July 6; .318/.372/.593 from July 7 through September 1; and then .172/.272/.241 the rest of the regular season. Last year, he had a .432 OPS through April 20; a .950 one from April 21 through July 4; and a .691 mark from there through the end of the regular season. 
Readers will note the blatantly arbitrary nature of those endpoints, and I freely admit the fact. Within each of those longer slumps and streaks, too, there were warmer and colder spots. Moreover, every hitter (every ballplayer, really, but especially every hitter) is less consistent than you think, anyway. Still, even seasoned and serious baseball people (and certainly fans in Atlanta, where he was a fixture for several years and there's more granular familiarity with him than there could possibly be after 140 games here in Chicago) will tell you that Swanson runs hotter and colder for longer than most hitters with his overall talent do.
This campaign has been, by Swanson's standards, a relatively gentle rollercoaster. He's had a couple of true cold snaps, with an OPS around .560 from Memorial Day weekend through mid-June. but he's kept them shorter than in the past. He also had an OPS north of 1.000 from July 3 through the first week of August, though that span was interrupted by his stint on the injured list with a bruised heel.
That burst of torridity helped save the Cubs' season, and bought the team time for Ian Happ and Seiya Suzuki to escape long funks at the plate. It got them over the hump and helped bring Jeimer Candelario to town. It compounded the value of Cody Bellinger's even hotter July. It's important not to overlook the value of that well-timed streak, from a player who cares much more about winning than about his own statistics.
Now, however, we're getting the other side of the Full Dansby, at long last. Since August 7, Swanson is now batting .179/.273/.264, in 121 plate appearances. He's still fighting up there, but he's going very badly, and has been for quite a while. It's nice to be able to point to his ability to draw walks during these slumps, but as the numbers from 2021 help to show, he always does that. In fact, by and large, Swanson's walk rate is a reverse indicator of how well he's going at the plate. When he's hot, he's aggressive, and he doesn't miss his pitch or foul it off, so he rarely gets deep enough into counts to walk. When he's cold, he grinds out walks because he can do little else to help the team.
The following might sound antithetical to that, but it's true: Swanson's pull rate is also a pretty good reverse indicator of his performance. While his aggressive swing would seem conducive to pulling the ball with authority (and can be), the more often he's pulling it, the less well he's usually doing, overall.
Swanson's issues, when he gets going wrong, seem to relate powerfully to timing, and that jibes with this data. When he's on, Swanson squares the ball up and uses the whole field, especially the middle portion. If he's systematically pulling the ball, he's probably systematically mistiming his swings somewhat, and that's when his rates of strikeouts and groundouts rise sharply. 
Thus, it was encouraging to see Swanson drive a ball deep to right-center field on Tuesday night, even though it found a glove for a harmless flyout. That's the kind of batted ball that indicates Swanson is doing well. His single in the ninth inning was, technically, a ground ball to the left side, but it was scalded, and more to center than to left. Swanson has six hits since Sunday, and just completed two straight games without a strikeout for the first time since mid-August. 
It's a stirring testament (as if we needed more of them) to the Cubs' depth and diligence that they've been a mostly functional offense during Swanson's protracted struggles. He's batted second or fifth every day, and taken only a small handful of late innings off in blowouts, since coming off the injured list on July 22. He's getting a lot of important plate appearances, and he's been very unproductive for just over a month. David Ross waited out Happ, though, and has been rewarded by a resurgent August and early September. He'll wait out Swanson, too, and keep writing him into important spots in the lineup. As much as that might anger fans, it's the right way to handle Swanson, especially after it just worked for Happ.
Even while he scuffles at the plate, Swanson has huge value, because he works his way on base often enough not to be an automatic out, and because of his superb defense at shortstop. His particular brand of leadership has also suited this team perfectly. Imagine the impact, though, if Swanson can get hot down the stretch, with this lineup otherwise operating at a high and finely pitched hum. A hot Swanson is the difference between the Cubs being Wild Card contenders and the Cubs being World Series contenders.