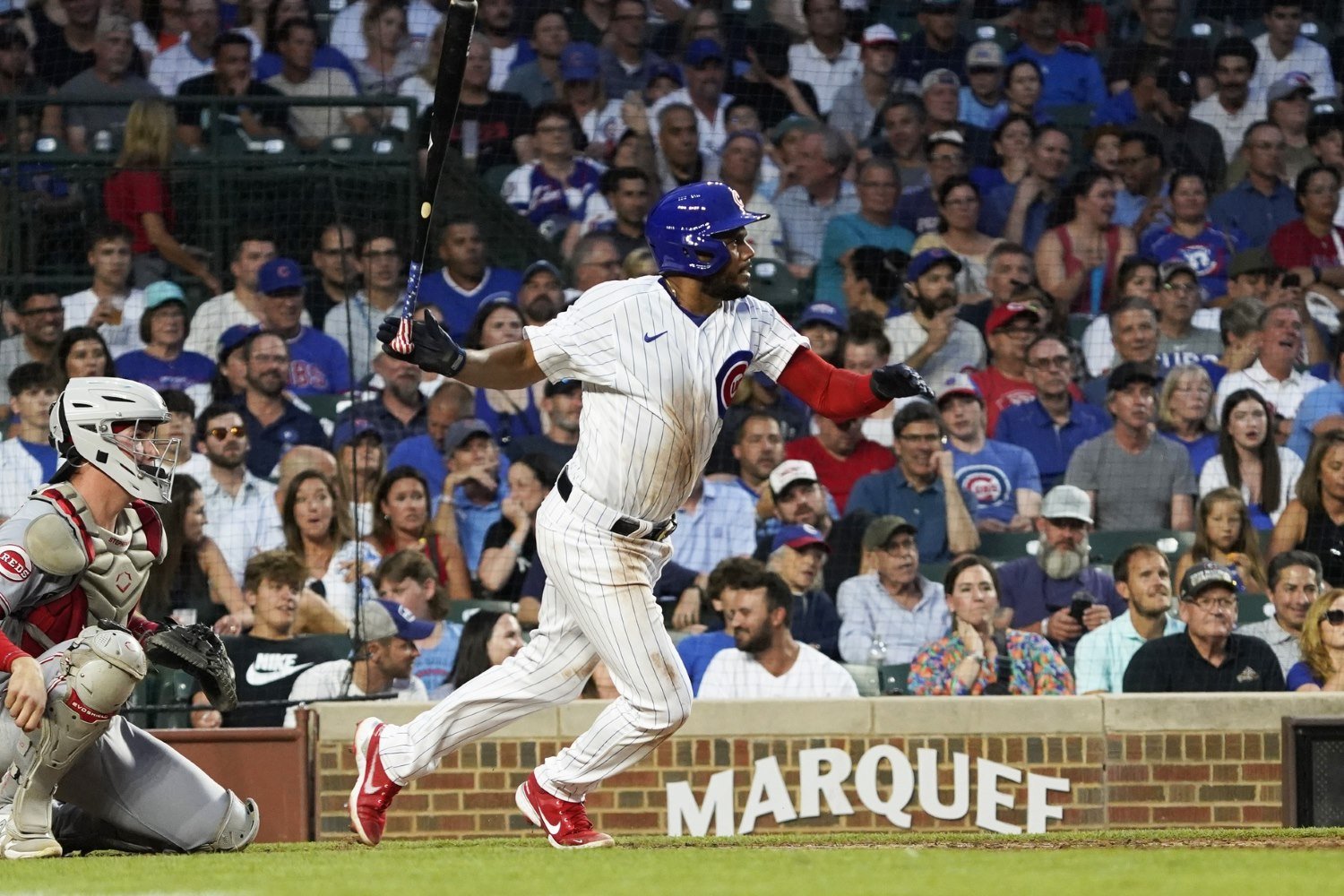 Image courtesy of © David Banks-USA TODAY Sports
That's not a comment on the team's financial inflexibility--although one of the moves they did make before the deadline does seem to reflect their need to move some money around. Rather, it's about talent, and the amount of it Jed Hoyer and his front office were willing to expend to improve the possibilities for a team that reached the end of July at exactly .500. Clearly, they settled on the idea that the roster needed and deserved an upgrade, but that making them genuine favorites in either the NL Central or the overall NL playoff bracket was impractical. Let's run through the guys they did acquire, and how they can help.
Jeimer Candelario, 1B/3B
We've already broken down the Candelario addition in multiple posts, but this is a good chance to discuss the surprising updates that have filtered through since the move was announced. Tuesday on 670 The Score in Chicago, David Ross said Candelario will mostly play first base. That's not what most expected, but it reflects the team's significant and burgeoning faith in Nick Madrigal as a regular third baseman. They determined, in the end, that Candelario can better help them by solving what has been a year-long problem at first base. If Candelario notches four hits in every game, as he did in his first game back with the Cubs Tuesday night, that'll certainly pay off. 
Seriously, though, it's a clever move. Candelario showed fine hands and footwork at first on Tuesday, and is comfortable playing the position. If you buy into Madrigal's solid play at the hot corner over the last couple months, then the team is already in position to get roughly league-average production from that position the rest of the way. The Cubs clearly do, which made their lousy non-Cody Bellinger first base options a far more pressing concern. Candelario is equally capable of filling either, so he's perfect.
This choice gives the team a great deal of flexibility the rest of the way, too. Bellinger can still come back in from center field to play first, and will probably do so on a semi-regular basis again when the team feels like Seiya Suzuki is back on track. Alternatively, if they call up Pete Crow-Armstrong in September, he could force Bellinger back to first (and Candelario across to third) even with Mike Tauchman starting in right field.
Jose Cuas, RHP
This, too, we have covered in its own post, and there's another whole post to write about him. For now, though, suffice it to say that Cuas is the good kind of project reliever. He has a unique release point, a fun backstory, and several remaining seasons of team control, should the Cubs want him around for that long. He also has minor-league options, and will be optionable again next year. That's always valuable and important when filling out the middle relief corps.
Josh Roberson, RHP
In a small trade that was largely about clearing some minor-league roster space and the remainder of Adrian Sampson's $1.9-million salary, the Cubs did get back an interesting reliever. Roberson isn't on the 40-man roster and is already 27 years old. He has ugly numbers in the high minors, including some rough walk rates. However, he throws 97 miles per hour, and his slider misses bats, at least in Triple A. If the control improvements he made over his final six weeks or so in the Rays organization stick, he could be another solid reliever. 
The front office was not willing to go over the luxury tax threshold to improve this year's roster. They weren't willing, either, to trade any of their top prospects, at least for the talent they could buy at this deadline. Instead, they made moves to clear their decks and books a bit, and they got the best bat they could find to boost an increasingly competent lineup, using only prospects they were unlikely to retain beyond this November, anyway. It's not an all-in move, but nor did they fold. We'll all just have to see how the cards fall from here.