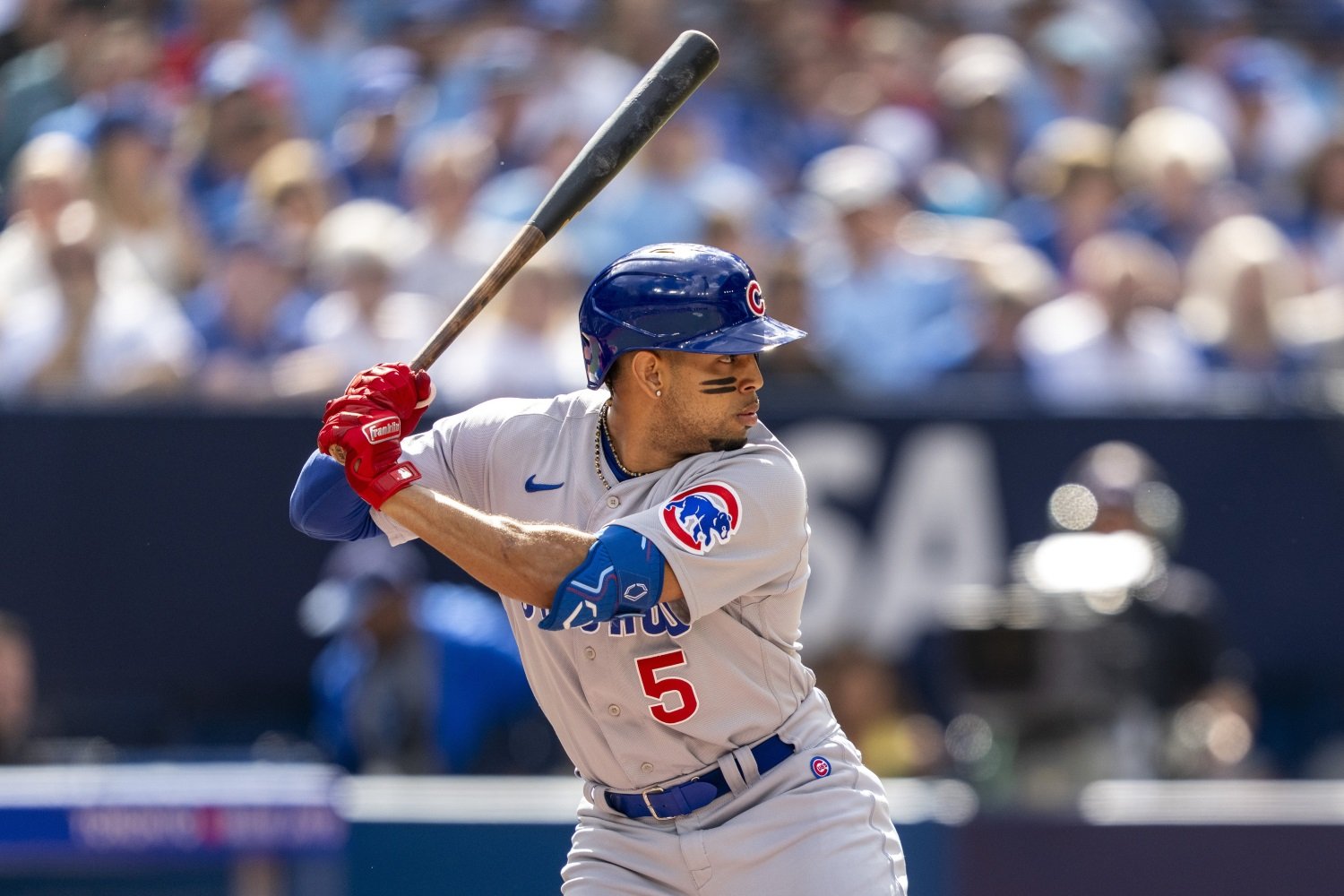 Image courtesy of © Kevin Sousa-USA TODAY Sports
Christopher Morel stepped to the plate on Wednesday night with the game on the line. With runners on second and third, one out, and a one-run deficit in the ninth inning, the Chicago Cubs just needed some decent contact in order to at least extend the game against the New York Mets.
Unfortunately for the Cubs, other than Patrick Wisdom, I am not sure there is a worse player to have coming to the plate when all you need is contact. Morel's 33% strikeout rate is third-worst among rostered Cubs, behind Wisdom's 37.5% (yikes) and the seldom-used Tucker Barnhart, at 33.1%. 
That is exactly how the at-bat played out. After swinging through two fastballs to fall behind 0-2, Morel took another fastball for a ball; fouled off another; and then took a fifth straight fastball right down the middle for strike three.
With a player like Morel, you learn to take the good with the bad. Thankfully, Cubs fans have recent experience with that, after having Javier Baez on the team for several years. Despite the high strikeout rate, Morel's wRC+ of 129 is third on the Cubs, behind Cody Bellinger and just one point behind newcomer Jeimer Candelario, according to FanGraphs. Morel's 91.9 miles-per-hour average exit velocity is second to Wisdom, and his .257 isolated power also trails Wisdom for the team lead. All of this is to say that, despite the strikeouts, Morel is a very productive hitter.
It was the way that Morel struck out that was particularly frustrating for Cubs fans. It was a straight fastball! Right down the middle! It struck me, while watching the game, that it feels like that happens to Morel more than any player I consistently watch. As a matter of fact, it had happened to him just two innings prior!
Per FanGraphs, he is swinging at 68.2 percent of fastballs in the strike zone. For reference, Yan Gomes, one of the more aggressive hitters on the team, swings at 71 percent of fastballs in the zone, which is a decent but not significant difference. So, maybe there is nothing to this.
Or, maybe there is. Morel's 44.4% swing-and-miss rate against four-seam fastballs is ninth-worst in baseball, according to Baseball Savant. His 45.1% strikeout rate against four-seamers is 17th-worst. 
Obviously, hitters typically hit fastballs well, and struggle against offspeed pitches. While Morel just swings and misses a lot in general, and his 45.7% swing-and-miss rate against sliders is still bad, it is only 43rd-worst in baseball. His 24.4% strikeout rate against sliders is all the way down at 304th-worst in baseball. That section of the leaderboard is populated by contact hitters like Nolan Arenado, Tommy Edman, and Nico Hoerner–not somewhere you'd expect to find someone like Morel.
So what gives? Per Baseball Savant, Morel is slugging .925 against sliders this year, first in all of baseball. His peripherals back that up as well, as his expected slugging percentage of .725 is fourth in baseball. His in-zone swing percentage against sliders is up about seven percentage points from last year to this year, according to FanGraphs, a fairly significant difference. He is also crushing cutters, which is the closest relative to a slider as far as pitch shape. Is he sitting on pitches that he thinks will break a certain way, causing him to take more straight fastballs for strike three?
Maybe it's all just statistical noise. His performance against these pitches last year was not nearly as impressive as it is this year, and he is still struggling against curveballs and sweepers. And he did jump a first-pitch sinker for a lead off home run earlier in the same game. Tellingly, in clinching a .500 road trip for the team on Saturday, he stroked a go-ahead double in a clutch ninth-inning moment, when Blue Jays reliever Jordan Hicks threw him a slider. In the modern version of MLB, there are worse approaches than going up there sitting on a slider and knowing when it will end up in the zone. 
Or maybe it is something. His improvement from last year to this year is at least evident in his peripherals. "Let Christopher be Christopher" doesn't nearly have the same ring to it as "let Javy be Javy" did. But as frustrating as that ninth-inning at-bat in Queens was, maybe that's just the best approach as a fan: Take the good with the bad, and enjoy the ride.