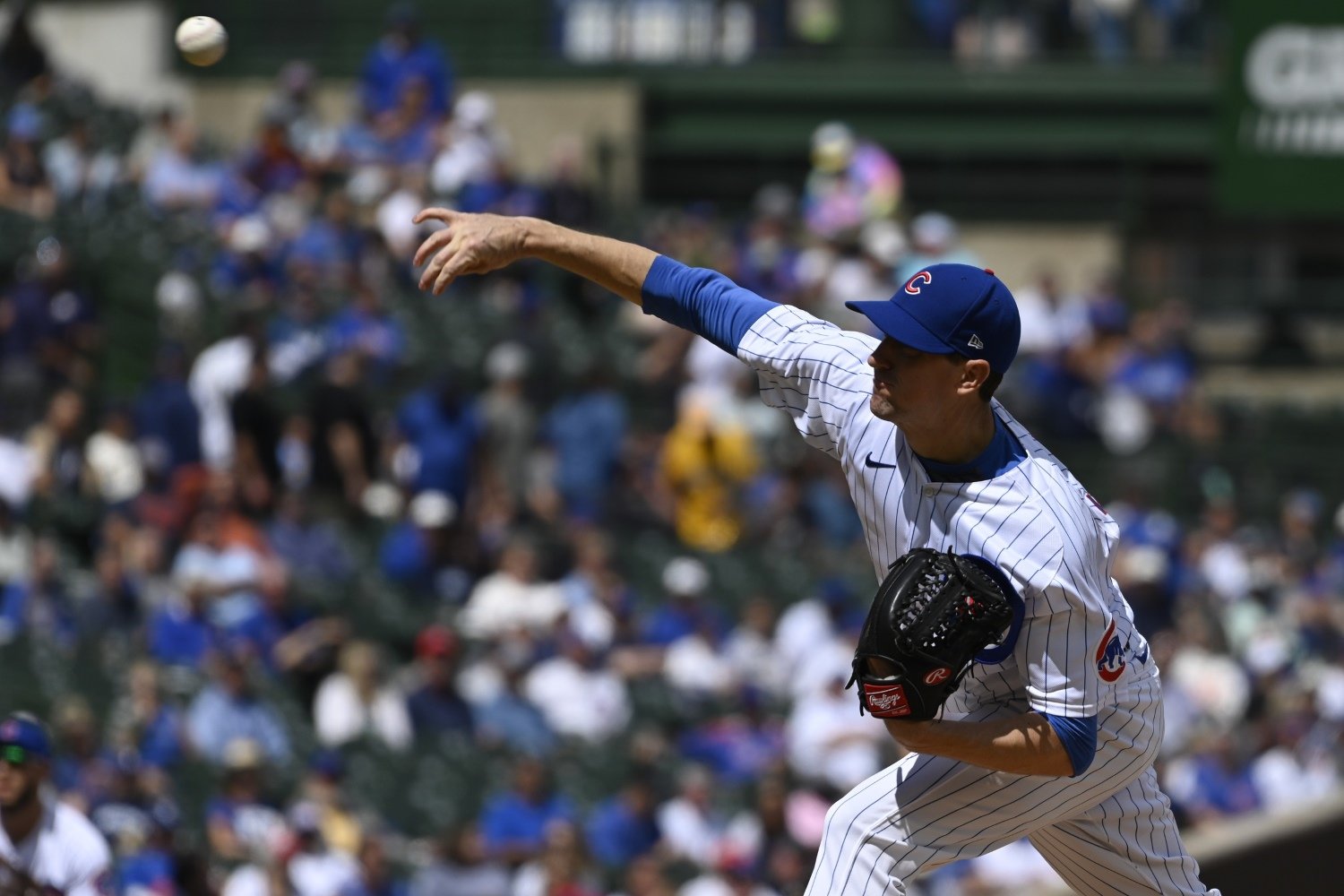 Image courtesy of © Matt Marton-USA TODAY Sports
The 2012 Cubs were a moribund bunch. They started 3-11. They were, at various points, 15-32, and 24-48. By July 23, they were 38-56. That team was built to be taken apart, and on that date, Theo Epstein and Jed Hoyer went about trying to perform that demolition. They agreed to a trade to send impending free agent Ryan Dempster to the Atlanta Braves, in exchange for coveted pitching prospect Randall Delgado. It was a big story, and it looked like the next big step forward for a team that had just installed their rookie first baseman, Anthony Rizzo, and signed slugging Cuban prospect Jorge Soler as an international free agent.
Then, the deal collapsed, under the weight of Dempster's five-and-10 rights. Because of Dempster's service time and seniority with the club, he had to approve the trade, and he didn't. He later denied that that was the shape of the situation, but it was. Gone was the Cubs' shot at the highly-touted Delgado. A week later, they traded lower-wattage starter Paul Maholm to Atlanta, but got a lesser haul in return. 
Instead of the Braves, Dempster eventually landed with the Rangers. The Cubs and Texas slapped together a deal just five minutes before the trade deadline, and instead of Delgado (a consensus top-50 prospect in the game entering 2012), the Cubs collected two lower-caliber prospects, years away from the big leagues. Undersized third baseman Christian Villanueva was, at least, 100th on Baseball America's Top 100 list prior to that year, but soft-tossing fellow Class A player Kyle Hendricks was drawing no buzz whatsoever.
On Tuesday, Hendricks softly tossed six innings of one-run ball in the Cubs' biggest win since Game 5 of the 2017 NLDS--a game he also started. Before that, he'd been the starting pitcher the night they won the National League pennant for the first time since 1945, and the starting pitching the night they won the World Series for the first time since 1908. 
Hendricks has been a delightful surprise, from his rookie year of 2014 to this resurgent season, coming just when he looked to be in danger of fading away. On Wednesday, he was everything the Cubs needed, keeping the Brewers so off-balance that they whiffed on, stared at, or mishit even several pitches right down the middle. 
Keep in mind that, to any given hitter, Hendricks is largely a two-pitch pitcher. He might sneak the occasional sinker in against a lefty, and he still theoretically has his big-breaking curveball, but he's largely focused on throwing his four-seamer and changeup against lefties, and his sinker and cut-change (treated as the same pitch as his lefty changeup by pitch classifiers, but really distinct) against righties. 
Here's his pitch usage against right-handed batters, by season.
And here's the same chart for lefties.
Here, with those in mind, is his pitch movement scatter plot for Wednesday's game. The fading changeups below the sinker cluster are the ones he threw to lefties. The ones bunched next to the sinkers but toward the glove side are the ones he threw to righties.
The result is that, while the velocity gap between his fastballs and his changeups is shrinking over time, batters still have to deal with a reasonably significant movement differential. Righties have a much smaller one with which to contend, which is why he gets a higher whiff rate against lefties than against righties, but the lateral orientation of his movement contrast against righties means that they generate weaker contact against him than lefties do. Indeed, though his strikeout rate is the lowest it's ever been, he's also inducing the lowest average exit velocity of his career. With a fastball under 90 miles per hour and no real third pitch against any hitter, he shouldn't be able to continue having such success, but through brilliant sequencing and good command, he does.
There's also luck involved. We have to admit, and even embrace that. Hendricks's approach means plenty of balls in play, which means that luck can intercede in lots of places. He's more than usually reliant on good pitch framing by his catcher, too. None of this diminishes the genius or the validity of his career. It's just a fact that necessarily informs any account thereof. When Hendricks pitched 7 1/3 innings in Game 6 of the NLCS and became the second pitcher ever (after Don Larsen) to start a playoff game in which his team faced the minimum number of batters, he needed some good luck, and he needed the awesome defense the team had arrayed behind him. 
People bristle when you remind them that luck exists in baseball. When you point out specific places in which it's played a heavy role, they act as though you'd stabbed them in that place. It's akin to the reaction of certain people who enjoy White, straight, male, and other forms of privilege, when the fact that those systemic privileges play a large part in shaping our lives comes up. It hits us, whether we be fans of a team that has had some good luck or members of a demographic that has had something a little more sinister on its side, like an accusation--like an invalidation of something we love, and which we desperately want to feel is fully earned.
The breakthrough insight is this: luck is everywhere. So is privilege. No one succeeds (or fails) in life based solely on their own merit or their own diligence. We are all interdependent, and we are all subject to the vagaries of chance. That's not debatable. It also doesn't need to make us so insecure. Good and bad luck can collide and create chaos within a particular moment. A person who enjoys one type of privilege and gains handsomely from it in one setting can be on the wrong side of that divide and be damaged by the absence of privilege in another setting. What we all need to do is get away from the idea that our lives are our own, and that everything that happens must be through some purposeful, individual agency. When we treat what comes to us in life less preciously, less like something we won in a vacuum, we can better appreciate and understand our place in the world around us.
The Brewers have been lucky in close games this year. That doesn't mean that Craig Counsell isn't an excellent in-game manager (he is), or that his superiority to David Ross in that regard isn't one reason for the Brewers leading the Cubs in the standings (it is). Using the fact of the Brewers' luck as some denigration of their success badly misses the mark, because it covers up the fact that every team needs luck (in addition to several other things) to compete for a playoff berth. If Ryan Dempster hadn't refused the first trade destination the Cubs found for him, the team wouldn't even have the pitcher who has racked up more WAR for them than any hurler since Carlos Zambrano.
That's about as lucky as you can get. It doesn't make Hendricks's wonderful career or heroic outing Wednesday any less real or any less valid, though. Nor does the fact that the Cubs' winning hit was an infield single off the leg of Joel Payamps render their victory somehow illegitimate. The Brewers have gotten their wins in different ways than the Cubs have, and their luck is taking a different shape than the Cubs' this year, but it's silly to argue that either team has been luckier than the other, and lobbing calumnies back and forth based on the premise that they might have been betrays a misunderstanding of the enormous role luck plays in our lives--but especially in baseball.