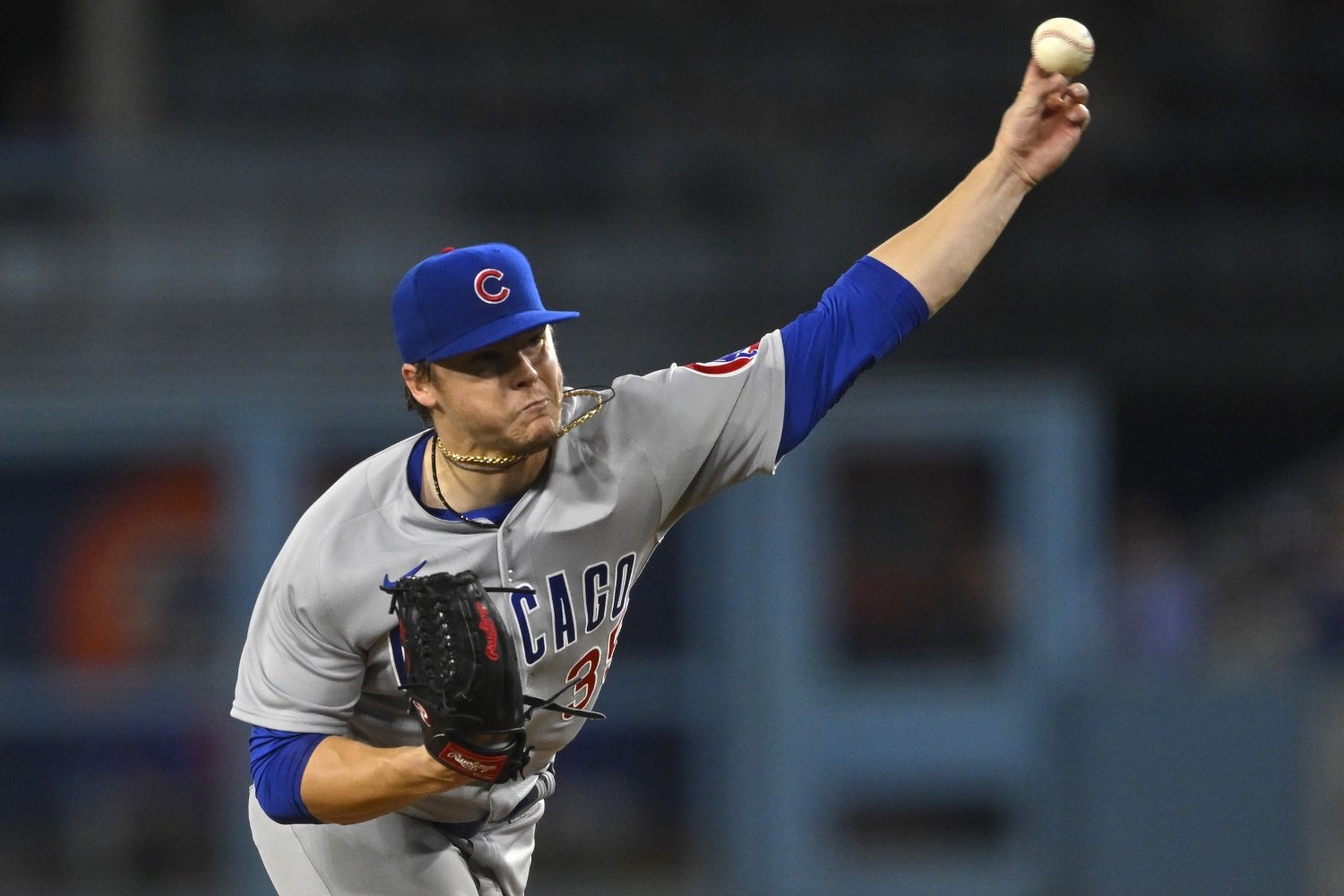 Image courtesy of © Jayne Kamin-Oncea-USA TODAY Sports
Far too often, over the last two seasons, David Ross has taken guys out in precisely that kind of situation. He'll appear to give a pitcher a bit of extra leash, even after it seemed like they might be ripe for removal the previous inning, but once trouble pops up, he rushes them out of there. That was something Joe Maddon often did, too, and it was unproductive even for Maddon's good teams, flush with established veterans from whom Maddon knew well what to expect.
Ross's Cubs clubs are different. They have players who haven't earned the same level of trust as Maddon's players had, but paradoxically, it's even more important that Ross trust them. Every team--even a veteran one with World Series aspirations--needs to remember how long the season is, and be willing to trade a few points of win probability in certain games for a little bit of new information, or a learning experience. Ross hasn't done that well, to this point in his tenure.
Friday night, he nailed it. There were two acceptable times to take Justin Steele out of his dominant performance: at the end of the sixth inning, or at the end of the seventh. Ross elected to let him go back out there for the seventh, but in the past, he definitely would have been spooked and pulled Steele after Max Muncy hit a home run to halve the Dodgers' deficit.
Steele has to face down the rest of that inning. In April, when it's impossible to know how important this game was in the grand scheme, it's far more valuable to let him learn a few things about working through an opposing lineup a third time than it is to optimize the odds by calling upon Keegan Thompson. Steele gave up some hard contact to the top of the Dodger lineup in the sixth, which is why it would have been perfectly defensible to take him out at that point, but once he came out for the seventh, Ross needed to let him navigate that frame. In the past, he wouldn't have done so. This time, he did.
It helped that the home nine at Dodger Stadium is less daunting than it used to be. Mookie Betts and Freddie Freeman are still excellent and terrifying, but immediately after them, a slide begins. The Dodgers are, at this point, a little top-heavy. That meant that Steele could recover from the Muncy rocket and work his way out of the inning without too much fear of the hitters he faced along the way.
Still, this is huge. Steele, who has become increasingly comfortable being a two-pitch starting pitcher, has to figure out what that looks like when facing a lineup three times in a game. Last year, he didn't get many chances to do that, and when he did, he struggled. Even the second time through, hitters teed off on him a bit.
Times Facing Opponent in Game

Split


▲

G

PA

HR

BB

SO

BA

OBP

SLG

OPS

BAbip

1st PA in G, as SP

24

216

3

16

63

.211

.273

.286

.560

.293

2nd PA in G, as SP

24

206

4

23

48

.303

.385

.421

.807

.391

3rd PA in G, as SP

17

88

1

10

15

.197

.284

.290

.574

.226

4th+ PA in G, as SP

1

2

0

1

0

.000

.500

.000

.500

.000
Last night, though, Steele survived. He faced seven Dodger hitters the third time through, and retired six of them, including striking out two. He was as reliant on his fastball Friday as he has ever been in a start in his career, and it paid off. In a slightly more macro rendition of the concept of pitching backward, he even got more heater-heavy as the game went on, and he seemed to catch the Dodgers looking for the slider more than once.
It's a fascinating challenge to be a two-pitch starter who goes deep into games. There aren't any fancy sequences available to you, so by the third time you see a hitter, you have to be able to use a different part of the strike zone than you did before, or to reshape one of your offerings slightly so that even if they pick up what's coming, they're wrong about what it will do. Steele is learning to do that. He threw more sliders than fastballs in his first start against the Brewers, but three times as many fastballs as sliders Friday night. Being hard to scout is a vital part of having high-level success with a limited arsenal, and Steele is starting to figure that out. 
Ross's trust was rewarded. Hopefully, he'll continue to make good choices like that one. There's still much for the manager to learn about this Cubs team, and much of it has to be learned by giving them chances to do things no one is sure they can do. That didn't cost them last night's game, but even if it costs them one or two in the future, it will be a worthwhile trade. In the meantime, that victory felt awfully good, and Steele showed one of the biggest markets and best teams in the league how good he's become.
1