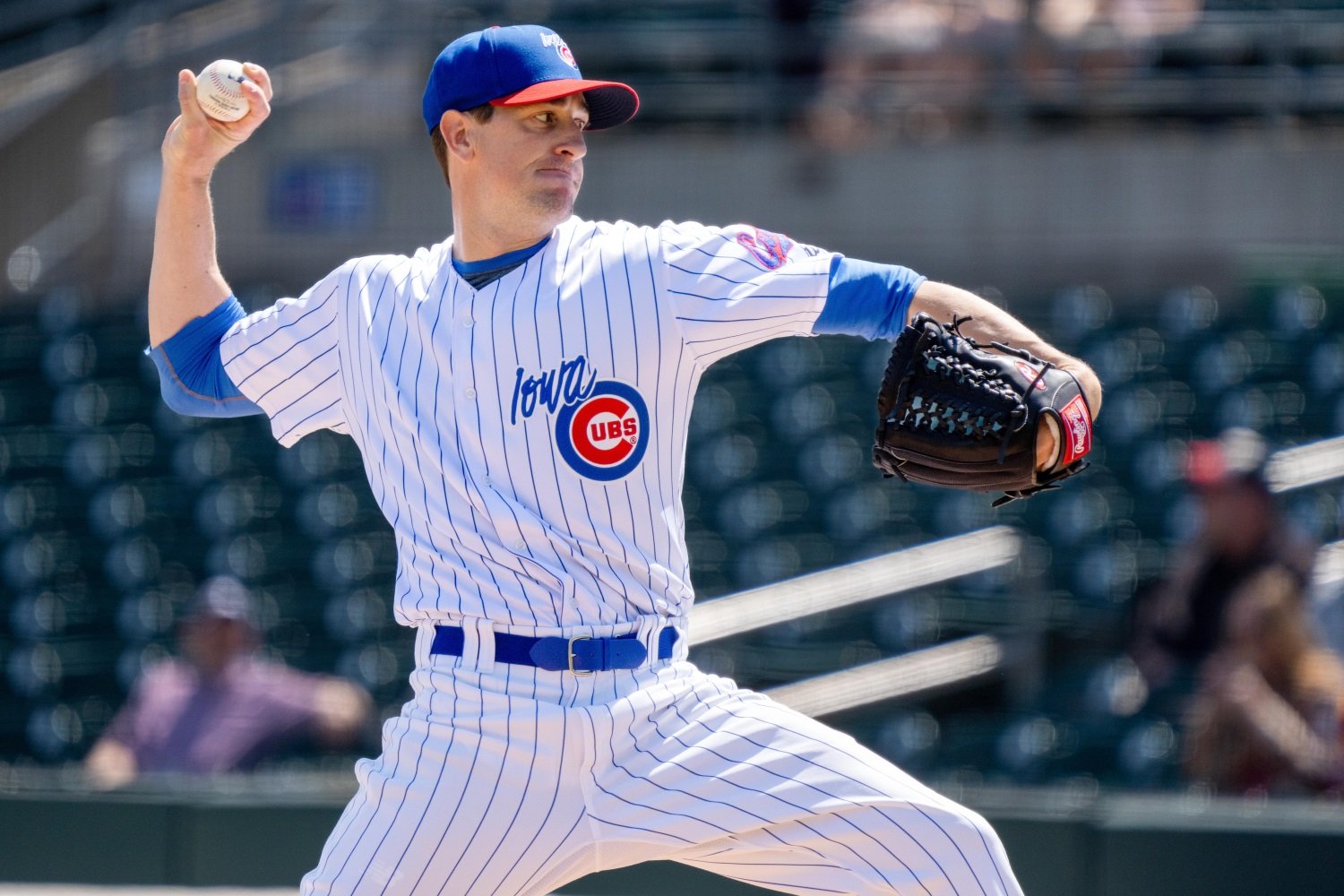 Image courtesy of © Zach Boyden-Holmes/The Register / USA TODAY NETWORK
Rehabbing right-hander Kyle Hendricks is due to make another start for the Iowa Cubs on Sunday. After that, though, it's likely that he'll be ready to re-join the big-league rotation. Even in his last rehab outing, earlier this week, he worked five strong innings. With his return, the Cubs stand to gain even greater depth and consistency, but it also means that the squeeze is on. 
Obviously, the rotation spots of Marcus Stroman and Justin Steele are locked in and fully secure. So are those of Drew Smyly and Jameson Taillon, who (whatever performance concerns one might have about them from one start to the next, and despite the perpetual health concerns that hang over each) represent significant financial investments by the organization and are proven veterans. 
That leaves Hayden Wesneski as the odd man out, if the rotation remains a five-man unit. There's a case to be made for sending him down, too, because his start to this season has shown us several things on which he could work during a sojourn in Des Moines. Yet, the guy has gotten better with almost every start. He's not yet missing bats the way he and the team surely envision, but he's showing better command of his full arsenal; learning how to balance the need to disguise his offerings with the necessity of executing them well; finding ways to deceive and attack hitters from both sides of the plate; and working through adversity to finish his outings strong.
In light of all that, it might be worth simply expanding the rotation to accommodate its familiar newcomer, rather than swapping him in for Wesneski. A six-man rotation is no longer an unthinkable proposition in the modern game. In fact, the Angels, Astros, Dodgers, and Padres used one for most of 2022, and the Brewers and Angels did so in 2021, as well. Some of those are special cases, because those rotations were designed to allow for optimal rest and usage for exceptional hurlers: post-Tommy John surgery Justin Verlander, for Houston, and Shohei Ohtani, for the Halos.
Still, the six-man staff is beginning to find traction, and if you think about it, it makes sense. For one thing, the five-man rotation evolved under different rules and conditions than the league now has. Rosters were only 25 players deep. Expansion happened every decade or so. Teams carried fewer pitchers and prized their offensive bench options more. Bullpens were built around matchups, and it was permissible and reasonably common to see pitchers face just one or two batters per game. 
The 26th roster spot, alone, makes some part of the case for a six-man rotation. In the age of 13-man pitching staffs, it might be more efficient to use six starters, anyway. As the rate of injury continues to rise, and with the added complication and potential risk of the pitch timer, using six starters also makes sense as one path to keeping each starter healthy.
Unlike going down to a four-man rotation, this wouldn't require an adjustment for which pitchers might not be ready. Every starter has a routine they utilize when they have a fifth day of rest, anyway, because that's fairly common even in a five-man formation. The only new challenge would be keeping guys on schedule when an extra off day or two creeps in.
Obviously, there are implications for the bullpen, which would shorten to seven pitchers. The Cubs already love to use their relievers for multiple innings, though, and anyway, the utility of a sixth starter dramatically outweighs that of the eighth reliever. Further, part of the theory of the six-man rotation is that each starter can work (very slightly) deeper into each game than they might otherwise, which should decrease the team's dependence on the relief corps. Last year, the teams who led each league in innings pitched per start were the Astros and Padres, two members of the budding six-starter fraternity.
It's not likely that the six starters would stay in rotation for the entire balance of the season. Someone will get hurt, and if (by some miracle) they don't, the team could shorten the rotation down the stretch, as the Dodgers and Padres each did for portions of August and September last year. Pushing back the decision to make Wesneski anything other than a big-league starter seems to make sense, but it needn't be permanently avoided if he starts to struggle again.
The organization's improving depth beyond the six would-be starters themselves makes this easier to attempt, too. With Ben Brown and Jordan Wicks close to being ready for the big leagues as starters; with Jeremiah Estrada seemingly stuck on the Iowa-Chicago shuttle already; with Javier Assad stretched out for versatile usage; and with Bailey Horn and Codi Heuer lurking as reinforcement for the bullpen, the team has the sheer quantity of good arms to try something creative and accept the attendant risks.
Hendricks and Smyly would definitely benefit significantly from the extra rest this approach would afford, given their ages and recent injury issues. The same is probably (though slightly less clearly) true of Stroman, Steele, and Taillon, because of the nature of their stuff. Most of all, though, it would give the Cubs time and information to make better evaluations of Wesneski, without hurting their chances of reaching the trade deadline in a competitive position.