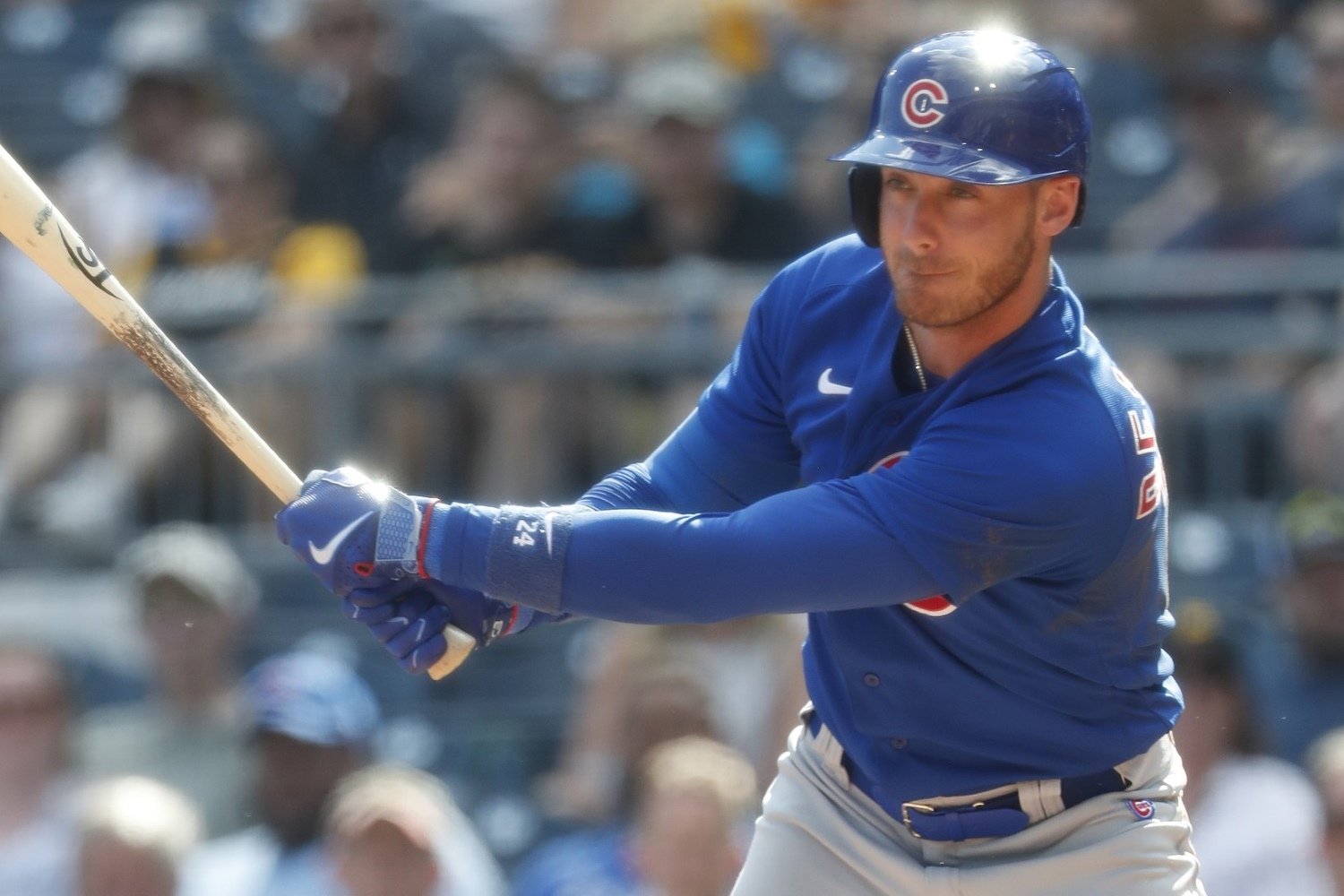 Image courtesy of © Charles LeClaire-USA TODAY Sports
It's not too much to say that this is the biggest series the Cubs have played at Wrigley Field since September 2019, when they hosted the Cardinals with a chance to catch them in the fight for the NL Central. They'd lost the two games prior thereto, but they still only lagged St. Louis by three games, and they welcomed the Cards for a four-game weekend set.
We all remember how that turned out. In the most heartbreaking turn for the team since the demise of the 2008 team in the NLDS, the Cards swept the hosts, putting an unofficial but very real end to both Joe Maddon's tenure with the team and the Cubs' hopes of milling their half-decade of success into a real dynasty. It was brutal.
Fear not: this series has no such potential. Even if the Brewers put the seal on their division title by sweeping the Cubs, it wouldn't be the end of the Cubs' chances to reach the playoffs. More importantly, whereas that 2019 team was playing under the clouds of the previous year's failure to finish off the Brewers and the winter of bad feelings and no spending by ownership, this team has already met their expectations for the season, and the welcome heartburn welling up in Cubs fans has been hard-earned by this resilient, talented team.
Secure in the knowledge that the pressure will not exceed the pleasure, then, let's look at this exciting matchup in greater detail.
The Starting Pitchers
To open this set, each team will send the starter about whom they feel the least certainty, at least out of the three who will take the hill on each side this week. For the Cubs, that means Jameson Taillon, whose hot streak from mid-July through the trade deadline has given way to some inconsistency over his last few starts. Still, he's a few important notches better than he was early in the campaign. He'll have to be careful with the Brewers' lineup, which is heating up at just the wrong time and which includes some dangerous left-handed hitters in Christian Yelich, Sal Frelick, Rowdy Tellez, Brice Turang, and the switch-hitting Carlos Santana. Still, Taillon has rediscovered his talent, and should keep the Cubs in the contest.
Milwaukee will send out recent Cubs alumnus Wade Miley, whose 2023 alongside Lake Michigan has been a rough sketch of the 2022 he passed just a bit further down the shore. His ERA (3.18) is almost identical to the one he had with the Cubs last year (3.16), but he's made 17 starts already--eight more appearances than he managed last season. Even so, injuries and the ravages of age are his constant companions.
When he's been on the mound, he's been his usual self, with that cutter-heavy approach that keeps his splits fairly neutral. He still limits hard contact fairly well, but his strikeout rate keeps trending down, and is now well below league-average. His ground-ball rate has also sagged this year, so the best play would seem to be to get some right-handed slug into the lineup and try to clear the fences against him. With the fly ball-oriented Taillon on the mound, this might be the game in which David Ross sneaks Patrick Wisdom into the lineup at first base, with Jeimer Candelario at third, Christopher Morel at DH, and both Mike Tauchman and Nick Madrigal on the bench to start. 
On Tuesday night, the series's marquee matchup takes place. That's when Justin Steele takes the ball, in search of his 15th win, with Corbin Burnes toeing the slab for the Brewers. Even a year ago, it would have been a little bit nuts to think of this as an even match, but at the moment, that might be the case. Steele is tiring as we near the end of the season, and has allowed a home run in four of his last five starts. That's not good. When he's going well, Steele keeps the ball in the park. Still, he's gutted out strong efforts almost every time.
Burnes has been much more uneven this year. In July, he was not only his usual self, but the best pitcher in baseball. He allowed an OPS of .387 for the month. That's not an OBP, or even a slugging average. Combine the two, for batters facing Burnes in July, and you're still under .400. Both before and since then, though, he's been inconsistent. Sometimes much too reliant on his famous cutter, Burnes has run into occasional trouble with home runs, and he's walking far more batters than he does when he's on top of his game.
Despite the excellent spin he imparts on just about everything, the arsenal Burnes is using lately just doesn't faze right-handed batters that much. On the season, they have a .709 OPS against him, including 14 home runs in 314 plate appearances. That sounds a bit humble, but remember that it bakes in stretches during which he was going a lot better than he is right now. For that matter, compare it to how lefties have hit against him this year: a .493 OPS, and a 28-percent strikeout rate. He's a reverse-splits guy right now, and the Cubs' best matchups against him are likely to be Dansby Swanson (who's 7-13 with two homers against Burnes in his career, already), Nico Hoerner, and the red-hot Seiya Suzuki. Still, expect to see Tauchman in the lineup for that one, because he, Candelario, and Ian Happ all have the patience to take advantage of the high walk rate Burnes has allowed to lefties this year. 
Tuesday night's matchup might favor the Cubs, then, but Wednesday's will be the sternest test. Brandon Woodruff so dominated the Padres Friday night that he looked not only fully recovered from the shoulder trouble that sidelined him for half the season, but restored to his Cy Young-caliber best. Woodruff is hard on the Cubs anyway, and if he's operating at that level again Wednesday, Kyle Hendricks's margin for error will be virtually nil. 
Woodruff's big quirk is that, with two strikes, he goes to the fastball to put hitters away. Of the 167 pitchers who have thrown at least 1,000 pitches with two strikes since the start of 2021, Woodruff uses the fastball in those counts more often than all but three. When Cubs batters fall behind in the count, they need to sit on the fastball. If they whiff on an offspeed pitch, so be it. The payoff is in looking for the heat in an offspeed count and hitting ir hard somewhere.
Who's Hot, and Who's Not
To be honest, most of the Brewers lineup is hitting well right now. That's how a team wins eight straight games. The Cubs will probably see all 13 hitters on the Milwaukee roster during this series, in some capacity, and in this rivalry, it's always the guy you don't expect who comes up with the big hit. Thus, let's leave Yelich and William Contreras alone for the moment, and talk about the supporting cast for the Crew.
Right now, the quartet of rookie hitters who have often energized the Brewers offense this year is struggling mightily. Over the last two weeks, even as the team has surged, these four have hit the rocky section of Adjustment Avenue.
Growing Pains
| | | | | |
| --- | --- | --- | --- | --- |
| Player | PA | AVG | OBP | SLG |
| Andruw Monasterio | 44 | 0.154 | 0.25 | 0.179 |
| Brice Turang | 43 | 0.256 | 0.326 | 0.256 |
| Joey Wiemer | 13 | 0.083 | 0.154 | 0.083 |
| Sal Frelick | 30 | 0.185 | 0.267 | 0.222 |
Meanwhile, though, a cadre of veterans who had been in slumps until that point have suddenly rediscovered their stroke--especially their power.
Back on Track
| | | | | |
| --- | --- | --- | --- | --- |
| Player | PA | AVG | OBP | SLG |
| Willy Adames | 51 | 0.326 | 0.392 | 0.543 |
| Carlos Santana | 54 | 0.271 | 0.352 | 0.583 |
| Mark Canha | 44 | 0.324 | 0.409 | 0.459 |
| Tyrone Taylor | 39 | 0.303 | 0.41 | 0.545 |
This doesn't mean the Cubs can afford not to take Turang, Monasterio, Frelick, or Wiemer seriously. All four have their redeeming offensive virtues, and when any of them get on base, they become a threat to steal a base. It's just that the bigger, more established names are the ones who have recently been doing damage. In tough spots, when it's an option, Ross might want to order that those guys be pitched around, to go after the rookies instead. 
The Battle of the Bullpens
With two days off last week and a couple of relatively easy wins mixed in, the Brewers come to town with their bullpen as fresh as they could possibly hope for it to be. Fifth starter Adrian Houser departed Sunday's game after just two innings, and could land on the injured list, but stalwart long man Bryse Wilson ate four innings and kept the Brewers in the game long enough for them to effect a comeback. Then, they added on so admirably that they didn't even need to use their suite of high-leverage relievers. Devin Williams and Joel Payamps have each pitched just once in the last four days. 
Milwaukee's superb relief depth is starting to show through. They've helped former Cubs project Trevor Megill finally figure it out, and while Megill is probably down for Monday night after throwing 32 pitches to close out Sunday's win, he'll be a factor in this series. So will rookie flamethrower Abner Uribe, who lacks consistency right now but might have the best pure stuff in the National League. That's not to mention rubber-armed middle relievers Hoby Milner and Elvis Peguero. The Cubs can't count on any comebacks against this group.
By contrast, the Cubs' pen feels awfully thin right now. Michael Fulmer is on the IL, and Adbert Alzolay, Julian Merryweather, and Mark Leiter Jr. have borne a heavy workload lately. Thank goodness for Javier Assad and Keegan Thompson, who saved the pen Sunday and gave the more trusted arms a breather ahead of this crucial set. That Drew Smyly is now a permanent part of the pen also helps, though Ross has only used him in low-leverage spots so far.
After Thompson's dazzling two innings in his first appearance since being exiled to Des Moines early in the summer, it will be interesting to see whether he re-enters the team's circle of trust. If he could be his 2022 self down the stretch, it would give the relief corps a huge and needed boost.
Who's Next?
A really good season, which is what this one has become for the Cubs, is filled with heroes. Some guys have their defining moment, and others simply step in and stop a gap at a vital time. We've seen that heroic turn for Morel and Yan Gomes at the plate, and for Marcus Stroman and Fulmer and Leiter and Alzolay on the mound, and for Happ and Tauchman in the field. In order for the team to come back and win the NL Central, they need the next hero to emerge this week. Any end-of-season hype video has to include some clips of big hits and big plays from the few games right in front of us. That we even get the chance to see whether or not that happens, though, means Ross's charges have done a wonderful job over the last month and change. The Cubs' playoffs start tonight.
2