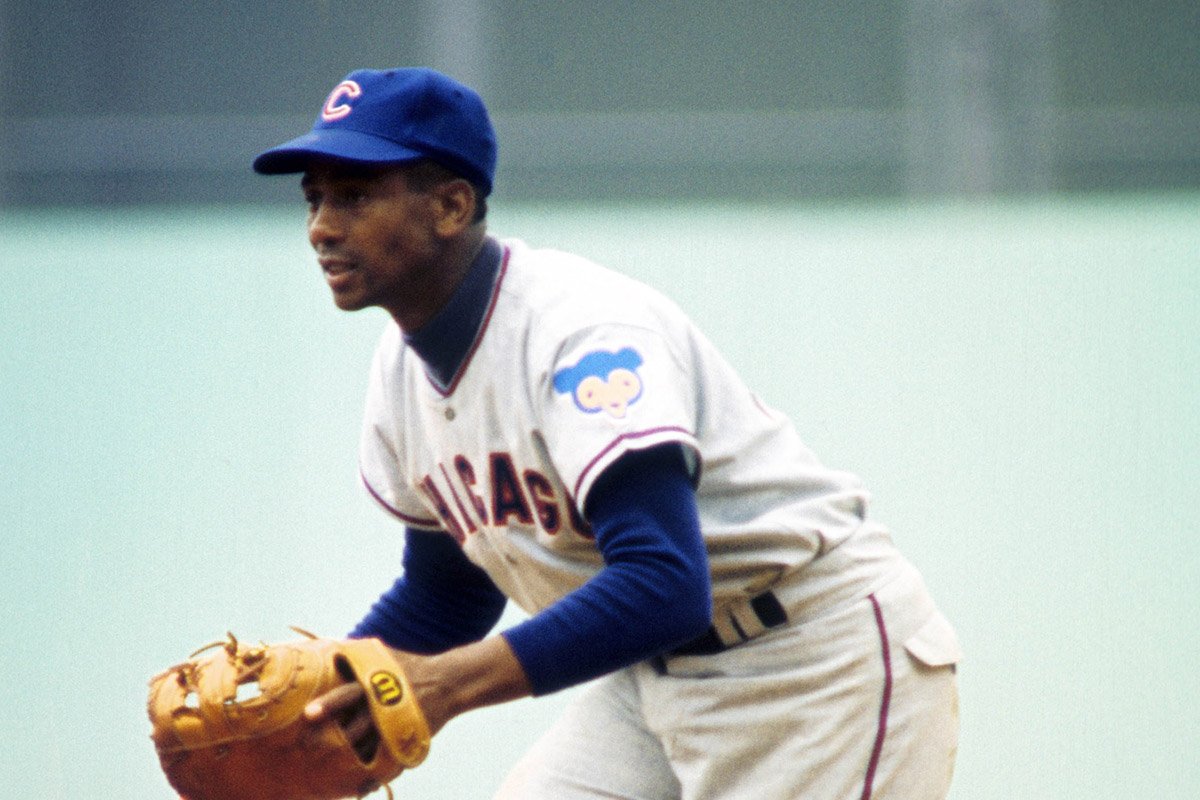 Image courtesy of © Darryl Norenberg-USA TODAY Sports
Have no fear, dear reader! I'm not about to ramble on for 900 long pages like Mr. Poust did in his similarly titled signature tome.
But having finally caught up with all those spinning plates, what could be better than sitting here at the keyboard conjuring up memories of the myriad of Cubs games I've attended from 1969 to the 2016 playoffs? Why am I suddenly so nostalgic, you ask? Because the Cubbies are playing the Royals in a rare Friday afternoon game (8/18), and I'll be turning the magical age of 65 in two short weeks. Both eventualities tend to incite a review of the things you've loved throughout the years. (It also leaves you plenty of time to buy me an expensive present.)
So, why not temporarily shuffle off this Geneva coil and head down to Wrigley Field to bask in the mid-August sun? Because, unless the Cubs make the playoffs, between the redlight cameras, speed cameras, a collapsing mass transit system, and the kind of violence that'd make Quentin Tarantino jealous, I'm good watching the game in hi-def right here in my western edge of civilization home office where an Old Style doesn't cost 12 bucks a pop.
Oh, that's right. They don't sell Old Style anymore. Sigh. Don't even get me started on what a "Bat of Beer" costs. Then they have the nerve to complain about overly drunk fans.
What all that means is, if you're willing to indulge this almost-officially-a-senior-citizen journalist in some fond remembrances, I promise I won't disappoint you.
My mother would be arrested in 2023
I'd wake up early on a weekend morning with a hankering to head down to the Friendly Confines. God bless my not-so-sainted mother for allowing my 11-year-old self and 9-year-old brother to head out to the Evanston Main Street L stop (they didn't stop at South Boulevard on weekends) to transfer at Howard Street en route to the glorious A or train (on game days) Addison stop.
Then we'd purchase two grandstand tickets to mitigate any rain possibility, I'd buy a program and pencil, and we'd wait in eager anticipation for the man in black to shout, "Play ball!"
We could always get tickets, too, because, as Jack Brickhouse proudly announced, "The Cubs always save some gameday tickets so people could show up to watch the game." The truth was the Loveable Losers didn't sell out very often after the '69 season.
Of course, the vast irony is that any 2023 Evanston parent who allowed their pre-teen children to head into the Second City without adult supervision, on the CTA no less, would be hauled in front of a judge to be charged with felony child endangerment. And we repeated that halcyon L trip to Wrigley Field cycle dozens of times throughout the '70s.
"Let's play two!"
If my brother and I managed to plan in advance, we'd target the doubleheaders that were de rigueur back in the '60s and '70s. Talk about getting a two-game bang for your $1.75 ticket buck!
I can't remember the specific date, but the July doubleheader I vividly recall was one against the San Diego Padres, where the first game went into extra innings. The second one was interrupted by three scattered thunderstorm rain delays.
That meant we were at the ballpark field from 11:30 a.m. to 7:00 p.m., which meant I had to drop a dime in a stadium payphone to let my mother know what was happening. I might've set the Guinness Book world record for most 25-cent Borden Frosty Malts consumed in one day at 12.
I thought I'd died and gone to baseball heaven – and my recollection is the Cubs won both ends of the DH too. All I can say is Mr. Cub was dead on about the glory that was regularly scheduled doubleheaders. Considering the strain they put on a pitching staff, I understand why they've fallen out of favor, but that doesn't mean I don't miss 'em.
Pitchers who can hit home runs
Don't get me wrong; I've been the biggest proponent of the designated hitter rule since it became the American League way back in 1973. Not only did it extend the careers of some of my favorite players – Willie Horton, Frank Thomas, Harold Baines, Jim Thome, Eddie Murray, Dave Kingman, and Carl Yastrzemski, but what self-respecting baseball fan really wants to see Jake Arrieta swing at three straight pitches two feet outside the strike zone.
So, even though it's not nearly enough of a reason for me to embark upon an anti-DH crusade, that doesn't mean I don't miss the likes of Bob Gibson, Carlos Zambrano, Milt Pappas, and Ferguson Jenkins, all of whom could go yard with surprising regularity.
In addition to winning the Cy Young Award that year, Fergie homered six times in 1971, and my brother and I were there for his two-homer 5 to 3 Cubs victory against the Expos on September 1st. And his second homer to dead center was as long a blast as I've ever seen in person. It also looked as if the Hall of Famer barely swung the bat.
Sadly, they didn't even consider the possibility of an Ohtani-esque two-way player back in that era. Still, I firmly believe that, given the opportunity, Gibson, who hit .303 with a .347 OBP in 1970, would've excelled in that role.  
Baseball in the sunshine
And that brings us to what I miss most, weekday afternoon baseball under the sun as the game was meant to be played. Trust me; I understand those lights were economically inevitable because, as the great Lee Elia so infamously noted:
The [expletive deleteds] don't even work. That's why they're out at the [expletive deleted] game. They ought to go out and get a [expletive deleted] job and find out what it's like to go out and earn a [expletive deleted] living. Eighty-five percent of the [expletive deleted] world is working. The other fifteen percent come out here.
Not to mention MLB commissioner Peter Ueberroth threatened to move any playoff home games out of Wrigley Field without lights, and a North Side All-Star game was completely out of the question.
Over the years, a slew of former Cubs players claimed that having to endure that persistent afternoon heat wore them down, but that had to be one of the lamest sports excuses I've ever heard. Yes, the incessant travel and a 162-game schedule could be grueling, but every team has to contend with those issues.
As far as the heat and sun go, in what other sport can you be as obese as Bartolo Colon, Prince Fielder, C. C. Sabathia, Rod Beck, John Kruk, and David Wells and still succeed? The truly grueling athletic endeavors include marathons, soccer games where the clock never stops, football, and the Tour de France.
Again, I understand why night games are far more fiscally feasible; the problem is I'm old, which means being in bed by 8:30, which means, if it wasn't for TIVO, I might not see that many Cubs games.
I hope you've enjoyed reading my pre-65th birthday nostalgic Cubs journey as much as I enjoyed writing it. But now it's your turn! So, to my sexagenarian compatriots (and everyone else), what do you miss most about the MLB baseball of your misspent youth?