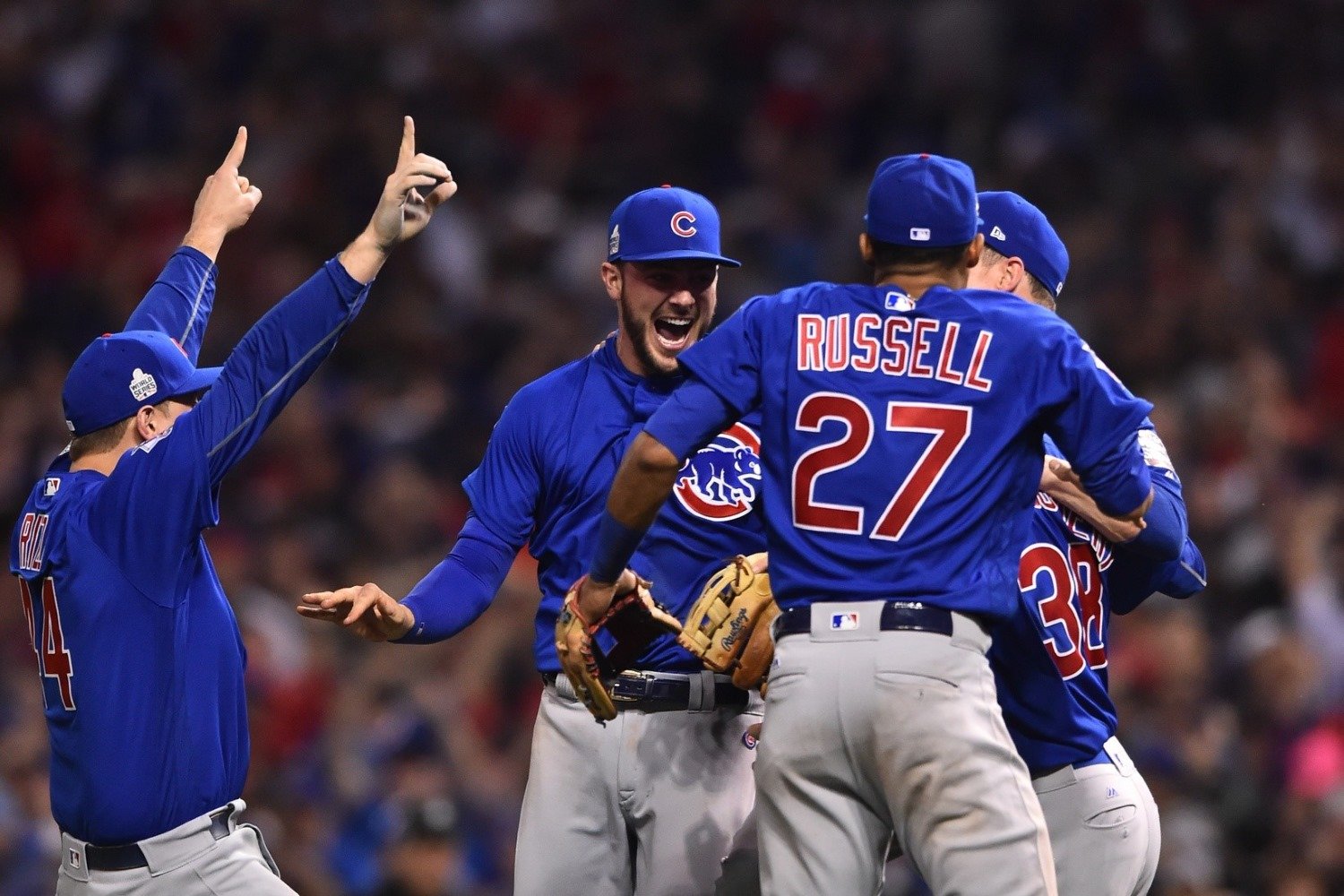 "Just One Before We Die"
This was not just an awesome OBVIOUS SHIRTS tag, but a mantra that carried a fan base through systemic futility. The franchise had long owned phrases such as "Lovable Losers" and "cursed", building it into the fabric of their identity. National coverage of the Cubs consistently harped on the "almosts" and the failures, distinguishing the team from those who inhabit the upper echelons of baseball lore. 
In 2016, all of that changed. On a long night seven years ago today, it finally happened. It had all the drama of an event 108 years in the making. A retirement home run. A terrifying foul poke by a Chicago native. A game-breaking double down the line. A slipping final out. 
Here are a few memories from North Side contributors of the night it happened:
Matt Ostrowski
There are, of course, so many things about November 2, 2016 that I will never forget. The anticipation that I felt immediately upon waking up is something that, to this day, I can confidently say has only been replicated by my wedding day. At the time, I was in my fourth year at the University of Kansas, and after a long day of being a husk of a human being in class, I had to work that evening until 8:00--which was, roughly, one hour after the game started. 
Thankfully, I worked with my now-wife, who knew how much that moment meant to me. She was willing to do all of the work that had to be done, while I sat around and watched the game. Cool! As game time neared, our boss called in to tell me that I could go home for the night to watch the game. She, also, knew how much that moment meant to me. I suppose being an obnoxious Cubs fan during literally the only season of my life where I could be one has its benefits. (Alternatively, I was blessed to be around some awesome people.) 
I began my sprint home. Did I want to pick up something to drink while I was on my way? No. I decided I wanted to watch this game with a completely clear mind. I burst through the front door of my apartment, where one of my friends (also from Chicago) already had the game on. This was just in time for me to see Dexter Fowler's leadoff home run, and that is really when it hit me. "Holy cow… the Cubs literally can win the World Series tonight."
To be honest, I don't remember much after that, at least until the rain delay. I locked myself in my bedroom. There were a few of us watching, not all Cubs fans, and I just couldn't bear to be around people at that point. With hindsight, we know that the rain delay was probably a good thing for the Cubs, but at the time, I specifically remember thinking about how it was just going to delay our misery. Having to sit through that after watching the Cubs blow that lead was absolute torture. 
As the game concluded (and after my brief moment of celebration with my Cubs fan friend), I recall thinking "what now?" Should I stay up all night and party? Should I run around downtown Lawrence, KS, with a W flag? None of it felt right. Sometimes, truly special moments in life require time to soak everything up--to truly record and remember how you're feeling. So, I saved the partying for the parade that weekend, and locked myself in my room again. I slowly drifted to sleep while watching highlights and interviews from the locker room and various celebrations around Chicago. This time, I didn't even have to dream it. 
Jason Ross
I'm not normally someone who keeps cash lining his wallet; I pay for everything with my card. The day of Game 7, however, I went out of my way to an ATM to grab $40.  It wasn't superstition, and it wasn't that I needed the scratch in a traditional sense, but the need was rooted in personal experience. Having cash on hand would ensure that in the event of a stunning, instant, brutal, and devastating loss, I would be able to make a quick getaway from the bar I was going with friends to watch the game later that evening. I wouldn't have to stew in miserable embarrassment to pay my tab; I could just throw cash at the bartender and bolt. I had once chosen to watch a deciding game without cash on hand and got stuck watching the other team celebrate as I stood there in a stunned, very public silence, a few minutes feeling like a lifetime. Never again, I promised myself.  
Strangely enough, the first seven innings made it seem like I was being a bit melodramatic--that maybe I didn't need the cash. I was having fun, Fowler set the tone, Jon Lester entered in relief, and hell, even Grandpa Rossy went deep in his final game, it was all kind of…perfect?
Then it happened; Rajai Davis hit a line drive down the left-field line, and all of those feelings of needing to run--the fear of a loss, the despair--came rushing back in. Respite came in the rain delay, for both myself and the Cubs. As Jason Heyward was rallying the team in the clubhouse, I was throwing that $40 in cash at the bartender (it might have been an overly generous tip; I didn't care) and then running to my car. The nerves got to me. I couldn't bear to watch this in public any more. It was at home, with my dog, that I witnessed Ben Zobrist and Miguel Montero deliver RBI singles. It was there I watched Kris Bryant kind-of-sort-of-trip while throwing the ball to Anthony Rizzo for the final out. And it was there I celebrated. I grabbed a Cuban cigar I had been saving for just such an occasion, and enjoyed it on my porch. Just the way I drew it up.
Jeff Ragauskis
""I am not superstitious. but I am a little stitious." -Michael Scott" -Jeff Ragauskis
That was a big year for my family. During the 7th-inning stretch of a Cubs home game, my wife handed me a small baseball glove with a positive pregnancy test in the pocket. I was going to be a dad. I joked with my wife at that moment that if the Cubs won the World Series, I would get to name the baby. She had 108 years of solid odds, so she happily obliged. I was fortunate enough to be a season-ticket holder, but had agreed with my partners we would sell our tickets for the postseason in order to assuage the unavoidable unfairness of divvying up attendance.
The few people in the world I would have taken to a Cubs playoff game were not able to go. My mom had just had major surgery, after she had been diagnosed with ovarian cancer. Family has always been a big part of my Cubs story, so being around them with the focus of a broadcast including several angles and controllable sound were the ideal position for me. 
The day of Game 7 included the same routines as all the other Cubs playoff games: a W Flag donut from Dunkin' to start the day, a Cubs Jersey over my dress shirt at work, and pizza ordered during the game. When the Cubs went down 3-1 in the series, we shifted venues, from my parents' house to watching in my condo. My mom felt it was best we shake things up, just in case her house was bad luck. 
The Cubs went up early and I was overcome with so many emotions. I was pre-crying feeling the gravity of the moment. I was consumed with the importance and planning of how I would celebrate. When Davis's shot cleared the wall, I felt my dreams disintegrating. My wife retreated to the back bathroom of our condo, concerned that the stress would put her into labor. However, she did request that I shout the play-by-play back to her. 
Then it happened. Bryant to Rizzo. Wow. 
The next few days were straight adrenaline. I stayed up all night watching the postgame coverage, afraid I would miss something special. I wrote my son a letter about how he got his name: Kyle Anthony Frank. The next morning, I was congratulated at work as if I were a player in the game. I was kicked out of a work meeting due to my jersey. I didn't care. That evening, I had baby class with my wife, followed immediately by going with my buddy to stake out Ohio and Michigan for the parade. By the time my head hit the pillow that Friday evening, I had absorbed sufficient Cub bliss to fill a lifetime. 
What are your memories? Where were you when it happened? We want to hear your story, too.