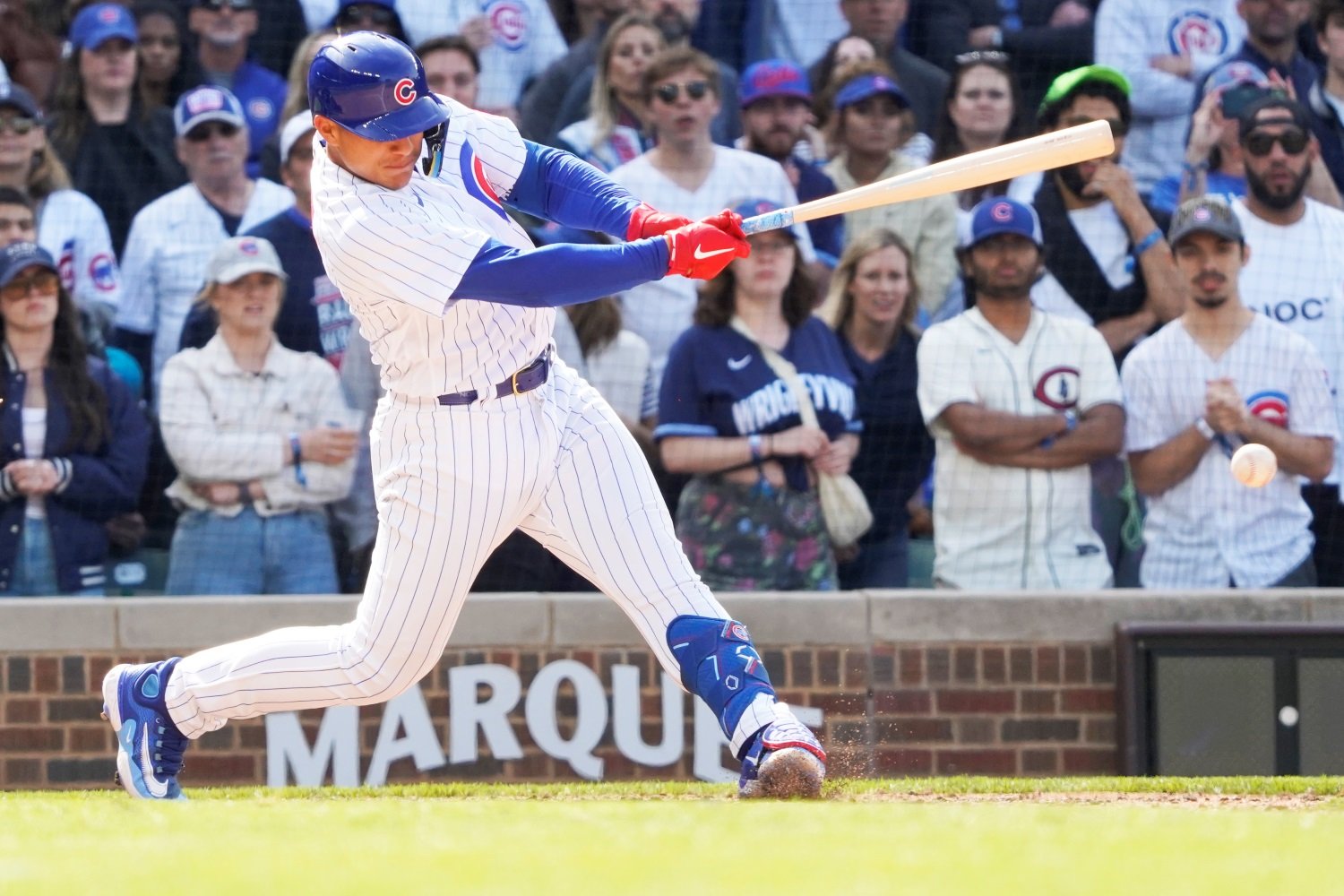 Image courtesy of © David Banks-USA TODAY Sports
Though it sounds like Justin Steele's forearm strain is mild enough not to warrant major concern, the Cubs placed him on the injured list Saturday. That was to be expected. It was a mild surprise, though, that they called up Miguel Amaya again to take Steele's place on the roster, rather than replacing him in a simple one-for-one with another pitcher. It means that, at least in the very short term, the team is back to carrying 14 position players and just 12 pitchers, and it raises urgent questions about the roster status of a couple of position players.
Edwin Rios got a very rare start Saturday, and went 0-3 with three strikeouts. He's spent all but 14 days of this season on the roster, having been optioned to Iowa on May 5 and called back up May 19, yet he's only taken 34 plate appearances. By and large, Ross hasn't trusted him, and he's hurt the team more by being a nearly dead roster spot than by performing poorly. When he has gotten his limited opportunities, however, he's also failed to make anything of them. He's batting .071/.235/.214 on the year.
Ríos should be farmed out again as soon as possible, but realistically, he has nothing to prove at Triple A. Designating him for assignment when the team returns Codi Heuer from his rehab assignment and the 60-day injured list would be an easy way to create the necessary roster spot. It's possible the team could retain him even in that case, because he signed for more than the minimum on a guaranteed deal this winter, and has never been outrighted before. If he cleared waivers, which is plausible, the Cubs would have the right to stash him in Iowa without carrying him on the 40-man roster.
Tucker Barnhart is, in some ways, similar to Ríos. His batting line for the year looks terrible, as he also struck out three times in three trips last night to fall to .156/.257/.172 on the year. The sample for him is 74 plate appearances, which is more robust, but still relatively tiny. Unlike Ríos, he does have the excuse of being a catcher (and the defensive value that comes with manning that spot) to soften the shock of those numbers, but they remain unacceptably miserable. 
At 32 years of age, Barnhart isn't likely to bounce back much at all. Amaya's return to the big leagues suggests that the Cubs take a similarly dim view of their backup catcher. It might not mean that they want to get rid of Barnhart urgently, but it certainly means that they intend to use him in a more limited way. When Yan Gomes needs a day off but a lefty or split-neutral righty is on the mound for the opponents, it might be Amaya who gets the nod over Barnhart. When a lefty comes into a game Barnhart started, Amaya will probably pinch-hit for him. Even then, this call-up has to reflect some amount of peril for Barnhart.
Heuer looks like the next likely addition to the roster, and a hitter (Ríos) will probably have to go when that happens. That might yet be delayed a bit, though, because Heuer gave up two more runs in Iowa Saturday and has an ERA of 10.00 there. His stuff has looked good, and he seems healthy, but the team probably wants to see his results catch up to that stuff on a more consistent basis.
After that, depending on how his progression continues, Cody Bellinger could soon return to the roster, creating a decision point about Barnhart. Sending Amaya back to Iowa would be a bummer, but losing Barnhart (who can't be optioned or retained via outright assignment) would shorten the Cubs' MLB-capable catching depth a bit too much. That's one reason why they tried to retain and play Luis Torrens early in the season--keeping their powder dry at a position where there just aren't that many qualified options. 
The Cubs erred this winter, whiffing big-time on too many of their fringe additions to the roster. It's clear that they tried to get much more left-handed, anticipating a bigger effect from the restrictions on defensive shifting than we have actually seen, but they focused too much on that goal and too little on just finding players who could hit. Barnhart wasn't brought in for his bat, anyway, but Ríos and Eric Hosmer both were, and neither has panned out at all. Nor did Torrens, or (sliding up the scale of money involved a bit) Trey Mancini. 
Mike Tauchman and Miles Mastrobuoni have been better, but the team had to keep Tauchman in the minors until a long-term space opened up on the roster, because he's out of options and they'll lose him if they have to designate him for assignment. That Mastrobuoni has batted leadoff at times for Ross is less egregious than many fans seem to believe, because his on-base skills are decent, but it seems to come out of the same misbegotten mentality--matchups rather than talent, batting a lefty with patience atop the order against a tough righty even if it means losing at-bats for better overall hitters--that brought all of these uninspiring extras into the fold over the offseason.
Whatever its flaws, the construction with which the Cubs opened the season is the most dynamic one this lineup can achieve, and they need to re-commit themselves to it. 
Nico Hoerner - 2b
Dansby Swanson - ss
Ian Happ - lf
Seiya Suzuki - rf

Cody Bellinger - cf
Once Bellinger returns, this needs to be the lineup at least until the trade deadline. In the bottom half, Ross and the front office can continue to mix and match, platoon, and experiment, but those five should stay right there against both lefties and righties. Even until Bellinger gets back, the top four there should be inviolate.
In the long run, the team needs to embrace the fact that its short-term upside and its long-term health both require the same actions: let the kids play. Matt Mervis needs to get daily action. Amaya needs to siphon off time at catcher and at designated hitter, from Barnhart and Trey Mancini. Christopher Morel needs to get a chance to prove that he can (or can't) more rapidly adjust against big-league pitchers, and Nelson Velazquez needs to come back up whenever an injury or other move creates an opening for him. Velázquez has traded a tiny share of his power to trim his strikeout rate this year, and it's working. That ought to be rewarded. If Morel can prove himself as a more competent defensive third baseman than has yet been in evidence, Velázquez could even take the place of Mastrobuoni--the very exchange of theoretical matchup value for real talent that we're looking for.
In the meantime, the clock ticks. The Cubs' offense was never supposed to be the team's primary area of strength, but right now, it looks like an enfeebling weakness. Until they start carrying a riskier but more compelling corps of hitters, and especially until they start putting those hitters in better positions to succeed, that isn't going to change. The trade deadline is only eight weeks away.