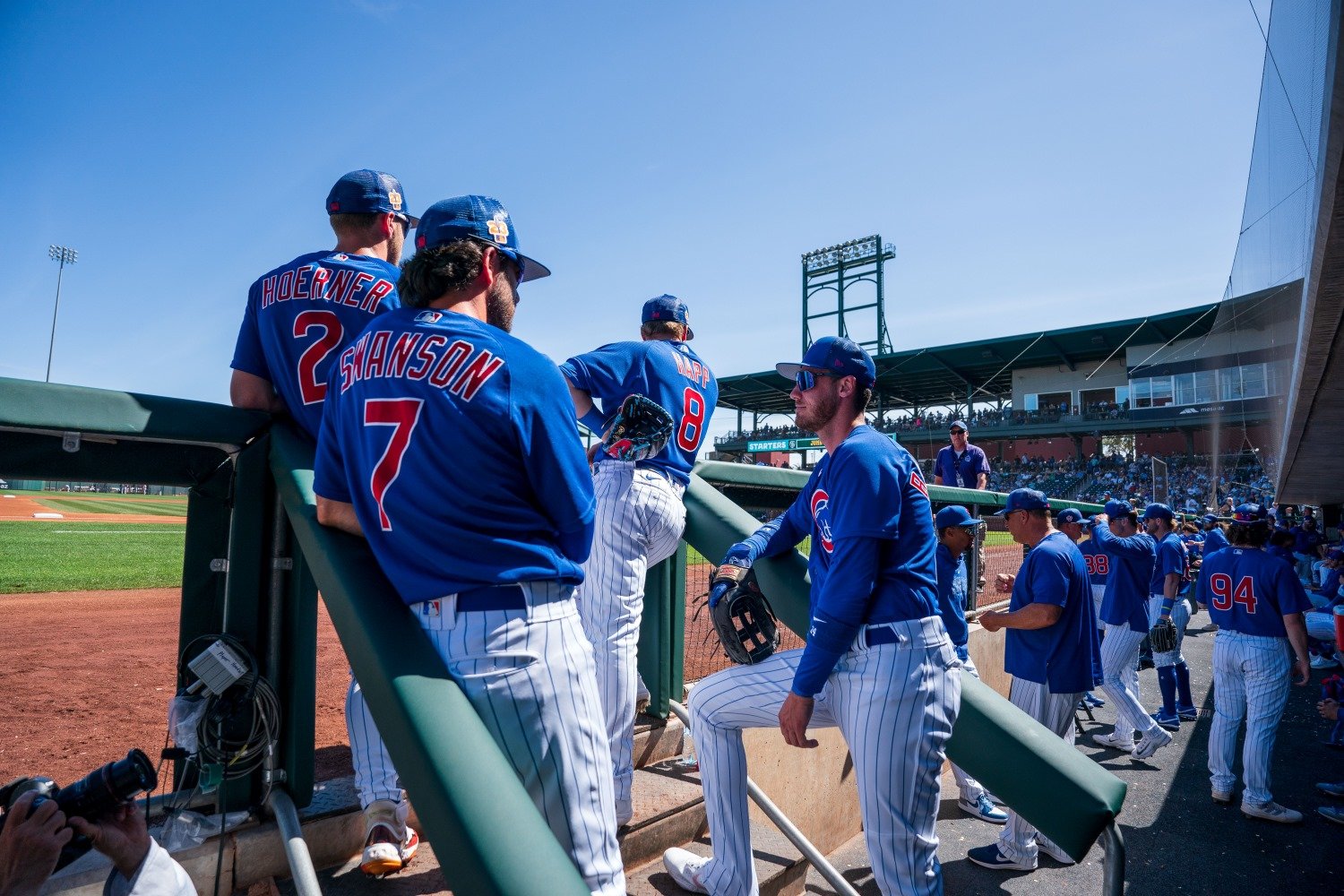 Image courtesy of © Allan Henry-USA TODAY Sports
With so many moving parts and matchup guys populating the rest of the roster, the Cubs won't use the same lineup from the cleanup spot downward very often in 2023. The same isn't true at the top, though. If Nico Hoerner is healthy, David Ross wants him in the leadoff spot. If Dansby Swanson is healthy, he's Ross's second hitter. If Ian Happ is healthy, Ross likes to slot him in third, behind Swanson. Those three are expected to be the heart of this team this season: their top performers, and their leaders. It's fitting that they'll be the three guys sure to bat in the first inning whenever Ross can pencil them into the order.
I was trying to remember the last time the top of a Cubs lineup had quite that feel to it. These guys certainly aren't as good as, for instance, Dexter Fowler, Kris Bryant, and Anthony Rizzo, who batted 1-2-3 a good number of times for the Cubs in 2015 and 2016, but Rizzo and Bryant frequently flipped between the second and third spots, and many other players (Jorge Soler, Ben Zobrist, etc.) spent meaningful time in the second slot. Nor did those guys run as much or as well as Hoerner, Swanson, and Happ should run under the new rules of 2023.
The 2008 triad of Alfonso Soriano, Ryan Theriot (remember his one great year?) and Derrek Lee feels a little more comparable. Those guys batted in that sequence 74 times that year, and they blended speed, batting average, tough at-bats, and lethal power–although sometimes in a confusing, inefficient sequence. If things go well for this year's Cubs, though, they're going to run this trio out atop the order quite a bit more than 74 times.
Sunday was the anniversary of one of the great trades in Cubs history, amid a year of great Cubs trades. On March 26, 1984, the Cubs dealt Bill Campbell and Mike Diaz to the Phillies, and received in return Gary Matthews, Bob Dernier, and Porfi Altamirano. A week later, that team opened a season in which they weren't expected to be serious contenders, only to stun everyone by streaking to the NL East title. For that team, Dernier, Ryne Sandberg, and Matthews batted 1-2-3 121 times. They were instant offense. The two veterans facilitated and maximized the explosive breakout of the young Sandberg, and all three garnered MVP votes by season's end.
I'm not saying that Hoerner, Swanson, and Happ will replicate the transformative impact of Dernier, Sandberg, and Matthews. That would be nuts. It's not a rational or serious expectation. I'm merely saying that, if we want to tell ourselves a story in which the 2023 Cubs surprise people and seize the NL Central from the heavily favored Cardinals and Brewers, that story could be best and most pleasingly told by starting with Hoerner, Swanson, and Happ reprising the roles of Dernier, Sandberg, and Matthews. 
Baseball Prospectus publishes its PECOTA projections, not only with 50th-percentile numbers, but with the option to view other percentiles, too. In other words, one can check a player's 90th-percentile projections to see what it would look like if they had a year in the top decile of possibilities, based on the simulations and spectrums of outcomes the system spits out. Let's indulge for a moment. Here are Hoerner, Swanson, and Happ, with their 90th-percentile projections for 2023.
The 1984 Cubs Redux
| | | | | | |
| --- | --- | --- | --- | --- | --- |
| Player | AVG | OBP | SLG | HR | SB |
| Hoerner | .281 | .342 | .406 | 10 | 20 |
| Swanson | .256 | .323 | .443 | 24 | 20 |
| Happ | .254 | .342 | .463 | 25 | 8 |
In one way, that serves as a note of caution. None of those lines amounts to the catalytic excellence that was Sandberg's 1984. If these are 90th-percentile outcomes, we're reminded that a real recapturing of that summer's magic is something closer to a one-in-a-million shot than to, say, one in one hundred. 
In another, more salient way, though: don't those lines look pretty? The Cubs got a .307 on-base percentage from the leadoff spot in 2022. If Hoerner could restore some competence and intensity to that slot and set the table for a pair of solid sluggers who can also put pressure on the defense in other ways, it starts to feel possible that the team could score enough to support their excellent defense and their improved pitching staff. It's a fantasy, but Opening Day is just two days away. You can afford a bit of irrational exuberance. You might even need it.
1