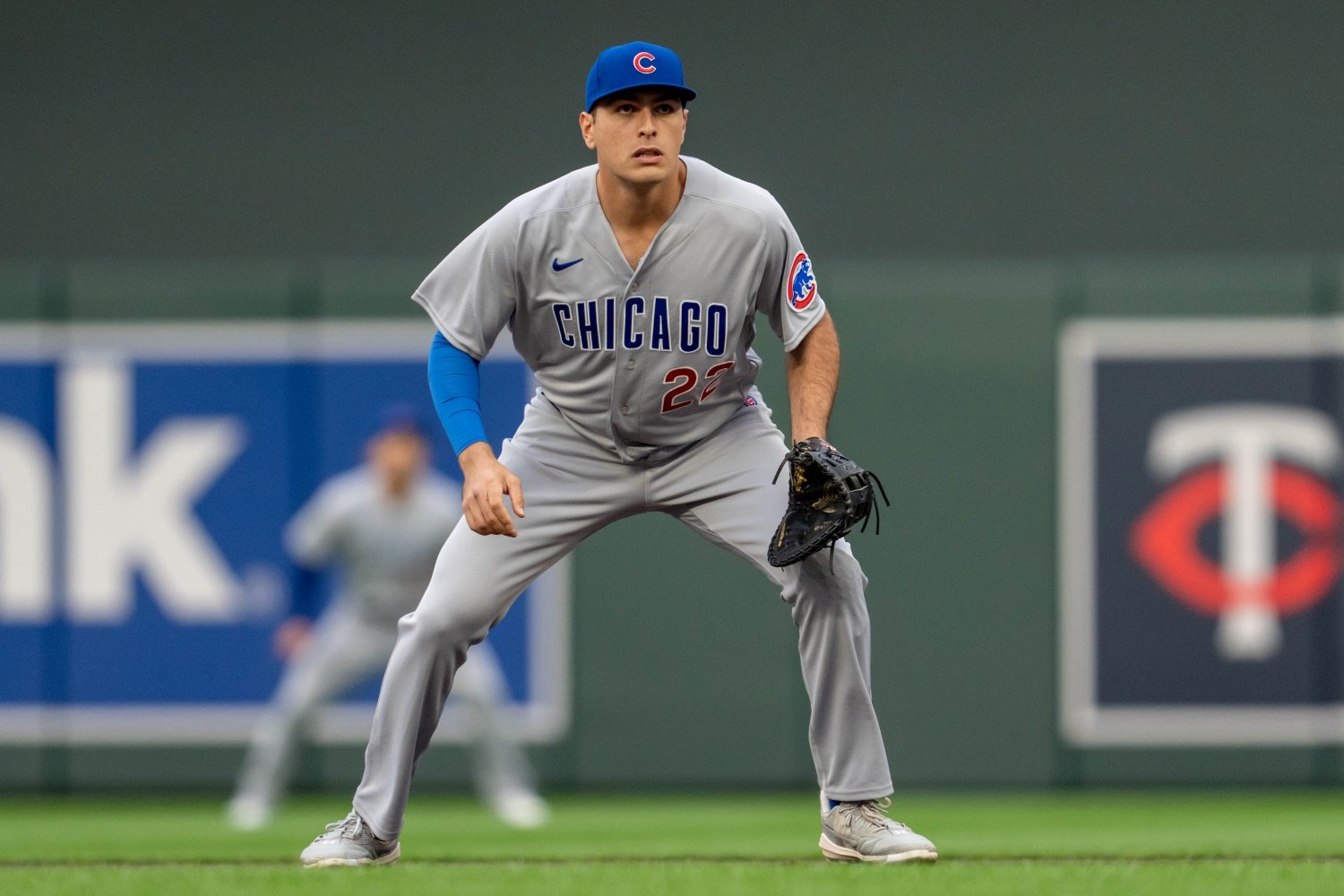 Image courtesy of © Matt Blewett-USA TODAY Sports
The last few weeks have not been kind to the Chicago Cubs. They were swept by Miami, lost a four-game set against Washington, dropped the first two of a series against St. Louis, and, most recently, were bounced out of Target Field with two weekend losses that saw a combined score of 27-4. Somewhere, sandwiched in there, was a series victory over that same Miami team who had swept them in the Sunshine State a week earlier. 
Hurting for offense (among other things), the team decided to shake things up at the first base position with the callup of Matt Mervis on May 5. Though not the Cubs' top prospect – or even the second-, third-, fourth- or fifth-best, really – the fanfare attending his arrival was befitting of that level of pedigree. An uninspiring month-and-change of Eric Hosmer and Trey Mancini at the position prompted the Cubs to make the move to inject more offense into the spot. We're now just over a week into said call-up, and Saturday's start for Mervis in Minnesota marked seven games. With that in mind, I thought it would be a fun exercise to see how each appearance has gone and where we go from here. 
The following represents the first week's worth of starts for the Duke University product:
Friday, May 5th: 1-4, RBI, 2 K - Mervis's first career hit, an RBI single in a 4-1 Cubs win, came out with an exit velocity of 111.2 MPH and carried a xBA of .770. Good start, even with a pair of punchouts.
Saturday, May 6th: 1-4, RBI, 3 K - While not pieced up quite as well as his career opener laser, Mervis's 78.4-MPH single still did feature a xBA of .690. So, good placement.
Sunday, May 7th: 2-6, R, K - The outcome was a loss for the Cubs, but Mervis's two singles had exit velos of 101.5 and 100.0, two of the Cubs' top six outcomes in exit velocity for the day.
Monday, May 8th: 0-3, BB, K - A disappointing series opener for the Cubs was also Mervis' first career hitless outing. He did extend the on-base streak to four with the walk, though.
Tuesday, May 9th: 0-4, 1 K - Things didn't get much better for Mervis–or the Cubs–on his first Tuesday, as he extended his hitless streak across two games and didn't generate the impressive contact we saw in the first two games.
Friday, May 12th: 1-4, 2B, 2 K - An extra-base hit! Better yet, what could've been Mervis's first home run if the Cubs had been playing in seven other ballparks. The double came off the bat at 108.5 miles per hour. 
Saturday, May 13th: 0-3, BB, 3 K - And we're back on the hitless train, while not even putting a ball in play. The good news is that this wasn't unique among the Cubs' lineup in an 11-1 drubbing.
Final Week 1 Line: .179/.233/.214/.448, 43.3 K%, 6.7 BB%, 25 wRC+
While not officially included as part of his "Week 1 Line," Mervis did go 2-for-4 with a pair of additional singles in a 16-3 Sunday shellacking at the hands of the Twins. He did strike out once more, but the game did drop his strikeout rate a touch, as well as his walk rate, while bringing the wRC+ up to 44 through eight starts. 
So what, exactly, can we glean from a week's worth of outings from a first-base bopper? Well, probably nothing. It's not the start you desperately wanted to see from a guy who hit 36 homers across three levels in 2022 and carried nearly identical walk and strikeout clips thus far in Iowa in 2023 (17.0 & 16.1, respectively), but rare is the prospect who arrives on the big-league scene and mashes. Even if Mervis has done it each time he's graduated up to a new level, it was never likely he would make a seamless transition to the highest level of competition.
The plate discipline is where you will likely see the largest impending adjustment. Mervis currently has a called-and-swinging-strike rate of 34.8 percent, with the whiff rate in there sitting at 17.9 percent. Those are much higher rates than at any level for him last year. Contact is low, at 64.9 percent, but he's not hyperaggressive, offering at a fairly reasonable 50.9 percent of the pitches he's seen. What's encouraging is that Mervis's lowest swing rate among the three pitch types is on breaking pitches, at 46.3 percent. He's whiffing at those pitches so far at a rather frightening 63.2-percent rate. There's an element of recognition there, at least, even if he hasn't been able to generate consistent contact quite yet.
Defensively, he's looked…adequate? It's impossible to determine anything in a seven- or eight-game sample, but this is especially true on the defensive end. He has 1 DRS and 0 OAA thus far. You need a full-season sample for anything to matter there, but a couple picks and no glaring mistakes is comforting. Hosmer (0 on both metrics; UZR/150 doesn't love him at, -22.7) and Mancini (-3 DRS, 1 OAA, -2.4 UZR/150) have each been varying levels of fun or frustrating, depending on the day. Anything so far from Mervis would suggest that the Cubs aren't losing anything by turning to him at this point in the year.
Ultimately, there's not a lot to take away here yet. Strikeouts are bad, power would be nice, etc. Mervis has generated hard contact out of the gate. More contact, overall, will be the next goal. Assuming that adjustment can take place posthaste, the power will come before long. With none of the Cubs' hitters proving inspiring at the plate right now, the Cubs can afford to let Mervis settle in.