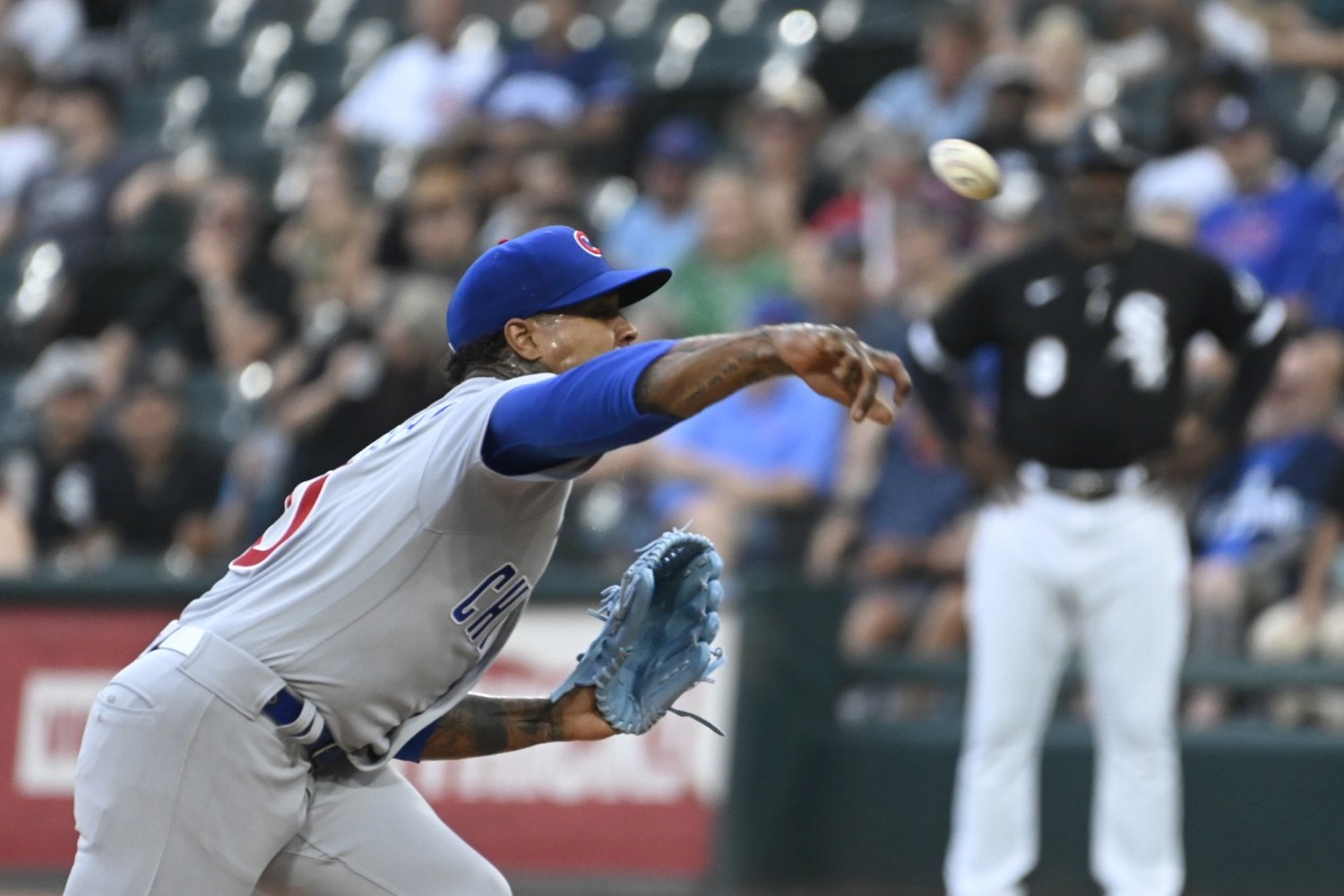 Image courtesy of © Matt Marton-USA TODAY Sports
As tempting as it is to chalk up all of Marcus Stroman's struggles from July through the end of the season to the hip injury that sidelined him for so much of that time, that would be an oversimplification. That's both good and bad news. Stroman wasn't necessarily likely to sustain the improvements he'd made and the success he'd had in the first half, even if he'd stayed healthy. On the other hand, the extent to which he was compromised by that injury has been a bit overstated.
In reality, Stroman got pretty unlucky during his period of ineffectiveness, before landing on the injured list and in the short time after he returned from it. He wasn't able to locate his stuff well, but much of the trouble he got himself into was the result of fairly fragile sequencing effects. 
Here are Stroman's zone rates on each of his six pitch types over the last three years, subdivided into two groups: 2021-22, and 2023. 
As you can see, he didn't throw as many strikes with any of his offerings last year as he did over the two prior campaigns. However, the effect was most pronounced on his slider and splitter, and those are his two least-used pitches. It's hard to use this raw data, then, to explain the fact that Stroman's walk rate shot up from 6 percent in 2021 and 2022 to 9 percent in 2023.
That rise in free passes only partially canceled out the benefits of a bit more nibbling, such as a much lower homer rate, but it was a huge contributor to the derailment of his season. When Stroman ran a 9.11 ERA in six July starts, an 11.6-percent walk rate was a major part of the problem. Invariably, it seemed, Stroman would walk a batter or two, creating some traffic on the bases, and then a hit would fall in and the snowball would roll downhill on him.
The strange thing is that Stroman's walk problems weren't born of an overall inability to throw strikes. Rather, it was often the case that he would get into good or neutral counts, only to let them turn into bad outcomes--especially walks. In 2021, 8.3 percent of the plate appearances involving Stroman that reached a 1-1 count ended in a walk. In 2022, it was 7.8 percent. In 2023, though, that number skyrocketed to an excruciating 12.9 percent. He wouldn't immediately fall behind. The problems arose when he got into deep counts, thanks to the pitch mix he used in them.
A lot of those 0-2 and 1-2 sliders just got him closer to walks. His heavy usage of the splitter in 1-1 counts tipped the balance the wrong direction, too. Stroman had a fairly minor weakness that became a severe handicap when he couldn't locate his sinker and slurve as well anymore, and therefore couldn't lean on them as heavily. 
Here's a peculiar thing: Stroman is far from alone in having neutral counts go sour for him in 2023. As a whole, the league issued free passes in 9.7 percent of the plate appearances that reached 1-1 this year. That's the highest rate for any full season since the advent of pitch-by-pitch information for all games, back in 1988. That's jarring, because the league's overall walk rate this season was not especially high. Of the last 36 campaigns, MLB's average walk rate in 2023 (8.6 percent) ranked 17th. This isn't a fluke confined to 1-1 counts, either. A historically unusual percentage of the league's walks came after a pitcher had gotten ahead of the opposing batter this year. 
At this point, it feels clear that Stroman will opt in for 2024, forgoing the chance to hit free agency and taking a $21-million salary. In practice, he'll take up $23.7 million on the Cubs' payroll, because that's the annual average value of the three-year deal of which the option for next year is a part. Given that, the Cubs need him to perform like the front-of-the-rotation starter he was for the first half of 2023. Because he doesn't miss bats at a rate that will allow him to run any more than an average strikeout rate, that requires him to cut his walk rate substantially from its elevated 2023 level.
Variance will take care of some of that. He wandered into some bad luck on a pitch-to-pitch basis, just as pitchers often do on a batter-to-batter, inning-to-inning, or game-to-game one. Stroman also has to either land some of his less-used pitches in the strike zone or eliminate them altogether, though, so that he can throw more strikes and force hitters to get a little more aggressive. For their part, the Cubs have to assume he won't be able to do so so easily, and go find a pitcher who pushes Stroman down their starting rotation depth chart.