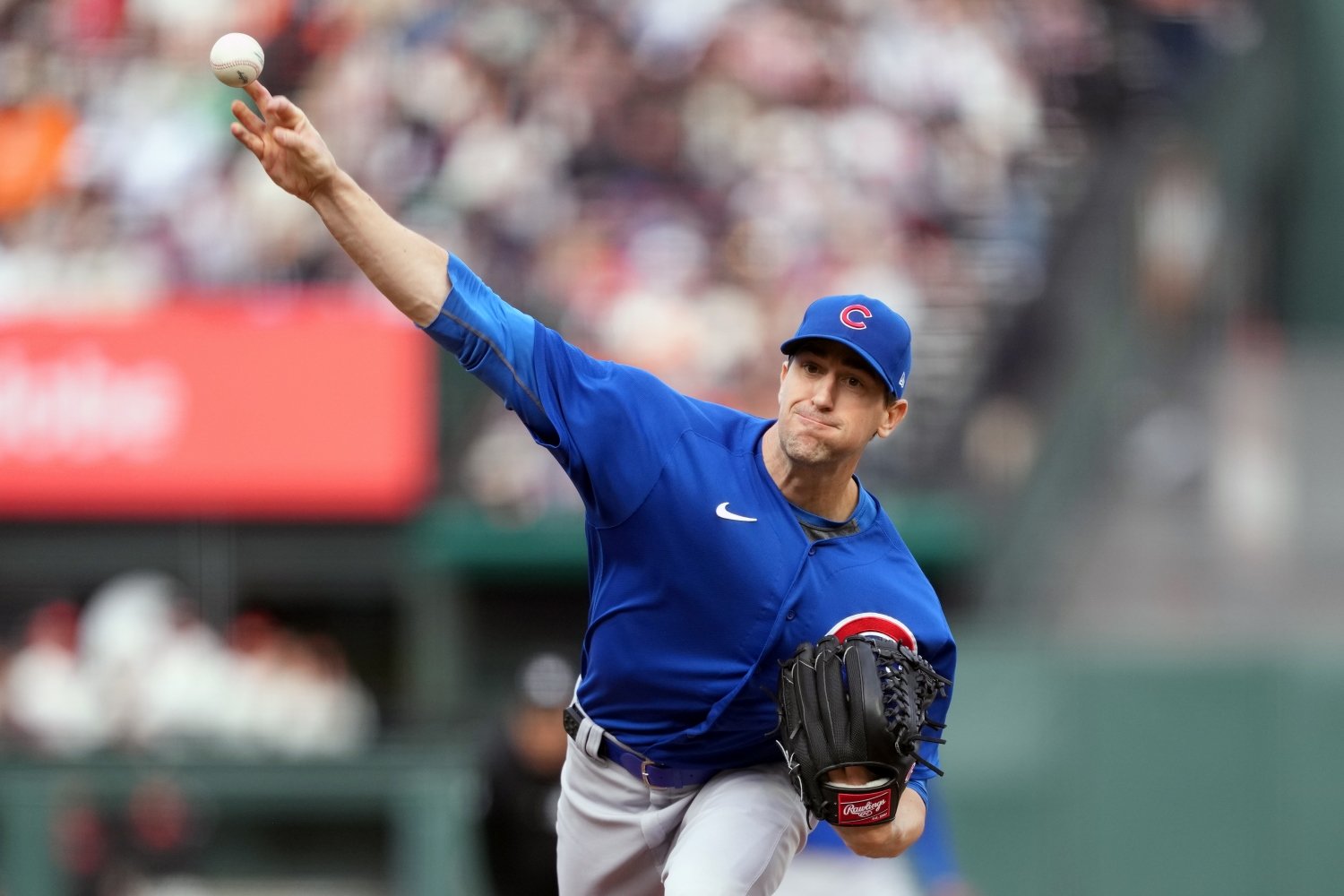 Image courtesy of © Darren Yamashita-USA TODAY Sports
No pitcher in the last decade has better embodied the archetype of the touch-and-feel, command-over-stuff starter than Kyle Hendricks. He's an outlier in the modern game, with a fastball that sits in the 80s and no devastating breaking ball. His changeup has always made up for that. It's always been the equalizer, making his sinker and four-seamer each seem faster because of its deceptiveness and movement, forcing hitters to get caught in between the speeds of his heat and that change.
Of course, one reason why it's been so effective was that it was never really just one pitch. Rather, Hendricks has long had at least two variations on his cambio, and he would manipulate the pitch to hit slightly different parts of the zone (or the area beyond it) or to better contrast it with the previous offering, even within an at-bat. In a map of his pitch movement from 2021 and 2022, it's easy to see how the changeup's spread is greater than those of his other pitches, and the shape of its distribution different.
This year, however, Hendricks is fully committing to that bit. There's no longer a smooth spectrum here. He's using two fully distinct changeups.
The genius of that approach becomes even clearer, though, when one breaks him down into two pitchers: one facing left-handed batters, and one facing righties. Against lefties, Hendricks has deployed his four-seamer and his curveball to great effect, to set up the version of the changeup with more depth and greater armside movement.
Against righties, though, Hendricks is basically a two-pitch pitcher, and he uses the changeup almost like a mini-slider. It still doesn't actually have gloveside movement and it's not dropping much based on spin, but it looks like a cutter or slider relative to his sinker.
He still sneaks in his typical changeup, diving in toward the hitter's back foot, but that's almost an afterthought. It's one changeup for lefties, and another for lefties. In the race to stay relevant in a league with an average fastball velocity 5 miles per hour harder than his, this is how Hendricks is winning.
Notably, too, no spin difference gives away which version of the changeup is coming. He's using the same spin direction on each type of changeup, but by shifting the seams, he achieves a big difference in actual movement. 
Crucially, in the graphic above, the changeups that end up with movement somewhat close to that of the four-seamer (on the right-hand side) aren't the ones thrown to lefties, who actually see the four-seamer. On the contrary, those are the changeups he's throwing to righties, off of the sinker that has such different movement than its spin direction implies. The ones he throws to lefties are the diving ones that pair with the sinker in the graphic, and therefore play well against the four-seamer and the curveball.
This full separation of the two changeups has been underway for a while now. What's new is that Hendricks has cut out the middle ground between them--that bridge that connected the two lobes of the pitch movement scatter plot in 2021-22. He's figured out which hitters are primed to be attacked by each type of pitch, and he has sufficient feel to avoid getting caught between the two offerings. 
On Saturday night, Hendricks was masterful. He had command of everything, and the Giants looked almost helpless, even as they struck out only three times. If the Cubs' most tenured player can keep this up, they have to seriously consider keeping him through the trade deadline and exercising what is, effectively, a $14.5-million option for 2024.