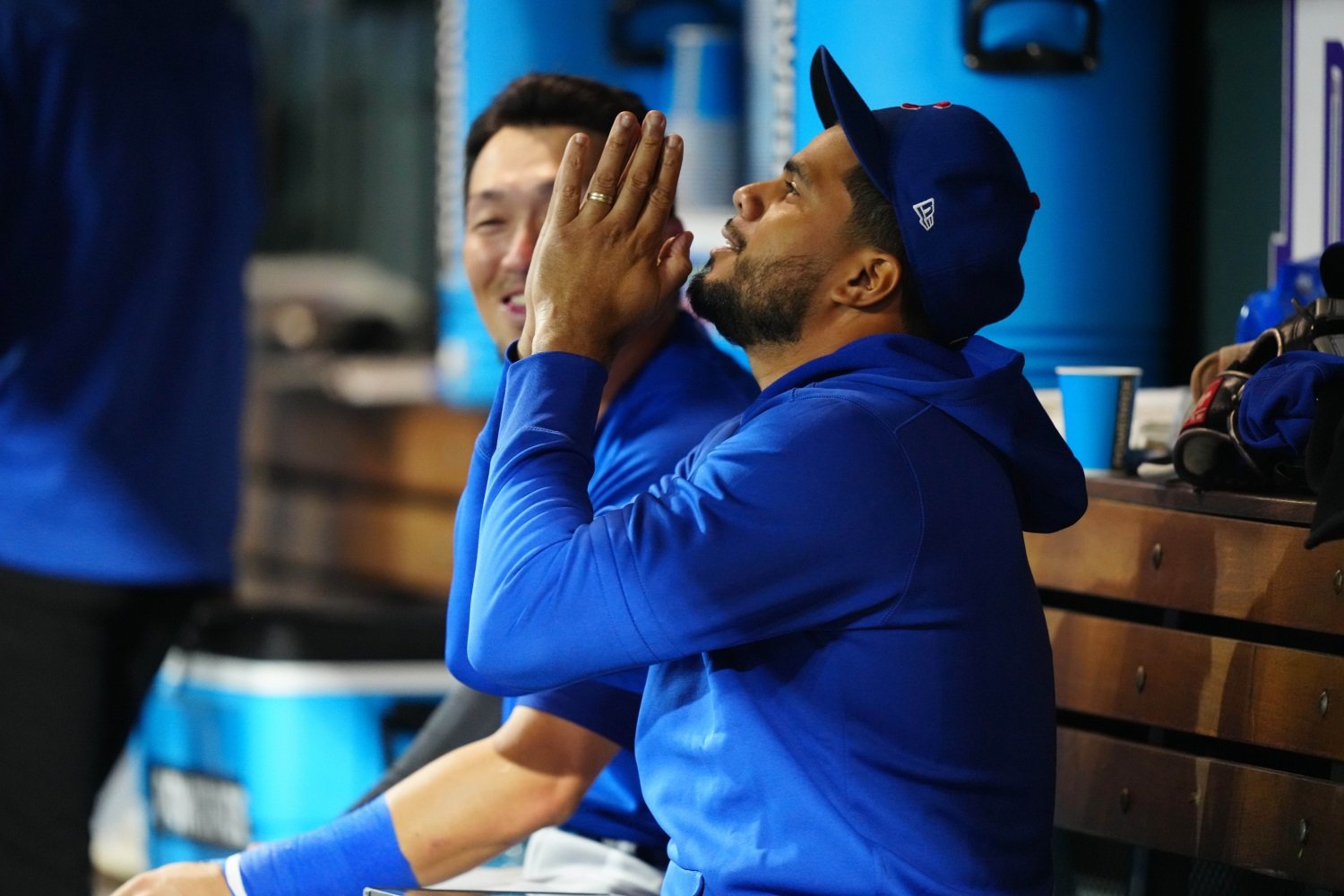 Image courtesy of © Ron Chenoy-USA TODAY Sports
Stop me if you've heard this before: the Cubs have a third base problem. Patrick Wisdom, the nominal starter at the hot corner, has been relegated to match-up duty for months. Nick Madrigal is currently on the IL with a hamstring issue and may not return until the postseason (if the Cubs even get there). Miles Mastrobuoni has played admirably over the last week or so as a fill-in, but his season long numbers don't inspire much confidence. 
As such, it's incredibly important for the Cubs to get Jeimer Candelario back and operating at peak performance as soon as possible. Candelario was shelved from Sept. 10 until Wednesday with a lower back strain. Even before hitting the injured list, though, it was clear that that injury was hampering the sometime slugger. Now that he's returned, though, the Cubs need Candelario to be far better than he was for the team following his acquisition. 
The corner infielder was scorching hot over his first few days back with the organization, garnering nine hits and 12 total bases across 12 at-bats in that first series against Cincinnati. Since then, he's been ice cold at the plate, unable to keep his initial momentum going. As Bleacher Nation's Michael Cerami lays out: "Cut out just his first two games with the team in early August (two games that featured some lucky/flukey hits/extra bases), and Candelario has slashed just .183/.278/.385 (79 wRC+) with a 26.2% strikeout rate over 126 PAs. He had been particularly cold since August 28, with just three hits, six walks, and 14 strikeouts in 44 PAs: .083/.227/.278 (41 wRC+)."
You can likely chalk up some of that performance to the initial effects of what was described as a "lingering" back issue, though those stats are uncomfortably close to how he performed last year with the Detroit Tigers - a season so rough it got him non-tendered by a rebuilding franchise. 
Yet, it's not like the Cubs can sit him. He provides valuable positional versatility as a capable defender at both first and third base, positions at which the Cubs have infamously struggled offensively this year. It's uncertain if he's ready to play every day, especially since he won't have the chance for a rehab assignment this late in the year, but it's all hands on deck at this point; if Candelario is healthy enough, he's going to be in the lineup. He's batting seventh as the first baseman Wednesday night.
If Candelario can get back to the player he was with the Nationals this year (he posted a .261/.337/.478 slash line with them, good for an .815 OPS), then the Cubs will solidify another spot in their lineup ahead of this final push for the playoffs. Even if he struggles with rust or lingering ailments from his back troubles, though, just having him as an option at the corners of the infield makes the Cubs a better team. 
The trade for Candelario marked the unofficial end of the Cubs' Rebuild 2.0, this time under the stewardship of Jed Hoyer. It would be rather poetic if his return from the Injured List led to the team's first successful playoff push since that rebuild began.