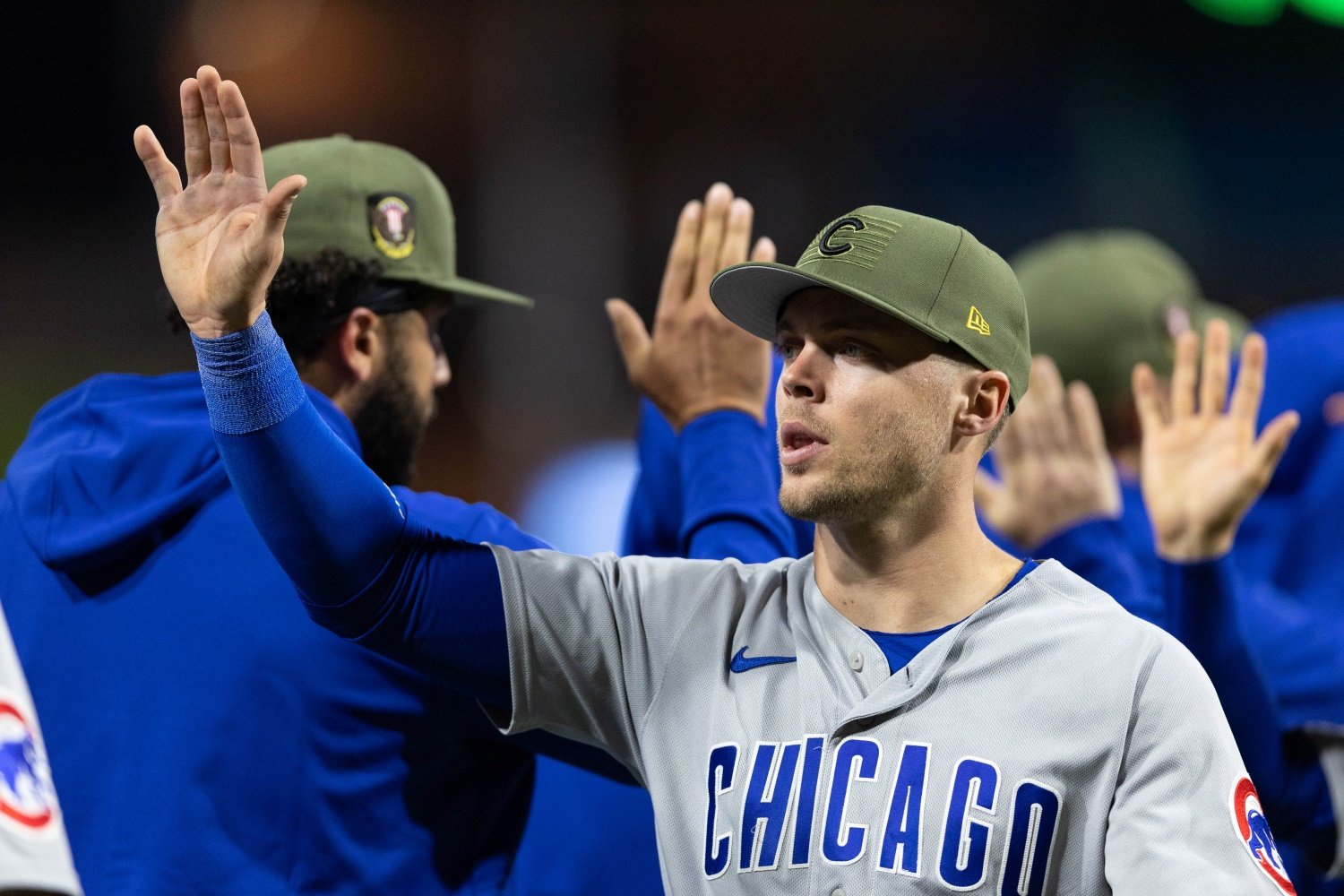 Image courtesy of © Bill Streicher-USA TODAY Sports
It's easy to say, with the benefit of hindsight, that signing Eric Hosmer this offseason was a mistake. That's probably unfair. At the time, based on the lack of other, more appealing options on the first-base market and given Hosmer's strong reputation as a veteran presence around a team, bringing him aboard was defensible. It just didn't work. 
To their credit, though, Cubs brass acted relatively quickly. Bringing up Matt Mervis just five weeks into the season and cutting bait on Hosmer two weeks after that might not represent the speedy decisiveness Cubs fans would prefer, but practically speaking, it was about as quick as these kinds of changes usually happen--especially when the rookie coming up to take the veteran incumbent's job is relatively without pedigree or national expectations.
In any case, the last fortnight made it clear both that Mervis can offer things Hosmer can't, and that keeping Hosmer around as an occasional DH and a bench bat with clubhouse clout was a luxury this roster could ill afford. Hence Friday's moves, which not only saw Hosmer designated for assignment, but brought up two Iowa Cubs whose left-handed bats have much more jolt in them. Edwin Rios, who only hit .191/.393/.429 in 28 plate appearances during his Des Moines deployment, still doesn't have a clear path to regular playing time, but Trey Mancini's continued struggles and Patrick Wisdom's inconsistency create at least some opportunity for the left-handed slugger.
Mike Tauchman, meanwhile, put up sparkling numbers against Triple-A pitching, just as he did (against about the same level of competition, all things considered) during spring training. He played center field almost exclusively last season, with the Korean Baseball Organization's Hanwha Eagles, and made the plurality of his Iowa appearances there. He's going to start in center against most right-handed pitchers until Cody Bellinger returns, after the Cubs placed Bellinger on the injured list Friday with a bruised knee.
At least in the very short term, the Cubs are going to be a pitcher short of the 13-man limit on active hurlers. They optioned Keegan Thompson to Iowa, after his disastrous outing in Houston earlier this week, and didn't immediately replace him with another pitcher. That worked fine Friday night, as Marcus Stroman shut the Phillies down for six innings and the offense thrived. It's a highly unconventional gambit in the modern game, but it's laos probably very temporary. 
The Cubs were due to snap their five-game losing streak, anyway. They're too good a team to go on long jags like that one, even if they're not quite good enough to string together long winning streaks. Their 10-run outburst certainly had more to do with Nico Hoerner's return to the roster and the lineup than with a reshuffling at the edge of the roster. Still, this latest set of changes was welcome and necessary. In combination with the Mervis and Chrostopher Morel call-ups; the demotion of Hayden Wesneski to Iowa; and the addition of Nick Burdi to the bullpen in an earlier move to add velocity and upside, the shakeup proved that Hoyer and company genuinely see this team as a contender.
If that's true, they still have more work to do, but at least we gained some clarity (and a slightly firmer foothold in optimism) Friday. The front office will not tolerate failure, at least not in an unbounded way, and that was a message the Cubs clubhouse needed to hear.