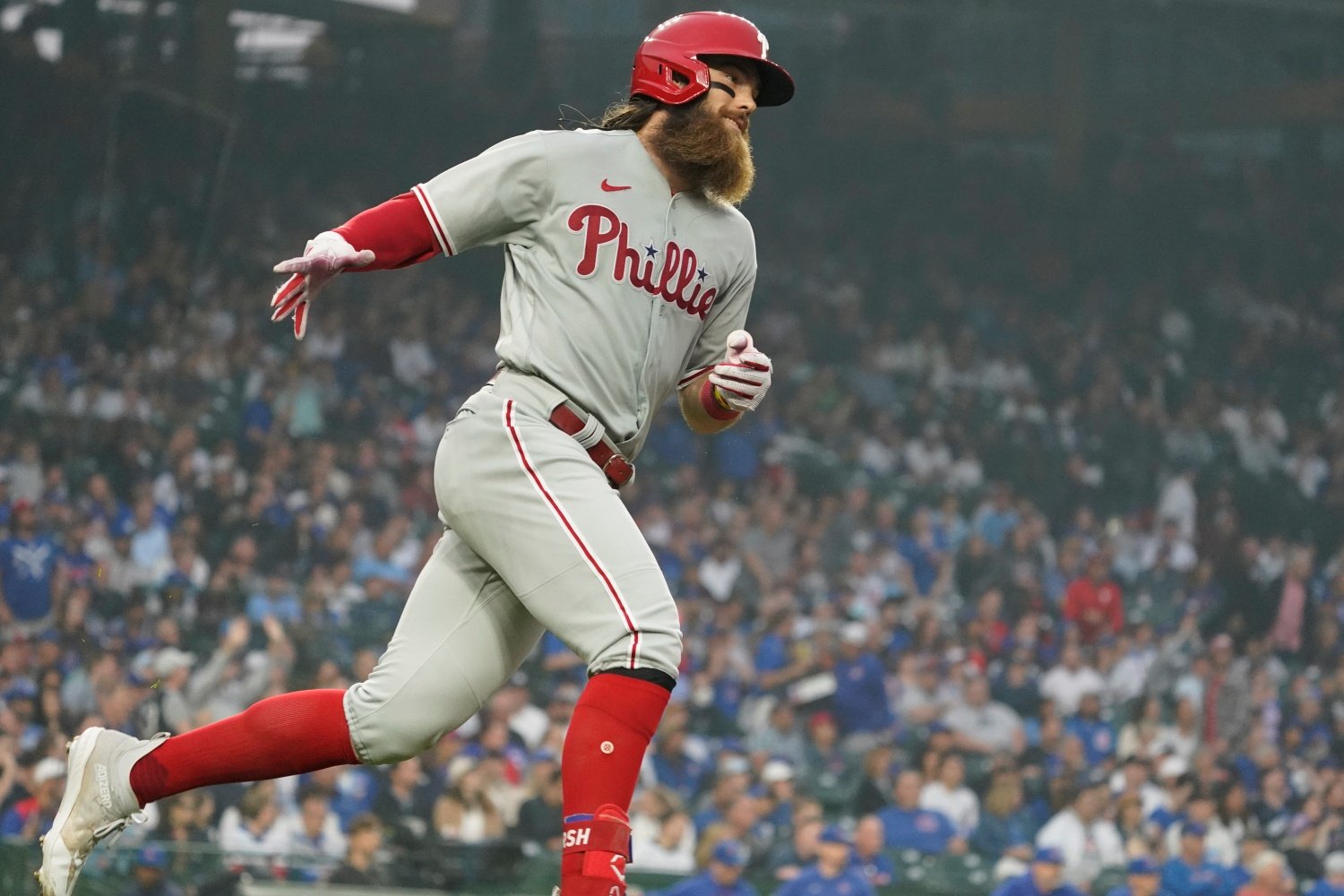 Image courtesy of © David Banks-USA TODAY Sports
It seemed like Brandon Marsh spotted something extremely early against Jameson Taillon. Over a month in to a fairly grisly slump, Marsh suddenly found the aggressive, powerful swing that went missing for him during that period of struggle. He hit two home runs against Taillon, accounting for over half the Phillies' runs in the game, but they weren't lightning bolts that struck without warning.
The first pitch Taillon threw to Marsh in the game was a fastball in the upper half of the zone. It had too much of the plate, and wasn't quite high enough, which was one of Taillon's big problems all night. Marsh fouled it off, but his swing was absolutely vicious and the exit velocity on that foul ball was (unofficially) a billion miles per hour. Taillon was, sensibly, more careful with his next pitch, another fastball that was called a ball, up and away.
On 1-1, though, Taillon and Yan Gomes tried to come inside on Marsh. The pitch was a cutter, above the belt and on the inside corner, but Marsh obliterated it.
One might fairly have said, as the Cubs broadcast did on Marquee, that it was a good pitch--at least in a vacuum. No pitch is thrown in a vacuum, though. Given what Marsh looked like on the first pitch of that plate appearance, the pitch Taillon threw on 1-1 wasn't a good one at all.
An even worse sequence happened the next time Marsh stepped to the plate. Taillon and Gomes got ahead of Marsh this time, with a fastball that was called a strike on the outer edge and a changeup Marsh fouled off, just off the corner. Again, though, Marsh's swing was an aggressive and dangerous one, and the foul ball was struck sharply. 
On 0-2, the Cubs went with a fastball above the zone. Marsh laid off, but Taillon and Gomes were still in good position, ahead 1-2. They tried to put him away with a curveball low and in. It stayed both over the plate and above the knees, though, and again, Marsh left no doubt.
Good pitchers (and catchers) read opponents' swings. It's one of the very important mystical aspects of the art and craft of pitching. It's related to another one, too. Good pitchers also know how to work around a hitter when they don't have a good way to get them out.
In neither situation Tuesday night should Taillon have simply given up and walked Marsh. There has to be some middle ground, though--some way to pitch around a guy without completely capitulating. It takes command, and unfortunately, Taillon's control is far ahead of his command right now. It also takes the right mental approach. At some point in an at-bat in which a hitter is taking swings like those two foul balls by Marsh, a pitcher has to start thinking of a walk as an acceptable, even noble outcome. They have to flip a switch and begin thinking that the hitter will need to expand the strike zone and get themselves out, and that that's ok. 
Marsh, as it happens, was an especially good candidate for that treatment Tuesday night. He's been swinging at too much junk for the last month; it's why his power disappeared for a while. 
Maybe he would have laid off Taillon's stuff outside the zine, but it's perfectly possible he would have gotten himself out. We'll never know, because Taillon (as too often happens for him) was unwilling to take that chance and stay well out of the area where damage can be done.
The aggravations went far beyond Taillon on Tuesday night. It was just one of those games, where nothing seems to go quite right. Dansby Swanson hit two balls very well, if a bit less well than Marsh did, and both died well short of doing any damage. Nico Hoerner, who ultimately drove home the Cubs' only run in the eighth inning, just missed poking an RBI single through the right side earlier in the game. A mishit blooper just barely got over Hoerner and fell into right-center field for one of Philadelphia's runs. Junior Valentine allowed a fairly large strike zone, and that happened to suit Ranger Suarez much better than it suited Taillon.
You can chalk almost all of that up to bad luck, but all of it (and especially the fact that Marsh easily cleared the fence twice, while Swanson showed only warning-track power) also points toward the Phillies' superior overall talent. It was the kind of game that is both closer than the final score makes it look, and clearer than a recitation of its action makes it sound. 
The Cubs just had that wonderful homestand, and then a highly productive road trip that started with four straight wins. To end that trip with an unfortunate loss to the Cardinals was no big deal, but to let it become a two-game losing streak in the first game back home, despite the days off and the fact that the Phillies are no juggernaut this year, was a bummer. There's time to turn things right back around in the 12 games left before the All-Star break, but that loss put a whiff of danger back into the air, mingled with the smoky haze. Wednesday night needs to be the start of a bounce back.