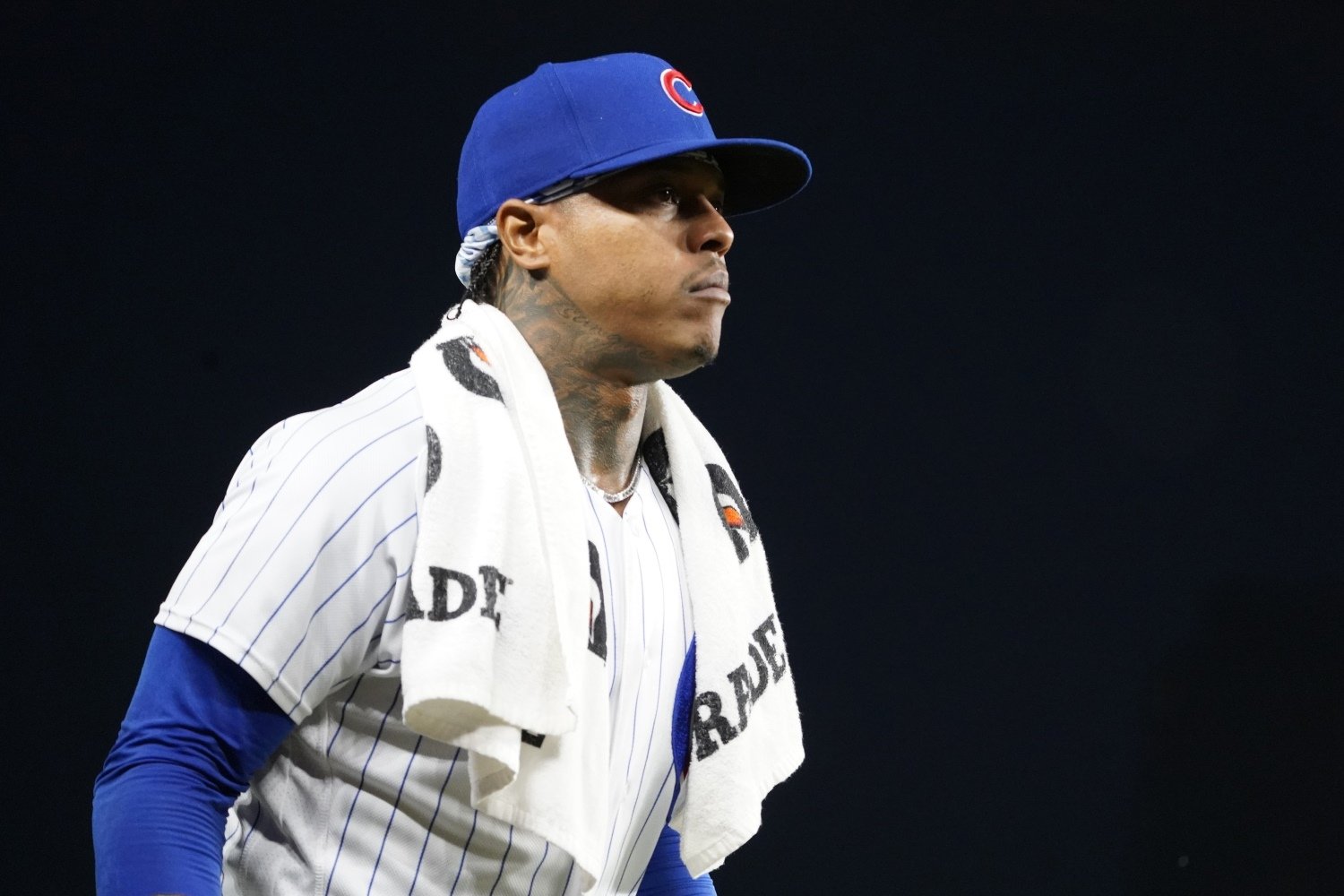 Image courtesy of © David Banks-USA TODAY Sports
Assuming you haven't been living under a rock since the Trade Deadline this year, you know that Marcus Stroman has been on the Injured List since early August with what was originally hip inflammation, which turned into a much more problematic issue of fractured rib cartilage. It's a "non-baseball" injury, as the club describes it, meaning there's no real precedent to determine how long Stroman will be out and what he'll look like on the mound when he's back. 
However, the good news is Stroman has been doing work at the team's Arizona complex, throwing live bullpens Friday and Monday. If all goes well, the report is that Stro should find his way back to the big leagues this weekend. 
Now, your first thought is probably: "Wait a second. Stroman has been out since the beginning of last month and he's not even going to go on a rehab assignment?". Turns out, that's great intuition you have, as the Cubs agree that there's not enough time in the season to get the righty stretched back out for a starter's workload. So, as Bruce Levine explained on the "Inside the Clubhouse" podcast for 670 The Score, Stroman is actually going to return to Chicago as a reliever. 
"It's Marcus Stroman's spot to try to find if and when he comes back," Levine said. "The inside stuff on Stroman is he threw a 29-pitch simulated game yesterday, or two days ago. He's gonna pitch again Monday, try to build up his pitch count [reports say Stroman threw close to 40 pitches Monday]. He comes back, he's not a starting pitcher yet. He's not gonna be a starting pitcher, there's not enough time for him to build it up. He's gonna go in the bullpen if he goes anywhere, okay. Do they have a spot for a starting pitcher who's never been a reliever? …Never been a reliever and could go in there and maybe give you some long innings and wait four or five days again to give you long innings."
If that role that Levine is describing for Stroman sounds familiar, it's because it's Keegan Thompson's long-man role… the same Keegan Thompson who was just optioned to the minor leagues on Friday for Brad Boxberger. Javier Assad also filled a version of that role, but he's now a fixture in the rotation, conveniently having been slotted there as a replacement for Stroman in the first place. The closest things the Cubs have to a long man in the pen currently are nominal starting pitchers Hayden Wesneski and Drew Smyly, though both have recently been tasked with (and are succeeding much more at) shorter relief appearances. As such, Stroman could easily slot in and fill the gap as the bullpen's three-plus inning arm, or possibly function as a piggyback starter if the Cubs want to limit Assad's or Jordan Wicks's innings down the stretch ahead of the playoffs. 
However, it stands to reason that Stroman could also perform other jobs in the pen, at least if the Cubs are comfortable with the current five-man setup in the rotation and truly believe Stroman can't be ramped up in time to start a playoff game. As has been discussed ad nauseum, the Cubs' top-flight late-inning guys (namely, Mark Leiter Jr., Julian Merryweather, Michael Fulmer, and Adbert Alzolay) have been worked into the ground recently, and they've all required extra rest or seen their effectiveness dip over the last few weeks. What if the Cubs give Stroman a chance to take some of the pressure off those other arms?
It'd be an interesting experiment, to say the least, though not without merit, as the Cubs have successfully transitioned other struggling starting pitchers (Smyly and Wesneski) into useful relief arms. Though he'd probably be a poor choice to bring into a "dirty" inning due to his lower strikeout numbers relative to some of the arms in the pen, Stroman's penchant for ground balls and low walk rates should make him effective even at the end of games in high-leverage spots. If the Cubs are really looking to maximize whatever help Stroman is healthy enough to give them, perhaps asking him to empty the reserves in one-inning spurts could prove to be the smart play. 
Regardless of how they use him though, it'll just be nice to see No. 0 back on the mound this year. Though we likely won't see the same dominant force on the mound who earned an All-Star bid in the first half of this season, a healthy Stroman is a valuable piece for this Cubs team.
And, hey, wouldn't it be pretty cool to watch Justin Steele and Stroman combine for nine shutout innings in Game One of the Wild Card Series? Just a thought.