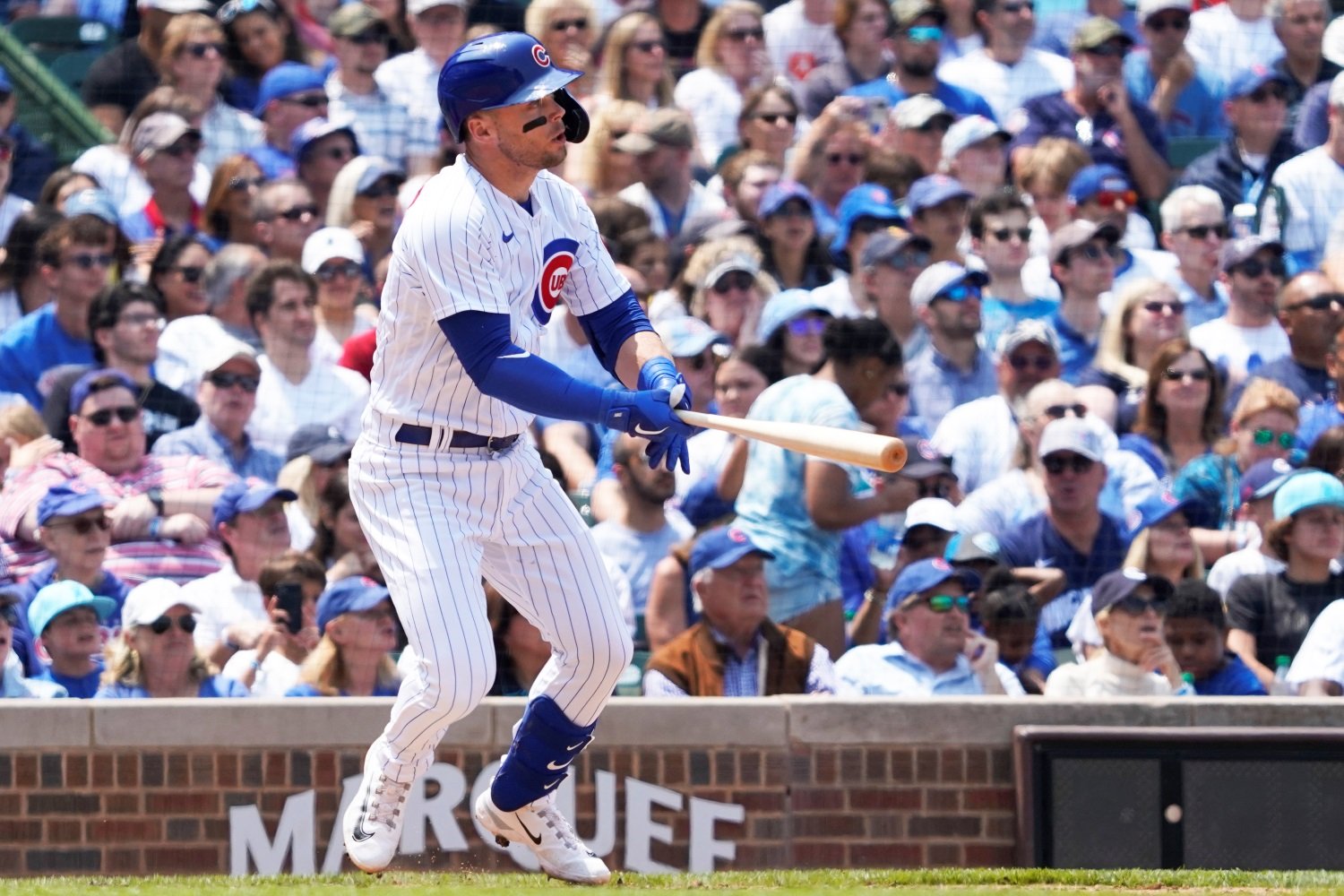 Image courtesy of © David Banks-USA TODAY Sports
Quietly, one of the biggest problems with the problematic Cubs offense throughout May was the fact that Nico Hoerner fell off a cliff. His hamstring injury surely contributed, and coming back as quickly as possible from it might have come at some cost in effectiveness, but the results care nothing for the reasons. From May 1 through June 8 (the day the Cubs finished being swept by the Angels), Hoerner batted an execrable .222/.294/.315. In 119 trips to the plate, he had just six extra-base hits and 10 walks. 
Even during that atrocious stretch, Hoerner was a net positive at the plate, according to Win Probability Added. His skill set creates problems for teams when there are runners on base, and especially when the opponent can't afford to let those runners score. Still, he was essentially neutralized for that long period, and the Cubs got an OBP around .300 from a player who was routinely written into the lineup as the leadoff hitter. Dysfunction, like most forms of unhappiness, rolls downhill.
Since the first game of the series by the Bay that might be a pivot point in the Cubs' season, though, Hoerner has been himself again--the dangerous, well-rounded, relentless presence he was over the first few weeks of April. After sitting to start that game, he came in and got the game-winning hit, and he hasn't looked back. In his last eight contests, he's batting .364/.400/.424. 
That doesn't mean we're out of the woods with him. Hoerner's strikeout rate is creeping up, as he tries to find his way to more patience and power. He hasn't actually realized those benefits in exchange for his losses, though, and for a long time, he seemed to be caught in a middle ground that (given his basic skill set) is much less fruitful than operating at extremes. 
Recently, Hoerner seems to have realized that. In early June, he steadily began giving up exit velocity, in order to get the ball off the ground and on a line more often. Here are two charts, showing rolling averages for 50-plate appearance stretches in both exit velocity and Sweet Spot percentage (the share of batted balls that were hit within the band of the most valuable launch angles, according to Statcast).
In a vacuum, a falling average exit velocity is a bad sign, and it indicates that Hoerner's hot streak might be nothing more than a blip. Even in the most generous reading, it sets a fairly low ceiling on his production, because this version of Hoerner (a familiar one, to fans who have watched him closely throughout his career) has virtually no power.
Again, though, he's a player who doesn't benefit much from plotting a conservative or conventional course. He has an extreme skill set, and should pursue an extreme approach. He'll probably never be Luis Arraez, but trading some power to give himself a significantly better chance of hitting a single each time up makes as much sense for Hoerner as it does for Arraez. Happily, he even has a dimension of value Arraez lacks, because once he reaches base, he can more often steal a base, or take an extra one on a batted ball. 
Every player is, to some extent, undergoing constant change. No offensive plan is static and invulnerable to adjustments by opponents. Hoerner (who is still so young and has had his career altered and tossed about by organizational emergencies, a global pandemic, and multiple injuries) has an especially protean approach, and that figures to continue for another year or two. That, after all, is why both he and the Cubs were most comfortable with a contract extension that neither paid him like a superstar nor locked the team into a long-term commitment. He might yet have major roisters and ruts even within this season. For the moment, though, he's been the catalyst of a crucial resurgence by the Cubs offense. It's been a delight, if nothing else, to see the unique talent he possesses on full display for the first time in six weeks.