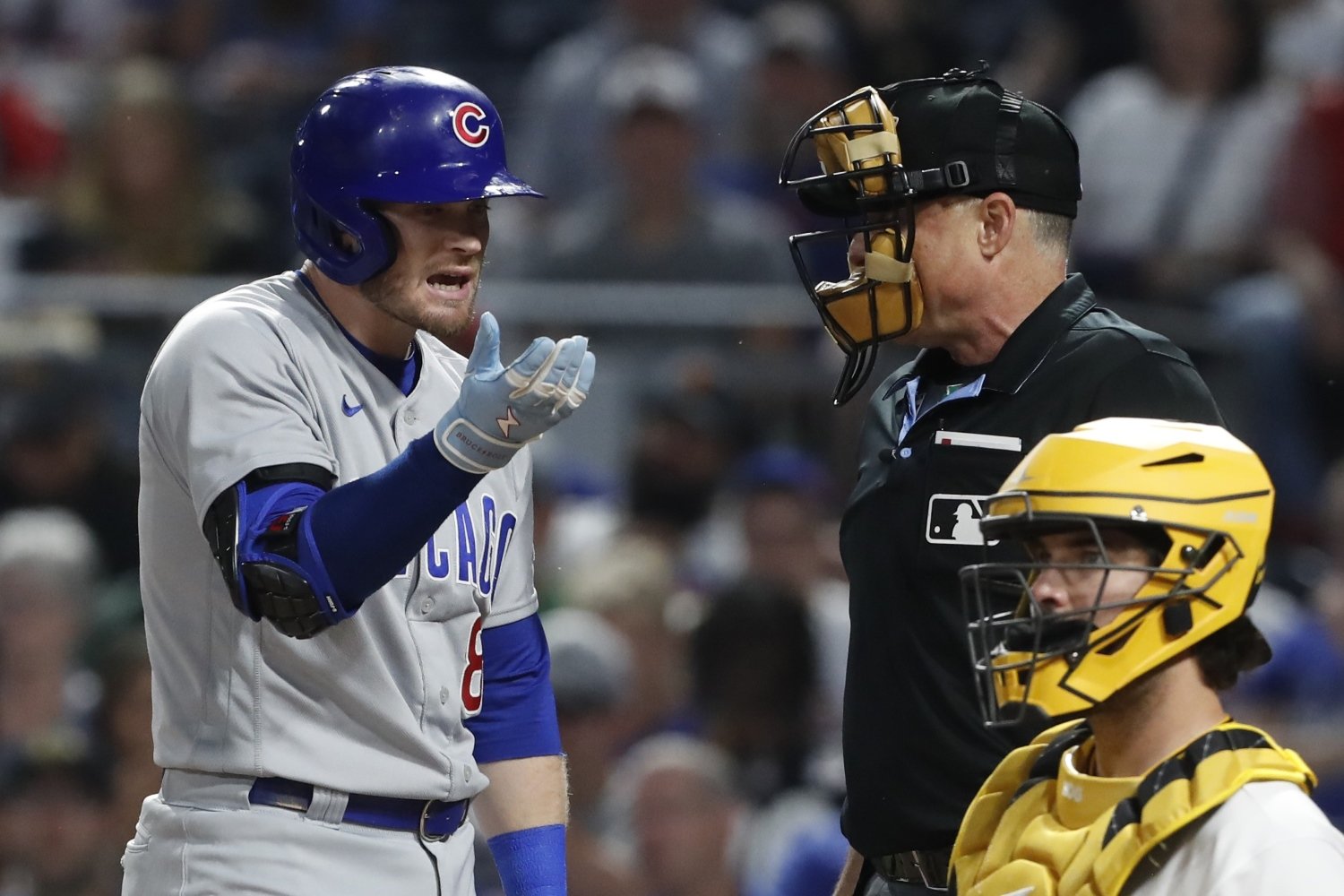 Image courtesy of © Charles LeClaire-USA TODAY Sports
Not that a hitter is ever gratified coming out of the box with a backwards K. But multiple times on Monday and Tuesday, Happ was punched out with the bat on his shoulder. Each occurrence I noted ended an inning, and each saw Happ spend an extended time chatting with the home plate umpire. And I somehow don't think he was asking in earnest about what Blue saw. 
The fact is that Ian Happ has been a master of the strike zone this year. He currently boasts a 16.1-percent walk rate that trails only five qualifying hitters. He's also seeing 4.36 pitches per plate appearance. Both represent career highs, and he's in the 85th percentile of the league for chase rate. Few hitters are maintaining an understanding of the strike zone in a way that Happ has in 2023, which means that you can understand his frustration at borderline strike three calls.
But is that to his benefit? 
Over at Pitcher List, I recently had a piece published in which I looked at whether plate discipline (Read: Patience) is really the asset that we think it is. The conclusion: Could be, but also maybe not? Ultimately, the concept of patience in 2023 is something that we have to look at contextually within an individual player's skill set. Juan Soto's patience is absolutely part of his offensive identity. Luis Arraez, on the other hand, is chasing the first .400 season since World War II, and he isn't remotely among the league's more patient hitters. 
We like to think that a hitter who is patient is more likely to find "his pitch", thus generating more quality contact and big-picture offense. That is, of course, not always the case. So is Happ's wildly increased patience (he walked at a 9-percent clip last year) really benefitting him? It's tough to look and opine that it is.
Happ's overall Swing% has dropped significantly between seasons, going from 48.9 percent in 2022 to 44.1 percent this year. He's chasing at a materially lower rate, dropping an even six percentage points to 21.9 this year (hence the 85th percentile chase rate). Inside the strike zone has obviously seen a drop as well, from 69.0 last year to 65.3 percent this year. So it's not as if Happ became more patient on pitches outside the zone. He kind of just stopped swinging, regardless of pitch location, which is why the numbers don't necessarily support an increase in performance in correlation with the higher discipline. 
In fact, the underlying numbers have gotten marginally worse. He's making less contact in and outside of the zone, though not drastically. What is concerning, however, is the quality of contact. For the fourth consecutive season, Happ has seen a decline in HardHit%, and while he is finding the barrel a touch more than he did last year (7.2 percent vs. 6.5 in 2022), it's still far less than at his power apex. 
Historically, Happ's power has always come more in the left-handed batter's box (.224 career ISO as a lefty). This year, it's only at .168 (he's going for a .058 ISO as a righty). Additionally, his power output has also come against breaking pitches. And while that still represents his highest Swing%, he hasn't been able to recapture finding the barrel there with any level of consistency. What's particularly strange is that there's been no real change in his swing trends other than, you know, just not swinging. But opposing pitchers don't appear to be approaching him any differently, nor is he being particularly choosy against a specific pitch type. It boggles the mind. 
Can I say with any level of objectivity or certainty that Ian Happ's increased patience is hurting his overall output? Nope. There are hitters who actively pass up grooved pitches in the name of their approach. That doesn't appear to be happening with Ian Happ. His called-strike percentage isn't any higher, so he doesn't appear to be missing out on opportunities that could lead to higher-impact results. If anything, the absence of power we're seeing is more of a continuation of what has developed over the last few seasons, just with more volume in the walks department. In the absence of any verifiable theory, maybe he's just a contact guy now. And if that's the case, the constant on-base presence can be an asset to the Cubs. Of course, so could the power that has gone missing.