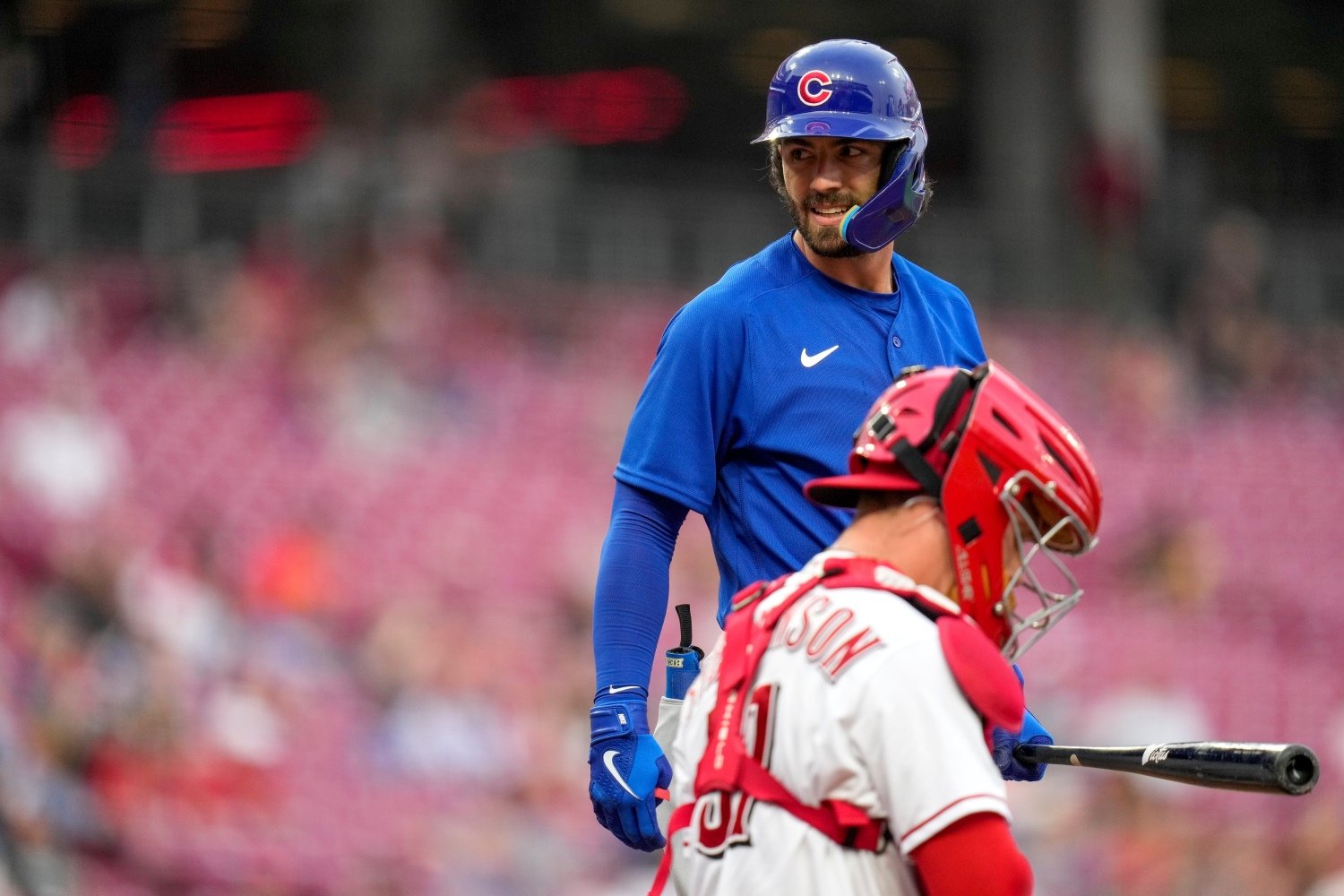 Image courtesy of © Sam Greene/The Enquirer / USA TODAY NETWORK
First of all, in answering that question, we have to be clear: Dansby Swanson's current plate discipline numbers would represent a major change for the established star. He's never drawn as many as 50 unintentional walks in a season, so he's doing that more than twice as often as has been his norm. When you watch games on Marquee Network, you also hear a lot about the rates at which Swanson is swinging even on a pitch-by-pitch basis. It's true that, for instance, he's offering at fewer first pitches in plate appearances than he ever has over a full season.
There's something missing from that presentation of information, though. It overlooks a crucial fact about the numbers Swanson has compiled so far, which is that it's April. The weather discourages aggressive swinging. Players are still feeling their way to their optimal timing. Sometimes, guys just swing less often during the first month, trying to get their eyes and reflexes a bit more finely tuned for the long campaign.
Swanson has done this, too. He doesn't always do it, and the effect isn't gigantic, but it's noticeable. Here's how often he's swung at the first pitch of plate appearances over the last four full seasons, broken down by month.
| | |
| --- | --- |
| Month | 1st Pitch Swing % |
| Aug | 39 |
| Jul | 36.3 |
| May | 35.1 |
| Jun | 34.9 |
| Sep/Oct | 34.1 |
| Mar/Apr | 27.9 |
If you expand the query to how often Swanson has swung at all pitches, regardless of count, and then look at individual months within seasons, the same idea shines through. He's swinging at fewer pitches (39 percent of them) than he ever has before, over a full month, but second-lowest on the list is April 2022, and third-lowest is April 2019. 
That's not to say that Swanson hasn't made material changes to his approach that will continue to yield good results. After all, even if putting it in monthly context makes this performance seem less extreme, he's never been this patient for this long before. Still, it feels more likely that he'll steadily increase his aggressiveness as the spring bounces toward summer. The power that headlined his offensive skill set the last couple of years hasn't showed up yet at all, and he might need to trade a bit of his patience to access that power as his body and the weather allow that to happen more. 
Sometimes, too, an ostensibly more patient approach is just a reflection of a player not having confidence in his swing. There's some hint of that here. Swanson has whiffed on 33.9 percent of his swings so far. That would be the fourth-highest whiff rate he's had for any month over the last four-plus seasons. If he feels like he's likely to come up empty on swings, he's probably swinging less often in hopes of getting a few calls going his way and putting off the problem. That's sound strategy, and it's a good sign that he's done it so well in the early going. Swanson is famously streaky at the plate, and any adaptation that makes his infamous slumps less nightmarish will be welcome. 
Even so, considering all of this information, it's unlikely that we're seeing Swanson change into a starkly different hitter than he's been in the past. He's just settling into a new season, still seeking his timing, and he's hitting for average and drawing walks while waiting for the tumblers to fall into place. Ever since he began to turn a corner at the plate a few years ago, Swanson has demonstrated a mature and intelligent self-knowledge. His swing decisions last year--highly aggressive within the zone, relatively rarely expanding that zone to chase junk--were perfect for his skill set. He'll always whiff at an above-average rate. That makes it essential that he be ready for his pitch when he gets it, and often, that pitch will come early in an at-bat. He needs to be aggressive in order to be the best version of himself. At the same time, he can modulate that aggressiveness and alter his approach (in terms of which pitches he's looking for and where he tries to hit them) based on how he's feeling and how opponents are attacking him. That's all valuable.
Hitting between Nico Hoerner and Ian Happ all season, it's not hard to imagine Swanson walking a little bit more than he has in the past. With the relative unfriendliness of Wrigley Field's right-center gap to right-handed hitters, we can also envision him hitting for less power than he did in Atlanta. where one of his key improvements was learning to drive the ball to that very sector. The bad news is that he's not likely to draw over 100 walks, or to hit .338, for that matter. The good news is that the fact that he's doing those things at this early stage reflects a real strength in his game, and that it might spell greater consistency for him as the season wears on.