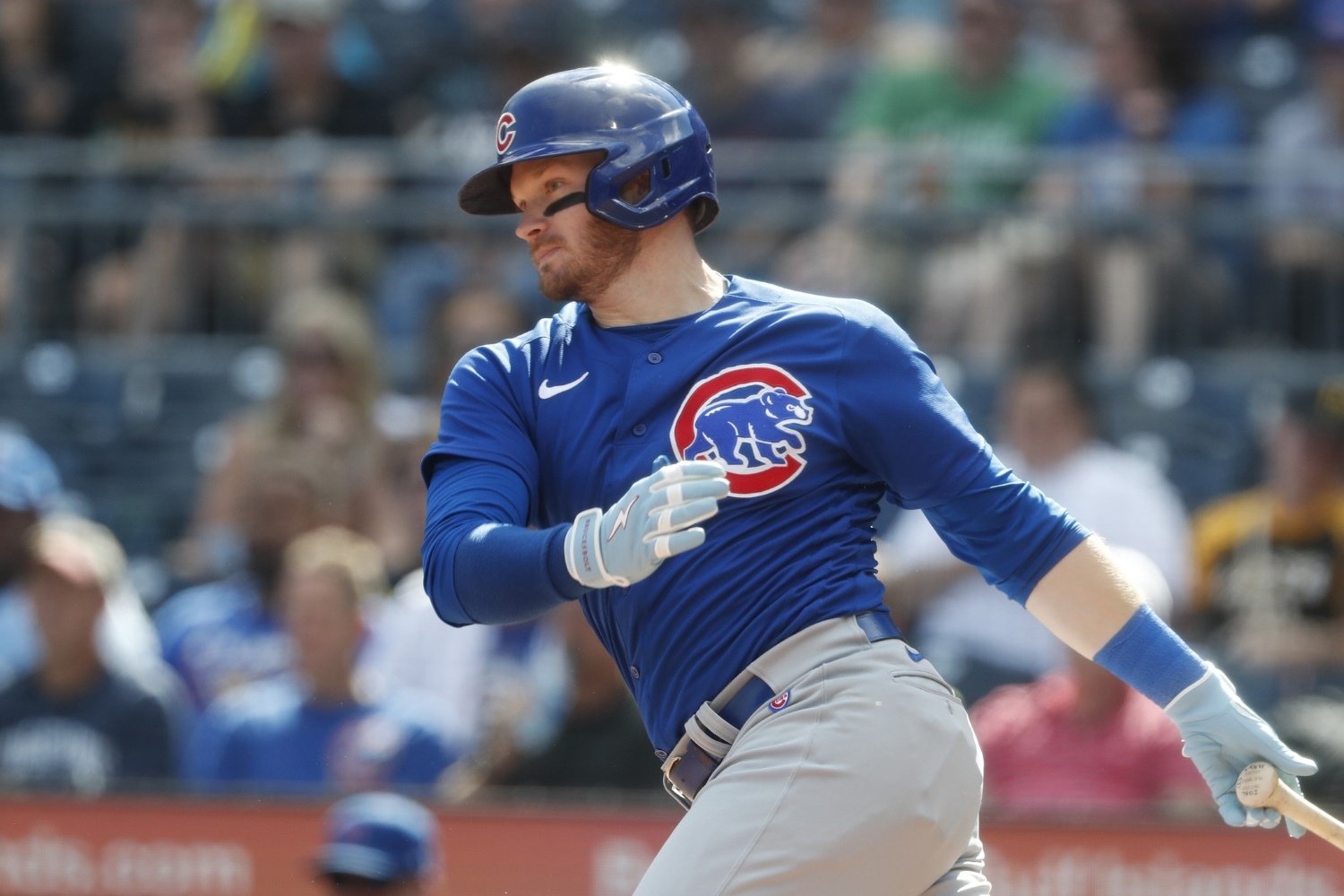 Image courtesy of © Charles LeClaire-USA TODAY Sports
The Cubs signed Ian Happ to a contract extension in April partly on the strength of the good season he had from the right side of the plate in 2022. He has always been a patient, powerful hitter from the left side, but last year, he was a more complete switch-hitter than he had ever previously showed. He hit .305/.350/.438 against southpaws last season, which was easily his strongest showing against them since his rookie season of 2017. It was certainly not the primary reason why the Cubs wanted to keep him around, but that improvement was a crucial part of the overall success that did lead the team to retain him.
Here's the thing: that year was a lie. Happ himself would probably tell you so. He struck out 39 times in 137 plate appearances from the right side, and he drew just seven walks in those trips. He ran a .425 batted average on balls in play, not because he scorched the ball or took advantage of overshifted defenses, but because a .425 BABIP can happen pretty easily over the course of about 90 balls in play. Even a handful of his 12 extra-base hits weren't really him hammering a ball and finding a gap, but rather, ground balls that happened to stay fair and scoot past the third baseman.
By and large, Happ has lacked power and plate discipline from the right side throughout his career. He's not a total zero, but he's the guy you slot in at the very bottom of your batting order against a lefty, not a middle-of-the-order hitter, which is what he can legitimately be as a lefty swinger. He got off to an atrocious start in this regard in 2023, too, and it looked like last year might be a welcome but ultimately meaningless blip in a career of ineptitude against lefties. He was batting .158/.256/.211 against them through May 15.
Notice, though, the gap between that batting average and the OBP. That came about because Happ started taking a much more patient tack in his trips against lefties, almost right away. Certainly, that was his plan by the middle of May. Since May 16, he's hitting .243/.330/.430 off of lefties. In 125 plate appearances, he's drawn 15 walks, and he's only struck out 25 times. He's socked four home runs off of them in that time, too--twice as many as he managed in all of 2022. 
The secret to his newfound success isn't in what he started doing; it's in what he discontinued. Happ is just not swinging as much against lefties as he's done in the past. In his career, the only season in which he had a lower swing rate against southpaws than the 46.3 percent he's putting up this year was the shortened 2020 campaign. Very often, he's been well over 50 percent.
We rarely talk about it this way, but every swing is a tiny statement of faith in oneself. On any given pitch, a swing guarantees a strike, whereas a take can get you closer to a walk and/or better able to sit on a pitch you can hit with some leverage in the count. You should only swing when you think the probabilities and payoffs of that decision make the cost worthwhile, and the worse or less often you hit the ball, the less frequently that decision makes sense. Happ has (probably not in so many words) noticed that he can't hit right-handed, and he's adjusted accordingly.
Here's his swing rate by pitch location as a right-handed batter in 2022.
Here, by contrast, is the same chart for 2023.
Look at the way he's cut the plate in half. Pitchers can still get him out away, if they can locate on the outer edge. Happ will simply bet on them missing that target. He's ready to hit the ball hard if it's over the heart of the plate, and he's going to take it for a ball if it's a miss away. If they hit the corner, Happ tips his cap, because he's come to understand that his right-handed swing just can't produce anything valuable by chasing out there.
Knowing what he can and can't hit hasn't led Happ to start mercilessly crushing left-handed pitching. He doesn't have that in him. His strikeout rate has plunged, though, and with a few walks to keep the line moving and a small improvement in power, he's become a competent hitter in any matchup. His expected weighted on-base average (xwOBA), based on batted-ball quality and strikeout and walk proclivities, has never been higher than .291 against lefties. That's a miserable number. An average xwOBA hovers just a little above .320. This season, though, Happ's is at .314. If he keeps this up, he'll be a perfectly cromulent third hitter in David Ross's batting orders, even in October.
Speaking of matchups and of the postseason, though, that's another dimension of Happ's game that deserves a quick touch. Historically, he's been a jumpy and lousy hitter in clutch moments. In 2021 and 2022, especially, he seemed to get overanxious when he had the opportunity to come through with a big hit. This season, he's learned the value of continuing to press the rally, even if it be by leaving the big blow to the next guy. It's made him much better. Here are his swing rates and wOBA by season, when batting with the tying or go-ahead run either at bat or on base in the sixth inning or later.
Ian Happ in the Clutch
| | | |
| --- | --- | --- |
| Season | Swing % | wOBA |
| 2017 | 52.5 | 0.292 |
| 2018 | 44.4 | 0.365 |
| 2019 | 45.8 | 0.494 |
| 2020 | 46.4 | 0.254 |
| 2021 | 47.5 | 0.332 |
| 2022 | 49.3 | 0.242 |
| 2023 | 42.1 | 0.436 |
Obviously, Happ sometimes comes up in moments like that as a left-handed batter, facing a righty. Even in those cases, though, he's learned to be more patient than might be his wont, because it's going to help the team in the long run if he gets on base in front of Cody Bellinger and Seiya Suzuki. It's also instructive to see that, good hitter or bad, it sometimes pays to take a more calm approach in a moment that feels anything but calm. Often, it's the pitch you lay off that earns you the mistake you turn into the killing blow. Happ has always shown an awareness of that, in general. It has tended to get away from him when the moment gets big, but this year, that's changed.
Swinging dramatically less often would be a decent prescription for what ails several hitters through the league. Only certain guys are capable of it, though, and among those who have some impressive power seasons on their resume, it's understandable if ego interferes with that kind of adaptation. Happ hasn't allowed it to do so. He knows what he does well, and where he's weak, and he's doing his best to make his strengths stronger and his weaknesses less exploitable. It sounds easy not to swing, but Happ is proof that it can be both difficult and devastatingly effective.