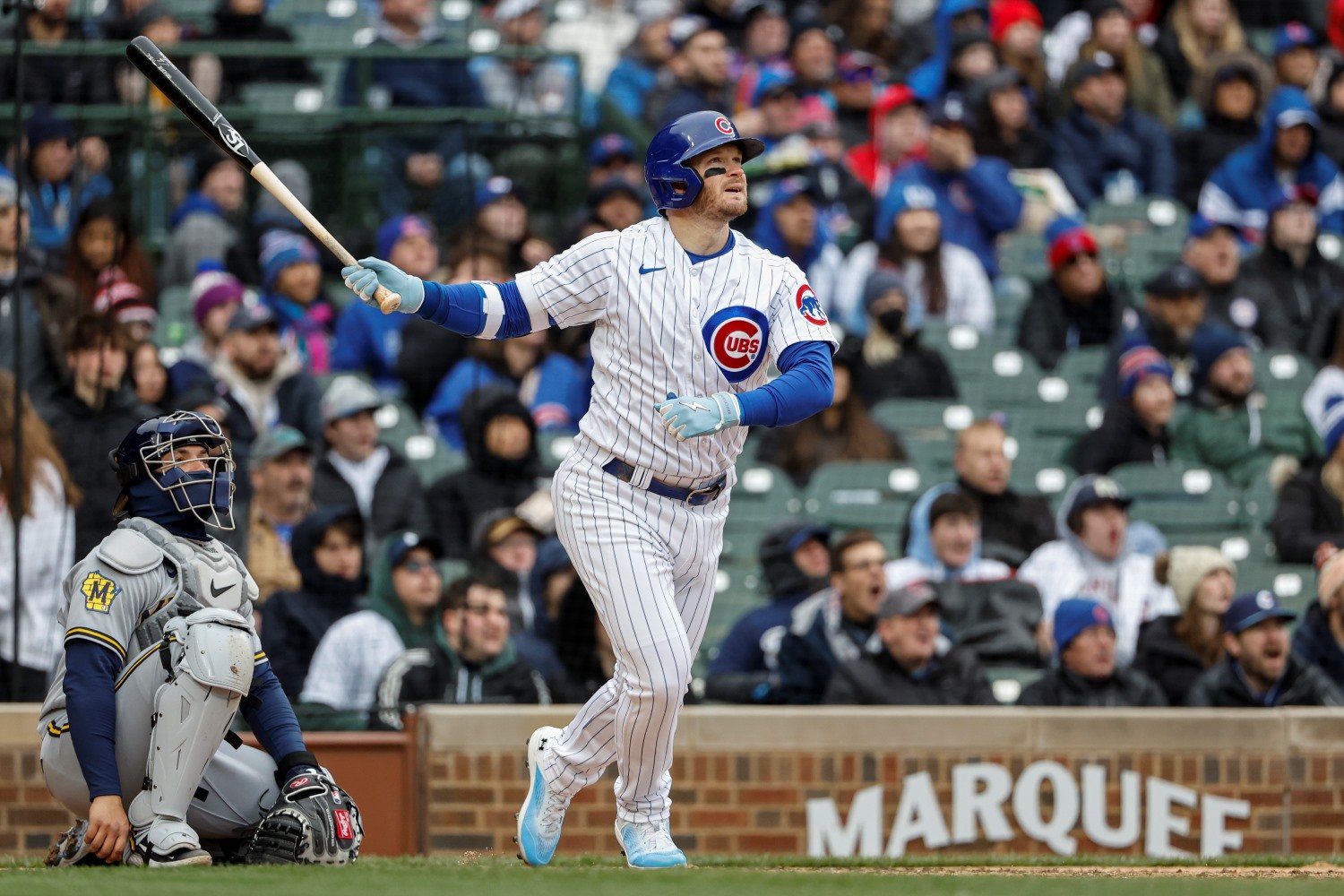 Image courtesy of © Kamil Krzaczynski-USA TODAY Sports
It's not in Jed Hoyer's nature to gamble with contract extensions. That has been to his detriment, at times, because the very reason for the popularity of extensions among modern MLB front offices is that teams can afford to have a healthy appetite for risk within them. Even two years ago, Ian Happ had tremendous talent and obvious upside, but he was far too volatile for Hoyer's tastes. There were too many strikeouts. It wasn't clear what defensive home, if any, he would ever find. 
By now, the story of Happ's gradual transformation is familiar, but that doesn't make it less impressive. He cleaned up his approach and his swing. From the right side, he finally committed to a setup and a swing, after years of tinkering and looking like he was making up each swing as he went. From the left, he changed the path and plan of his swing, The old Happ generated incredible power for a man of his size, but he did it by focusing on lifting the ball too much. His hands dropped early, his bat swooped steeply up through the zone, and his whole body seemed to do the same. He would often end up on his toes at the end of swings. Though Happ is a right-handed golfer, his left-handed swing looked like golfing. When coaches and commentators talk about jumping at the ball, this is one thing they mean. 
The biggest change he's made from this side is just to quiet those movements and stay balanced, keeping his legs under him and giving himself more margin for error. He can adjust his timing and his chain of movements to fit what he sees much better this way.
Obviously, he's traded power and launch angle for his higher contact rate, but that exchange has been a profitable one, The word Happ has used repeatedly over the last year-plus is consistency. He's more consistent from each side of the plate, and more consistent overall. With regular reps and a lot of offseason work, he made himself a consistently strong defensive left fielder. That consistency is exactly what Hoyer has craved, since before he even became the top decision-maker in baseball operations.
From a player from whom the team once felt like it could get superstar-caliber production one month and zero value the next, they now know very well what to expect. That made this deal easier to feel out, even after negotiations failed to yield an agreement during spring training and through Opening Day. The compression of Happ's possible outcomes gives them certainty in the short term, and this deal gives them certainty in the long term. Happ, Dansby Swanson, Seiya Suzuki, and Nico Hoerner will all be with the team through at least 2026.
That core probably is not good enough, on its own, to win very much. Despite the strength of the four personalities, their impressive and varied production, and the fact that they're all more or less in their prime, they don't add up to a championship-caliber top four in the lineup. That's ok. The Cubs clearly envision supplementing this group with the likes of Pete Crow-Armstrong and Kevin Alcántara over the next couple of years, and the depth of their farm system should allow them to trade for or sign the MVP-level, heart-of-the-order bat that is the only missing ingredient in the mix.
This deal does make it hard to imagine how the team will come in under the competitive-balance tax threshold in 2024, if they intend to contend. They've committed $100 million (for CBT purposes) to Happ, Swanson, Hoerner, Suzuki, Jameson Taillon, and Drew Smyly for next year. Marcus Stroman will opt out of the final year of his three-year deal, which will force the team to either re-sign or replace him, which figures to be an expensive endeavor. They'll need at least one new catcher. Justin Steele and Patrick Wisdom will be arbitration-eligible for the first time. Trey Mancini is owed $7 million, unless he gets enough playing time and chooses to opt out, which would mean the team would be replacing a productive bat, too. 
That's where Happ's role in this becomes clear. He has been vocal about wanting to stay in Chicago, and this pact proves the sincerity of those statements. He was slated to be one of the two or three best hitters in the coming free-agent class. He could easily have done better than this deal. In exchange for a little early security, he let go of the chance for a nine-figure payday after a strong 2023. He also gambled that the team will really spend the money required to continue building around the core of which he's such an important part.
It's hard to overstate how much this changes the tenor of the 2023 Cubs. It's a huge deal. Despite their loss to the Mariners on getaway day, this might have been the most important day of the season for the team. With Happ and Hoerner locked up, the dark cloud hanging over this team--the threat that it might be disassembled at the trade deadline, in service of an ongoing rebuild--is gone. Some series of unfortunate events could still lead to Cody Bellinger and Stroman being available in trade this summer, but that now feels unlikely.
This team believes it can win, from the clubhouse to the front office, and even if that turns out not to be true this year, they have now staked themselves to the position. It feels good, as a fan, to be able to invest in the team, because the team has clearly made an investment (an emotional and intellectual one, as well as a financial one) to itself, for the first time in a few years. Knowing that Happ will continue to grow into one of the game's charismatic faces while calling Wrigley Field home throughout his best years feels almost as good.