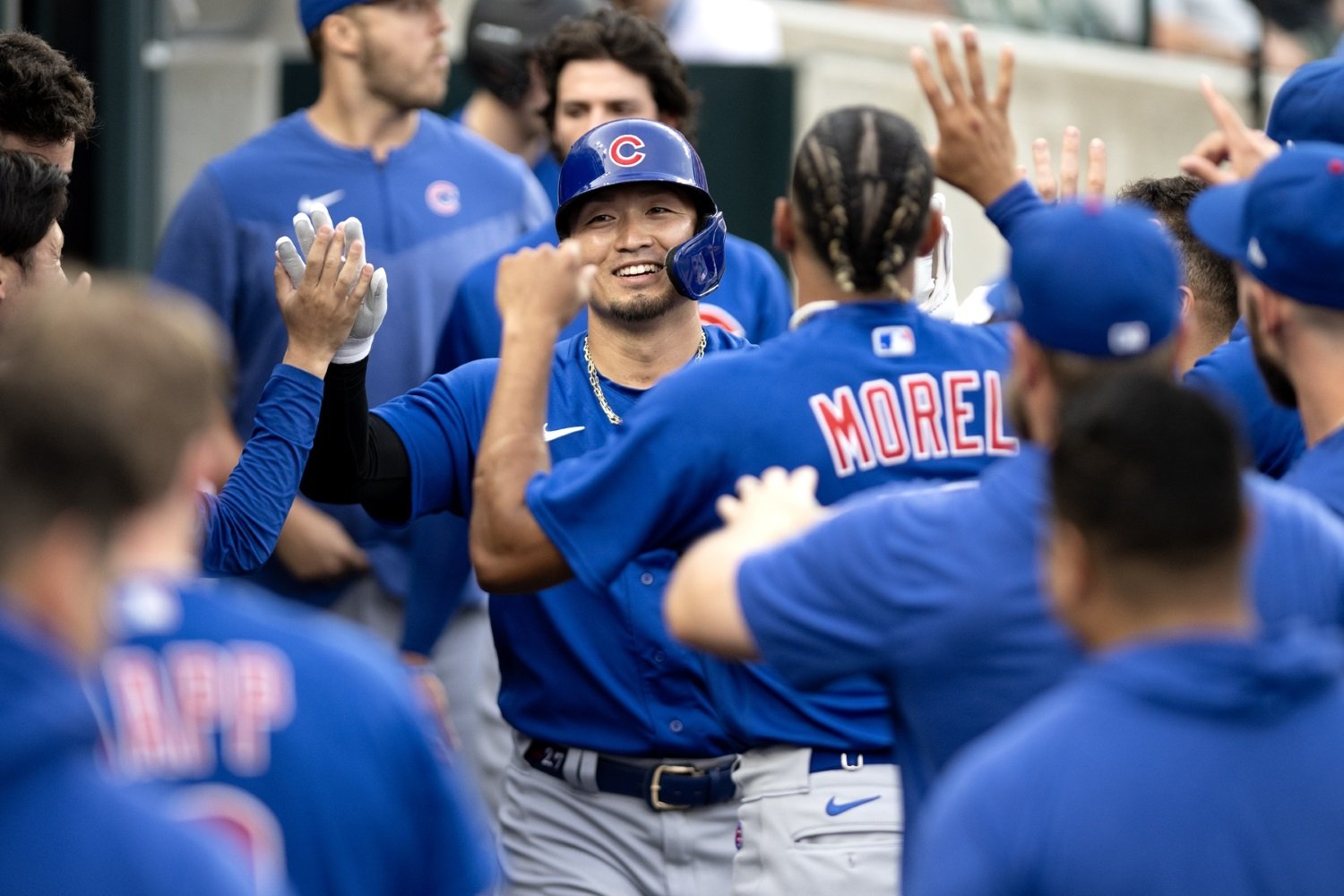 Image courtesy of © Lon Horwedel-USA TODAY Sports
When the Chicago Cubs traded for Jeimer Candelario in late July, it became immediately clear that someone was going to have to accept less playing time going forward. While Candelario slotted in nicely at both infield corners, the Cubs also had a healthy and well-performing Nick Madrigal, and were often shifting Cody Bellinger to first base in order to play Mike Tauchman in center field.
Having hit just .212/.282/.296 from the start of June to the end of July, Seiya Suzuki was the most logical person to bench. From August 1 to 8, Suzuki only started two games and took nine total plate appearances. On August 9, he got the start in New York against the Mets, and since then, we have seen a completely different version of Suzuki. 
Suzuki has hit .390/.431/.763 (with four home runs) in 14 starts in the stretch of games beginning on August 9. Last we checked in with him in early July, he was hitting the ball incredibly hard, but into the ground way too often. Suzuki's average launch angle in that June-to-early-August stretch was 9.1 degrees, according to FanGraphs. Since then? It's 11.4 degrees. 
That 2.3 degrees of difference matters, sure, but that jump would take him from something like 115th in baseball in average launch angle, to about 90th, where he sits now, according to Baseball Savant. He certainly isn't a Max Muncy-level launch angle king now. Nor can we look at that increase in average launch angle and consider that to be the reason why his production has exploded in the past few weeks.
In his bad stretch, Suzuki ran a ground ball rate of 55.3 percent on hard-hit balls, or balls that were hit with an exit velocity of 95 mph or higher, per FanGraphs. Since his resurgence in New York, though, just 16.7 percent of his hard-hit baseballs are on the ground. A whopping 66.7 percent of them have been fly balls. Obviously, hard-hit balls can do significantly more damage in the air than they can on the ground. Now we're cooking with gas!
With significantly more of his fly balls being hit hard, Suzuki has a 182 wRC+ on fly balls during this hot stretch, compared to just a 93 wRC+ on fly balls this season prior to that. He is now running the highest swing rate of his entire career, as he is swinging at 48.9 percent of pitches, up from 40 percent prior to August 9. His highest swing rate over any 15-game stretch prior to this was last August, at 47.6 percent. 
Suzuki has become more aggressive in seeking out pitches that he can drive in the air, rather than either trying to work a walk, or waiting for an absolutely perfect pitch that was never coming. He has reallocated his hard contact to being in the air rather than on the ground, and is reaping the rewards of that. 
As always, the question is whether it will continue or not. Suzuki's added aggression has caused his walk rate to drop, though he's certainly still accepted them when pitchers have treated him cautiously. I'd venture to guess that pitchers will nibble increasingly often against him, to see if he can combine his new, aggressive approach, with his previously-demonstrated ability to draw walks at an above-average rate. 
But for a team in the playoff race, you have to ride the hot hand while you have one, and the Cubs are certainly doing that. Suzuki probably won't continue with an 1.194 OPS. At the same time, this is also one of the better stretches of his career, and is very encouraging for his long-term projection. 
If you've never seen the 2002 movie Signs, well, then, it's my opinion that you're not missing much. The relevancy here is that it is a major plot point to the movie that Joaquin Phoenix's character, Merrill, needs to swing away. This also seems to have been the Cubs suggestion to Seiya Suzuki. Swing away, Seiya!