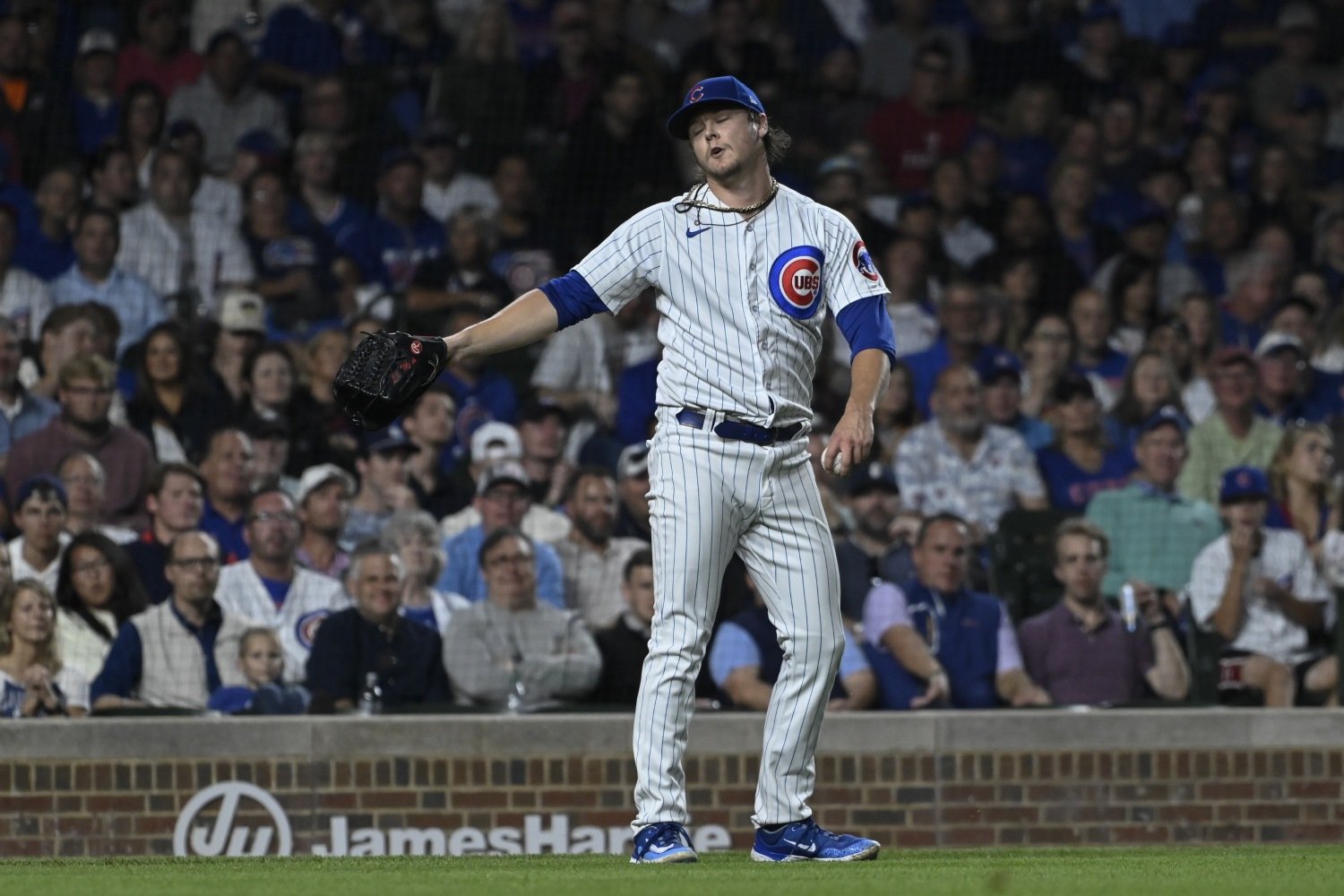 Image courtesy of © Matt Marton-USA TODAY Sports
Physically, Justin Steele looks and pitches a lot like a young Jon Lester. He doesn't have as deep a repertoire as Lester had, but he uses the same glove-side movement to get in on right-handed batters and generate weak contact, while overwhelming lefties with the same stuff, running away from them. He showed all of that in the first three innings of Wednesday night's game, as he sliced through the Pirates lineup with great stuff and ample confidence.
Sometimes, though, things go wrong. That's how baseball works. For myriad reasons, it's impossible to avoid running into trouble, and once that trouble comes, whether a pitcher succeeds or fails depends less on their sheer stuff or even their command than on their ability to meet the mental challenge of that moment. In two starts in a row, Steele has failed to manage those kinds of moments, and it's cost the Cubs dearly.
Marquee Sports Network color commentator Jim Deshaies notices the problem, but he either misreads it or (more likely) slightly mischaracterizes it as he relays it to the viewers, to soften what could otherwise be viewed as fairly sharp criticism. Here's what happened Wednesday night, and what Steele did wrong.
First, a couple of runners reached base. Steele tried to open the inning with a get-over fastball to Ke'Bryan Hayes, but Hayes stroked it cleanly into right field for a single. There's no harm in that attempt, and little lost by its failure. The problem is that Steele started kicking himself a little bit, right then. After a long battle with the pesky Connor Joe, he got a ball tapped gently into the dirt, bouncing lazily into the grass up the third-base line. Alas, that turned out to be an infield hit, and Steele (though he wisely held the ball, rather than fire down to first and compound his trouble) grew more frustrated. This time, he could justifiably have been mad at the baseball gods for that cruel little trick, or he could (less justifiably) be mad at himself for not having pounced on the ball quicker and made a play on Joe.
Either way, though, up to that point, Steele was fine. He was in danger, but not desperate straits. He'd attacked Joe well. He's not getting his cutter in on the hands of righties as well lately, but he still hummed one in at 94 miles per hour to Joe during the sequence, and he threw a good slider that Joe just spoiled on the pitch before the excuse-me single. He still had his full physical toolbox available to him.
Unfortunately, in moments like these, Steele isn't yet a Lester-caliber mental competitor. Though the outward signs and symptoms are radically different, when adversity strikes, he's much more like Carlos Zambrano, who let innings just like this one escalate far too often in his otherwise brilliant career. Zambrano lost the mental game by exploding, or bubbling and boiling but just barely managing not to explode. He was the stomping, snorting kind of rage monster. Steele is a different but equally ineffective kind.
What Deshaies is seeing (and probably what he's saying, as a former pitcher, but in a way no one will confuse with picking on a player) is that Steele disconnects from the game when he's cornered. Once that Joe nothing-ball turned into a hit, and once a (maybe catchable, for a center fielder who started more shallow and/or played the position more aggressively than Mike Tauchman does) medium-strength line drive fell in to deepen his trouble, Steele disengaged. He grew distant. Deshaies talks about it as if he's gassed or potentially injured, but the real issue is (if anything) worse: he's trying desperately not to care.
Lester was incredible at stopping bleeding just like that fourth inning. He didn't always do so. In a 15-year career, you have bad nights, both physically and mentally. Lester's win rate was sensational, though. It's why, in addition to a very decorated regular-season track record, he was one of the best postseason pitchers ever. Steele has been pitching playoff games the last four starts. In the first two, he was so good--so amped at the start, and so buttressed by success as the games progressed--that he never really met adversity. In the last two, he's looked very good at times, but he's failed the test of the tough moment.
The word for how Steele looks on the mound, in these moments, is depressed. Depression, after all, is rage turned inward. He's not sublimating his rage, when he hits a rough patch. He's just stuffing it down deep and turning it on himself. There's a broad-spectrum nobility to that. There's less toxic masculinity in it than in exploding, the way Zambrano used to do. There just aren't any more wins in it.
You could always tell when Lester was frustrated--or even furious, with himself or a defender who made a key mistake or the umpire. What set him apart, though, was that he stayed extremely engaged at those moments. He became a much more disciplined version of Zambrano. Because he didn't let his anger take over and dysregulate him, Lester could actually feed off of it.
Anger, like joy or excitement, is energizing. It supplies adrenaline. Rage, especially when given the controls, is enervating. You can't flip a switch and make your feelings disappear. You can elect to flip one and not feel those feelings, but that only shuts everything down. Steele's stuff flattened out and his command went to pieces, and it wasn't because he's at a particular innings count or because there's anything wrong with his arm. It was because denying the reality of his anger took the zip out of his fastball, and because he was so distracted by the effort he was putting into containing himself that he couldn't focus on execution. 
Wisely, David Ross got Steele out of there, because he wasn't going to stem the tide of Pirates hits soon enough. These, after all, are playoff games. He went to a parade of relievers on single-inning engagements, at that point, but too many of them blew up. The Cubs offense's efforts to climb back into the game were thwarted by the pitching's incessant digging, putting them deeper in the hole. Once they had to pull their ace nine outs into the contest, though, some of that was bound to happen.
Even so, this illustrates another reason why starting Javier Assad instead of Jameson Taillon Tuesday night was peculiar. If Taillon had started, Assad would probably have been available in relief Wednesday--including having the ability to work multiple innings. He would have stood a much better chance of settling things down than a series of one-inning guys working from behind had. If they get three or four extra outs along the way without giving up three runs (as Jose Cuas did right after Steele left, and as Mark Leiter, Jr. did later), they might well win that game.
As we noted earlier this week, it's possible that Taillon is dealing with a nagging injury, rendering their apparent decision to use Assad instead much less proactive that it might seem. That wouldn't be good news, but it would explain the choice. Since we don't yet have evidence of that, though, we're left to wonder whether the team would have been better served by having Assad available to pitch a couple of bridge innings behind Steele, once the latter cracked in the face of the pressure applied by the Pirates. There will be many persistent, unpleasant questions like those in the months ahead, if the Cubs don't hold onto a playoff spot for another 10 days.