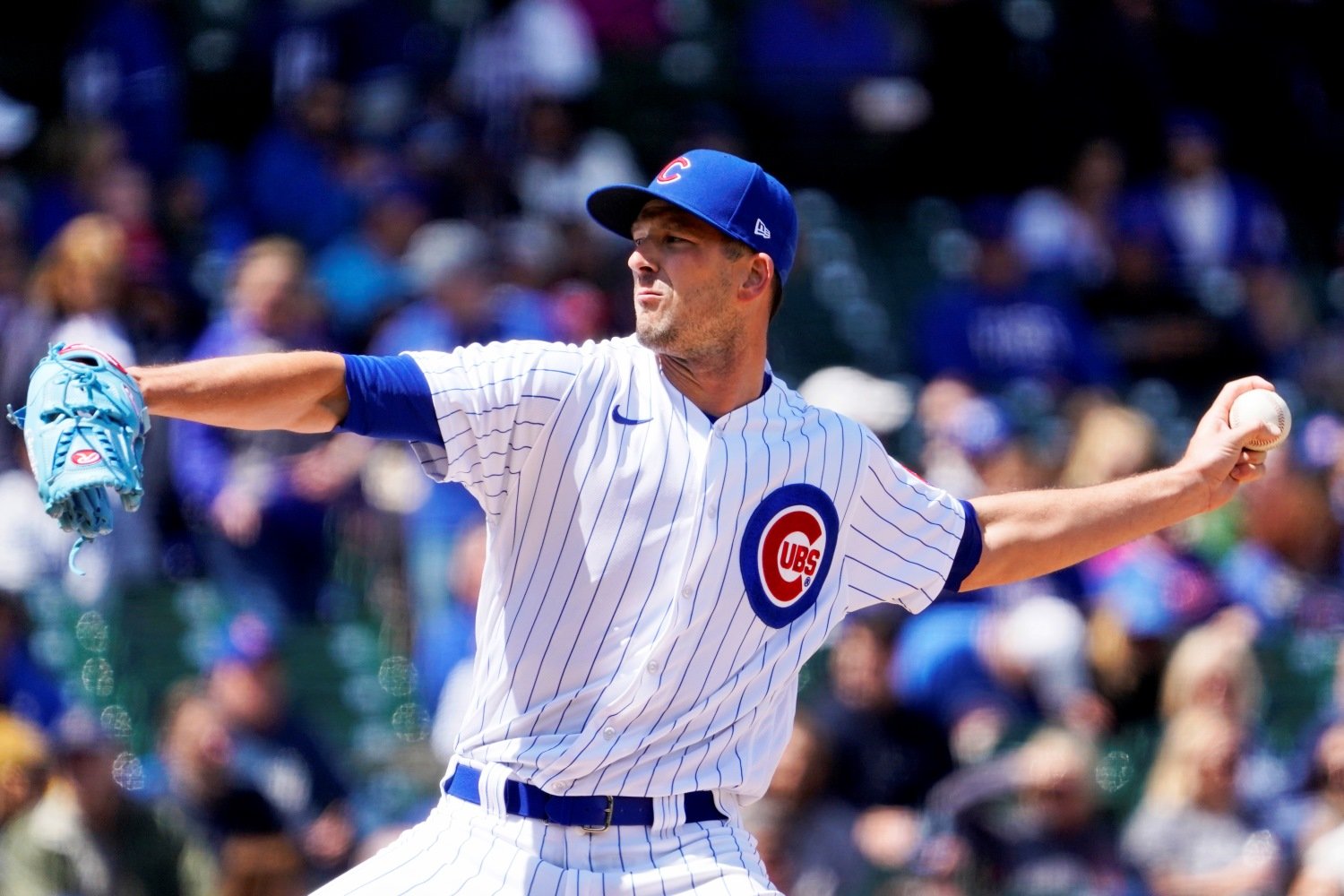 Image courtesy of © David Banks-USA TODAY Sports
Friday's flirtation with a perfect game earned Drew Smyly an amount of press far exceeding what he's used to. We got a good breakdown of the unusual shape of Smyly's curve from MLB.com Cubs beat writer Jordan Bastian, for instance. We can go a bit farther, by adding this: no pitcher in baseball gets more armside movement on their curveball than Smyly. 
Devin Williams's screwball (which some, erroneously, call a changeup) would be an exception to that, of course, but Williams helps illustrate what makes Smyly so unique. Whereas Williams turns his hand over hard and creates what is essentially a high-spin breaking ball that moves the opposite of the usual direction, Smyly throws a true and fairly simple knuckle curve. The way he does so, though, leads to something more like the tumble of a changeup than the bite of an average curveball. That allows the ball to fade like a changeup. The spin direction of the pitch is almost perfectly downward, but the seam orientation carries it to his arm side, away from right-handed batters.
You can see a little bit of what leads to all that in this video, but pay attention to the fastball grip Smyly uses, too.
That grip helps explain the other mystery of Smyly's pitch mix. Nominally, he has a sinker. That's how all the major pitch-classification systems label his fastball. As Smyly says in the video, though, his heat rises. The seam orientation does make it, technically, a two-seam fastball. Because he grips the pitch across the seams, though, he's able to create pure backspin out of the hand on it. That results in movement that's nothing like a sinker. 
If we count Smyly's fastball as a sinker, it has the least run and the most rising action in the league, except for Josh Hader. If, however, we treat it as a four-seamer, it's almost perfectly average in both dimensions of movement. Most of all, because the pitch moves like a four-seamer but gives the hitter just two seams to read visually, it's deceptive, That's the same principle that makes his curve so unusual. What hitters see and how the pitch behaves don't match.
That's incredible, because it seems to take advantage of the very things that make the modern game harder than the version played 20 years ago or so. Hitters have tools they never had in the past, to train their eyes and interpret the data flying at them alongside and on the baseball. They see and read the seams. They need that information to be trustworthy, in order to hit at their best. Smyly's offerings violate that trust. That dynamic has not only helped him generate whiffs, but made opponents' swings more tentative--leading to a lot of weak contact.
Without the complication of having faced the same opponent less than a week ago, it seems likely that Smyly will also bust out his cutter at least a handful of times--unlike last week, when he assiduously avoided everything but the fastball and curve. Presumably, too, he will have something less than the perfect command of those main two pitches he demonstrated last time. 
Movement and deception are on Smyly's side. He doesn't rely on sheer power. The last remaining variable for him is location. Again, he's unlikely ever to replicate the nearly perfect control he had last week, when he was able to attack all four quadrants of the zone with his fastball and could use his curve both to steal strikes in the zone and to induce whiffs. That's fine. The Cubs just need him to be a consistent fourth starter. Already, with good health and a mature knowledge of his own stuff, he's been that kind of pitcher.