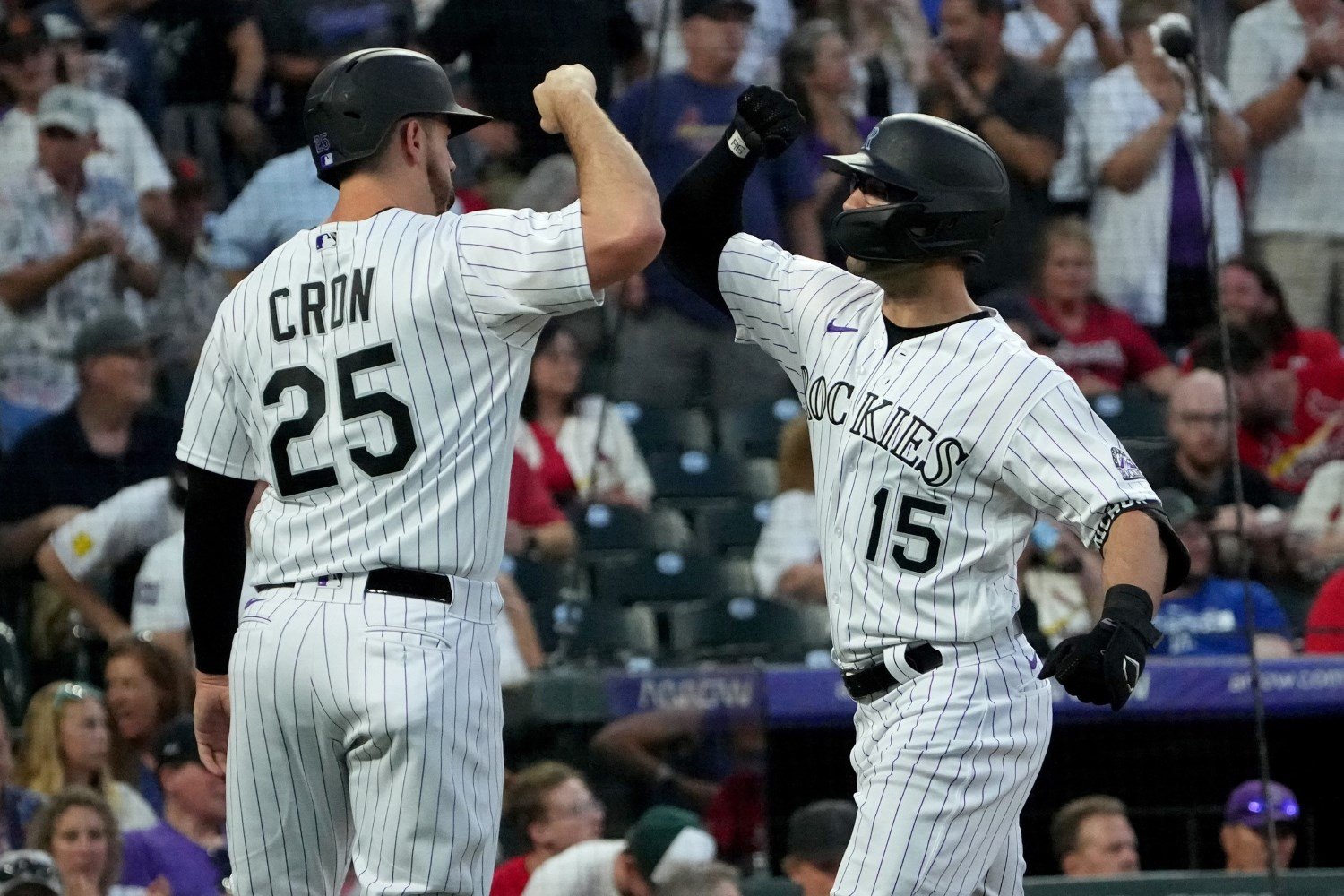 Image courtesy of © Ron Chenoy-USA TODAY Sports
To maximize the utility of Randal Grichuk, you really want to have an outfield corner position open for him. The Cubs don't. Nor does C.J. Cron do anything different than what Trey Mancini is supposed to do, but hasn't been able to do, for this team. In that way, neither was ever an ideal balm for what ails this offense at times, barring the Rockies being willing to take back Mancini in a Cron trade or something. 
Still and all, it stings to see two potential upgrades to the fringes of the roster removed from the table in one swoop. The Angels traded two pitching prospects to the Rockies to get the deal done, but neither has pitched above Low A ball. They're the kinds of arms of which the Cubs have perhaps 10, so sparing two wouldn't have been especially tough. If this is a signal that the market for rental hitters is less supply-starved and seller-friendly than expected, that's welcome news, but the Cubs now have two fewer such players to pursue, and maybe the lack of available options will now ratchet up prices throughout the league.
Now, the Cubs need to find a different way to improve upon what Mancini, Miguel Amaya, and Patrick Wisdom give them from the bottom three spots on the position player hierarchy. (We're assuming, for now, that Tucker Barnhart is going to stick around, even if Amaya would be the more aggressive and potentially rewarding use of the backup catcher's roster spot.) One obvious avenue remains open, in the form of the much-discussed Jeimer Candelario, but it's not yet clear whether the Cubs really want to move Nick Madrigal back into a part-time role. 
Mark Canha is more akin to Grichuk, with more on-base skills but less power and defensive value. Mets teammate and sometime Cubs farmhand Daniel Vogelbach could do everything Mancini does in terms of hitting and fielding, and then some, but his left-handedness makes him an awkward fit into the puzzle. The buyers so outnumber the sellers at this point that, having missed out on Cron and Grichuk in a single Tweet, the Cubs might now be better-served to start seriously considering which of their internal options (guys like Matt Mervis, Yonathan Perlaza, Nelson Velazquez, or even David Bote) could constitute some worthwhile change from the mix they have right now. 
There are just under 44 hours left to see how the front office solves this riddle. They might need to get very creative, or they might simply have to overpay for Candelario. In any case, while understandable for multiple reasons, it was a bummer to see them whiff on both Cron and Grichuk, particularly because they just didn't cost anything the Cubs could not afford to have surrendered.