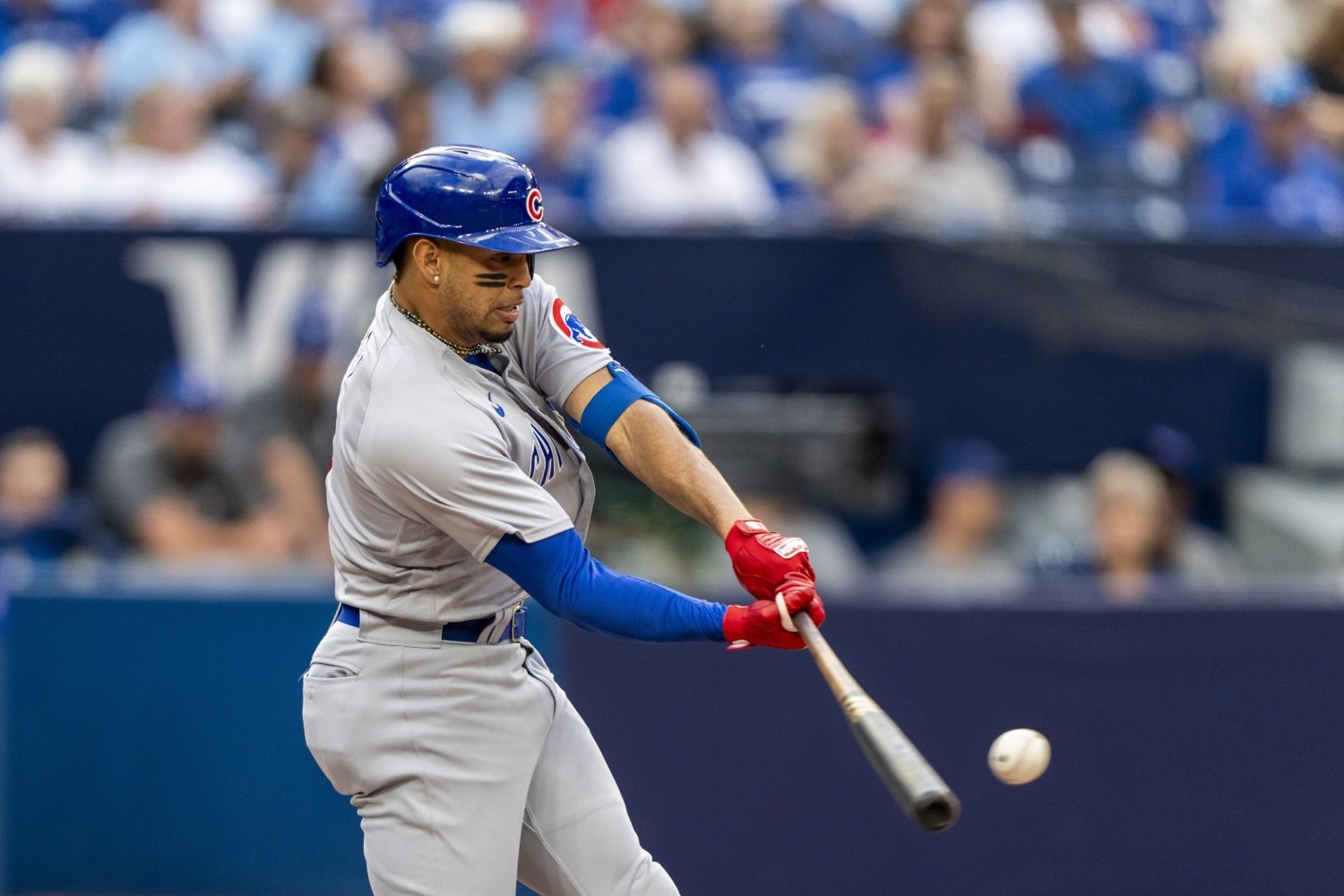 Image courtesy of © Kevin Sousa-USA TODAY Sports
At the crest of the huge prospect wave that became the core of their World Series-winning team, the organization was right on the cutting edge of everything. In 2015, they were an elite pitch-framing team, at a time when that craft was as well-understood, valuable, and easily quantified as ever. They were also one of the first teams to noticeably flip a switch and start getting the ball in the air, launching what has become the launch angle revolution of the Statcast Era. In the bullpen, they had (in Hector Rondon and Pedro Strop) a flame-throwing duo as formidable as any in baseball. Their starters missed bats, too--even without overwhelming velocity.
That all held true through the title run of 2016, thanks partially to the infusion of velocity from Aroldis Chapman when Rondon began to fade. Immediately thereafter, though, it started to come apart a bit. You can see the reasons by studying the team's choices. They swapped Starlin Castro (who hit the ball as hard as anyone late in 2015 and throughout their playoff run) out for Ben Zobrist, a sturdy, versatile veteran who produced most of his value without demonstrating elite athleticism. They signed John Lackey to round out the rotation, and Lackey was very good, but he didn't throw hard or miss many bats at that stage of his career. They traded Jorge Soler for Wade Davis, and Eloy Jimenez and Dylan Cease for Jose Quintana. At every turn, they were acquiring older players whose value came from skill, rather than sheer force.
That was fine, for a moment, when the team was stocked to the gills with skilled players and still had the dynamism of Javier Baez, Kris Bryant, Kyle Schwarber, Anthony Rizzo, Willson Contreras, and Addison Russell on which to fall back. Pretty quickly. though, they simply fell behind. The rest of the league kept increasing its launch angle and prizing high exit velocities. The rest of the league's average fastball velocity and slider usage steadily rose, ratcheting up whiff rates. The Cubs, locked into some choices and too stubborn or cheap to pursue others, stood still, and the world passed them by.
That was still true, even into 2023. When the team was playing Eris Hosmer and Trey Mancini at the expense of Christopher Morel, they struggled to keep up with the power hitting of some of the more talented teams they encountered. They signed Jameson Taillon, in part, because he throws considerably harder than the back-end starters they've had over the last four or five years, but they also brought back Drew Smyly and Kyle Hendricks, and their top two starters are (by the standards of pitchers this good, in 2023) soft-tossers.
Things are changing, though. In Julian Merryweather, they've found a reliever who (while less than perfectly reliable) can not only throw 100 miles per hour, but miss bats and hit the strike zone with it--as compared to Dillon Maples, James Norwood, and other recent relievers the team seemed to carry just to shield themselves from criticism for not having hard throwers. Part of their reason for investing in Dansby Swanson was his power. Cody Bellinger is hammering the ball, and had three of the 12 hardest-hit balls by either team Saturday.
Homegrown compadres Justin Steele and Adbert Alzolay are slider-slinging bat-missers, and they showed out Saturday, too. The Cubs induced 20 whiffs by Blue Jays hitters; Blue Jays pitchers only got 14 swings and misses from Cubs batters. The Cubs had 10 hard-hit balls; the Blue Jays only managed seven. In a game that showcased modern baseball's intensity of speed and power, the Cubs outclassed (if narrowly) a formidable American League East club. They've spent over half a decade trying to win mostly on wiles and guile, and it's done little for them. Now, with a clean slate from which to work, they seem to have built (once again) a team that can keep up with the heat of the league's best competition. As they sit in the third Wild Card spot and eye a potential playoff run, that's an exciting development.