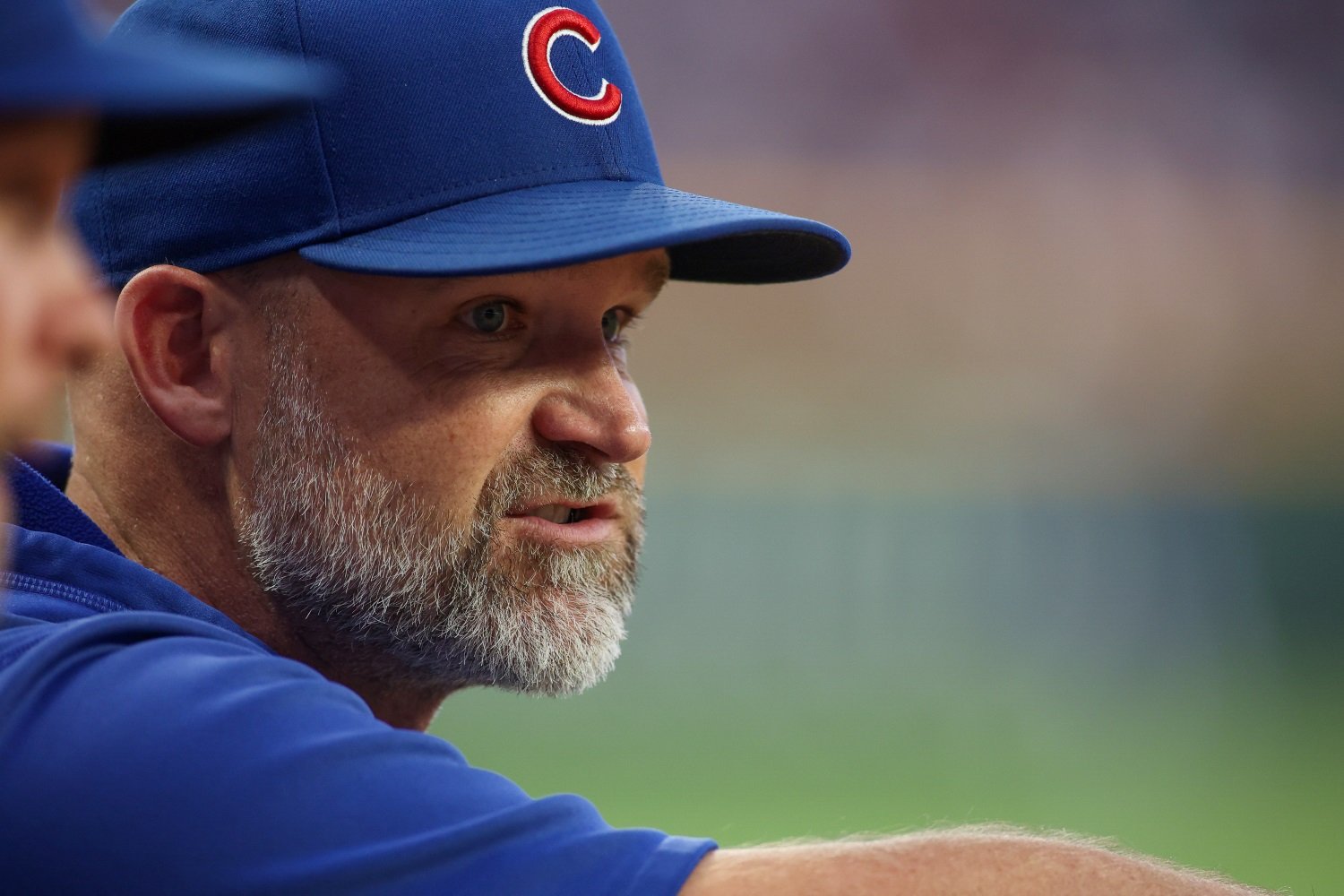 Image courtesy of © Brett Davis-USA TODAY Sports
The magnificently spunky 2023 Chicago Cubs will get one last, scintillating, unwelcome opportunity to prove how special they are when it comes to bouncing back. With five games left in their season, they're on the canvas again, having taken a gut punch that leaves them searingly vulnerable and with almost no time to recover. They got no help from out of town Tuesday night, but that should have been fine. That should, even, have been another bracing moment of grim determination-building. Fine, snarls our hero, I'll do it myself.
That was the mien of this team along about the middle of Tuesday night's game, when they led 6-0 over the mighty Braves and seemed poised for their fourth straight win. They'd gotten less help than that for which they might have hoped over the weekend, too, but no matter. They'd taken care of business against the lowly Rockies, and ho! There they were, doing so with an even fiercer force in the house of the team who will be the National League's top seed when the playoffs start next week. It was a good moment.
Several things went wrong between there and the fly ball that eluded the glove of Seiya Suzuki in the bottom of the eighth inning, giving us all flashbacks to Brant Brown and Ron Santo. No individual one did them in--not even the Suzuki error. Still, one other error made earlier on did contribute to that moment, and it's what I want to talk about today. We can save myriad bigger, deeper thoughts for later, after we see where this game fits into the grand scheme of the incredible story of this Cubs team.
In the top of the eighth inning, with the Cubs leading 6-5, Yan Gomes led off with a single. Due next were Miles Mastrobuoni and Pete Crow-Armstrong, and since both of them bat left-handed, Atlanta manager Brian Snitker chose that moment to go to left-handed reliever Brad Hand. David Ross did not immediately counterpunch, though. He let Mastrobuoni go up and lay down an unsuccessful sacrifice bunt. Then, rather than let Crow-Armstrong bat for himself against a lefty, he used pinch-hitter Patrick Wisdom to try to get Mastrobuoni (who had replaced Gomes at first on a fielder's choice, then quickly stole second himself) home.
Mike Tauchman had started the game in center field. Crow-Armstrong came in to run for him in the middle innings, when the Cubs had a seemingly comfortable lead and Ross felt the defensive upside of his rookie center fielder outweighed any offensive downgrade in the move to Tauchman. In hindsight, that was obviously premature, because the Braves engineered most of a six-run comeback without testing the center field defense at all. At the time, though, one could make a strong case for the move--especially before Crow-Armstrong got himself thrown out on the bases like a nincompoop, a short time later.
By contrast, though, Ross's eighth-inning sequence is indefensible. First of all, even given the special circumstances of this game (a contest the Cubs absolutely had to win, a thin bullpen, a uniquely lethal opposing offense), it is never correct to put down a sacrifice bunt with nobody out in the late innings of a game you already lead. The insurance run just isn't valuable enough, in terms of changing the likelihood of your holding that lead, to justify giving up an out. You play for the bigger inning in that situation. That goes double when you're on the road, and trebles when you consider that the Cubs were about to roll things back over to the top of their batting order, too.
The right sequence of moves there was to pinch-hit Wisdom for Mastrobuoni, not Crow-Armstrong. Then, if Wisdom couldn't hit a dinger or split a gap or something, Ross could have had his young center fielder lay down the bunt, instead. Nico Hoerner still would have batted with a runner in scoring position, but the Cubs would still have had the elite defense of Crow-Armstrong in center field if the rally didn't become a run.
Wisdom's limited playing time has unsteadied his already spotty defense at third base lately. It might be that he has none of the coaching staff's trust as a third baseman, and that they were only willing to have him replace someone if they could move Cody Bellinger out to center field and put Wisdom at first. It doesn't matter. If they were that unsure of him defensively, he shouldn't have gotten the pinch-hit at-bat all. 
Using Wisdom in Mastrobuoni's place might have made the inning more likely to result in a run, because even if a bunt did happen, it would at least come with one out, not zero. More importantly, though, if that's the substitution they make, then Crow-Armstrong is still in center field when Sean Murphy lifts a low fly ball to right-center in the bottom of the frame. If Crow-Armstrong is out there, he calls off Suzuki, and that fly ball is caught. The Cubs would still have had a tough job in holding the lead for one last inning, but it would have been a perfectly manageable one. Crow-Armstrong claims that ball. Bellinger couldn't, and Suzuki made the decisive mistake.
A few players had brutal games, and have made bad mistakes at just the wrong moment during this team's accursed September struggles. Ross made at least two other dubious choices, and the front office could plausibly come in for its own scolding. After all, this roster has gotten miserably thin and beatable down the stretch, and it's the executive suite's job to precent that from happening. Still, this one felt like the truly awful mistake.
Ross has been far too adamant about preserving the status of veterans this year. One of a manager's jobs--and especially, in the modern game, one of the most important ones--is to empower and profitably use rookies. Even teams much better than the Cubs need help from young players who haven't yet proved themselves, or who make some bad gaffes as they adjust to the big leagues. All season, Ross has largely failed in that regard. He's botched the development of Miguel Amaya, and not from some abstract, long-term perspective, but in that Amaya came up as a productive backup catcher and has become an afterthought who looks overmatched and confused at the plate. Ross waited too long to move Drew Smyly to the bullpen and call up Jordan Wicks. He has gotten nothing of any real value out of Crow-Armstrong and Alexander Canario, two players with sufficient talent to make a positive difference even in MLB over these final few weeks. He was similarly unwilling to give Matt Mervis sufficient runway to lift off.
Not all of that falls on Ross, of course. Those types of moves and even some daily usage choices are collaborative efforts between the field staff and the front office. Still, this has been blown. Balls like the one that might have thwarted the Cubs' playoff hopes are why Crow-Armstrong is on the team. In a ham-fisted pursuit of a run that didn't need to matter, Ross only succeeded in planting the seeds of his own undoing. There are five games left in the season. Ross can't afford to screw up even one more of them.