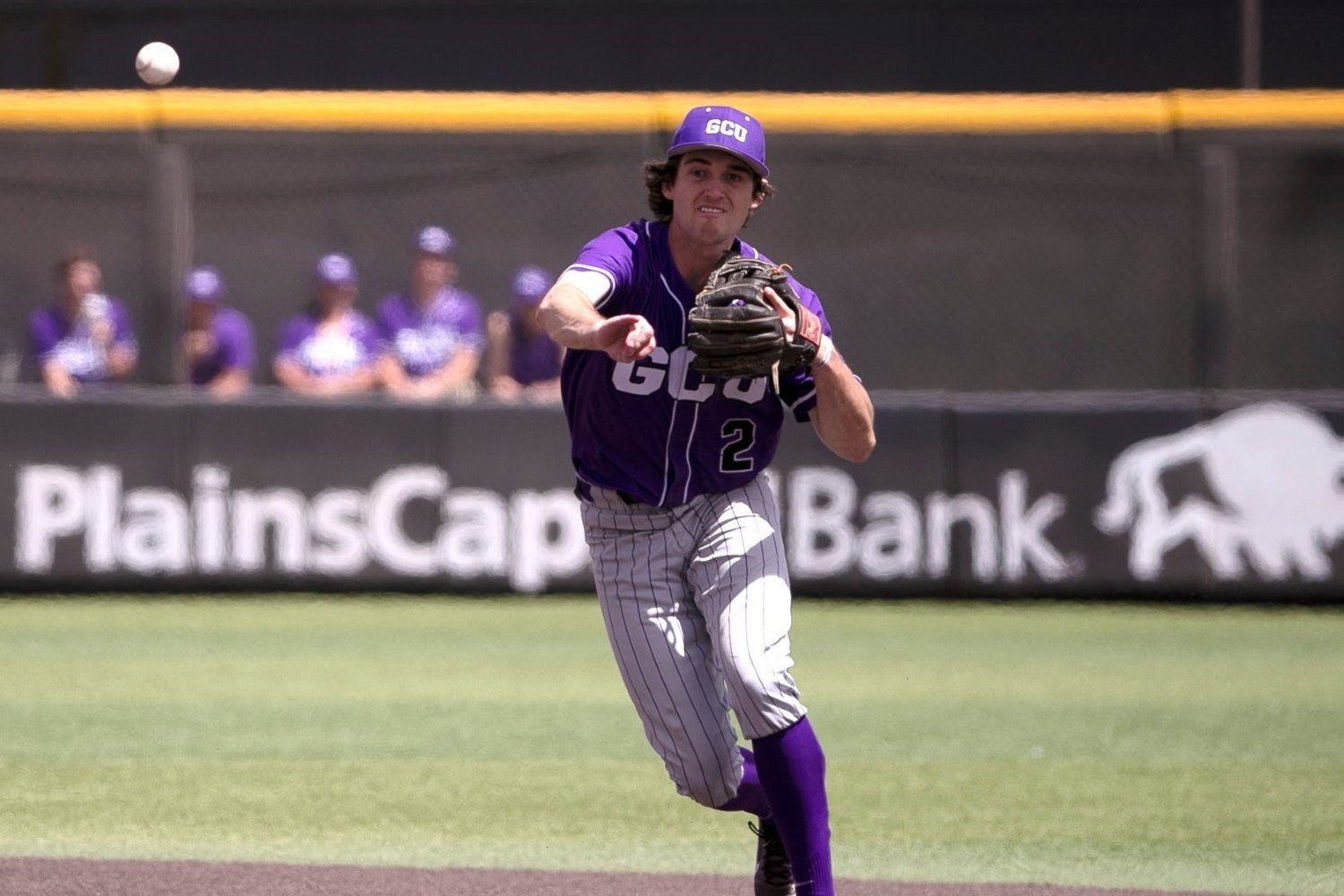 Image courtesy of © Annie Rice/Avalanche-Journal / USA TODAY NETWORK
We'll start by profiling some hitters, before looking at pitchers next week. For each installment, we'll use the positions of players on the Consensus Board as a proxy for who they might take, as opposed to trying to predict what each team will actually do. The goal is to give a flavor of the kind of talent and options that might be around when that pick hits, as we all know trying to predict the draft is perilous at best.
Kyle Teel
Position: C, Age: 21, School: Virginia, Height: 6'1, Weight: 190, B/T: L/R, Rank: 10
Few players have done more to help themselves in the 2023 college season than Kyle Teel. A dearth of catching talent (both collegiate and prep) and Teel's impressive offensive breakout have him primed to be a top-15 pick--possibly top-10. Offensively, Teel projects to have above-average hit and power tools, although the former is currently the carrying tool. He has good bat speed and plenty of analytics-friendly outputs of his approach at the plate. His in-zone contact rates are excellent, and despite some swing-and-miss, Teel spoils plenty of pitches outside the zone, such that he's a tough out. Defensively, there's work to do, but he should stick behind the plate. He's one of the best athletes in the entire college class and his excellent movement skills should help him improve quickly defensively (in addition to a plus arm). Teel has put up a monster 2023. At the time of writing, he owns a .414/.480/.668 line with 11 home runs in 55 games.
Tommy Troy
Position: 2B, Age: 21, School: Stanford, Height: 5'10, Weight: 195, B/T: R/R, Rank: 12
Troy has been a riser on the consensus board since the beginning of the draft process. I don't typically like player comps, but Troy and Brian Dozier are a really good fit. Troy has really good barrel control from the right side of the plate and lightning-quick hands help him produce solid power to all fields with good analytical numbers underlying his power. Troy does have some swing-and-miss to his game, though, and will expand the zone. In 2023, he's taken a small step back with approach, chasing more and walking less as a result. Defensively, Troy profiles as a second baseman, with good quickness but choppy defensive actions and an average arm. Expect him to be a .270-ish hitter with 25-30 home runs as a pro. At the time of writing, Troy had a .404/.485/.717 line with 13 home runs and 16 stolen bases.
Jacob Wilson
Position: SS, Age: 21, School: Grand Canyon, Height: 6'3, Weight: 190, B/T: R/R, Rank: 13
Wilson is a prospect who has divided opinion thus far in the pre-draft process. On the plus side, it's an excellent hit tool, led by outstanding bat-to-ball skills and solid line-drive power. On the other hand, Wilson doesn't walk a ton, and hasn't produced much in the way of home-run power to date, despite having the frame for it. Defensively, he has good actions and an average to above-average arm, but not a ton of lateral quickness. If he doesn't stick at shortstop, he's going to be a power-deficient third baseman or move to a corner outfield spot. Wilson will likely be a top-15 pick for an org that thinks they can coax more power into his swing. I have doubts about that, and the defensive home. At the time of writing, Wilson had a .423/.473/.659 line with 6 home runs on the year.
Matt Shaw
Position: SS, Age: 21, School: Maryland, Height: 5'11, Weight: 185, B/T: R/R, Rank: 15
Shaw has been floating around the teens of most draft boards throughout the pre-draft process, currently owning a tight cluster of rankings between 15th and 20th overall. Shaw is a solid-floored prospect due to the fact that he does a little bit of everything well. At the plate, it's a slightly unconventional swing with a big leg kick to start out but it has a track record of results. Shaw has a track record of hitting in college and on the Cape, using all fields and possessing in-game power to all fields. He's improved his approach in 2023, increasing his BB% and decreasing his K%. Defensively, he's not a shortstop, although he has an above average arm and solid defensive actions. Given his solid all-round offensive profile, he'd provide the most value for a team at second base although he could stick at third also. In 2023 Shaw has put together a .359/.457/.743 line with 23 home runs and 17 stolen bases. He's a legitimate offensive threat.
Aidan Miller
Position: 3B, Age: 19, School: Mitchell HS, FL, Height: 6'2, Weight: 210, B/T: R/R, Ranks: 16
Miller is the younger brother of Jackson Miller, a catching prospect drafted by the Reds in 2020. Miller is one of the most physical prep bats in the class, generating exceptional bat speed with a steep swing that generates plus raw power, although it hasn't shown up a ton in games yet. Miller's operation at the plate is quite noisy, a hand hitch and big leg kick are both present in his swing, but he has a sound approach and generates frequent hard contact. Defensively, Miller is very athletic and is already well filled-out for a 19 year old at 220lbs. If he maintains his athleticism, it'll be a solid third base profile with the perfect offensive profile to match. If it he doesn't, he could move to a corner outfield spot and still put up the offensive numbers to carry the position. Evaluators haven't seen as much of Miller at the front end of this season as he had a broken hamate bone which caused him to miss time. As a result, Miller's evaluations have a bit more range to them than some other prospects in this area of the draft board. All that said, he's one of the best prep bats in the class and should go in the 12-25 range. Miller is committed to Arkansas.
Also considered: Arjen Nimmala, SS (9), Blake Mitchell, C (19), Colin Houck, SS (21)
Which of the players profiled do you like best as a fit for the Cubs? Is there anyone you've read about or watched who you think is missing? Draft speculation is the best speculation, so join the discussion in the comments.