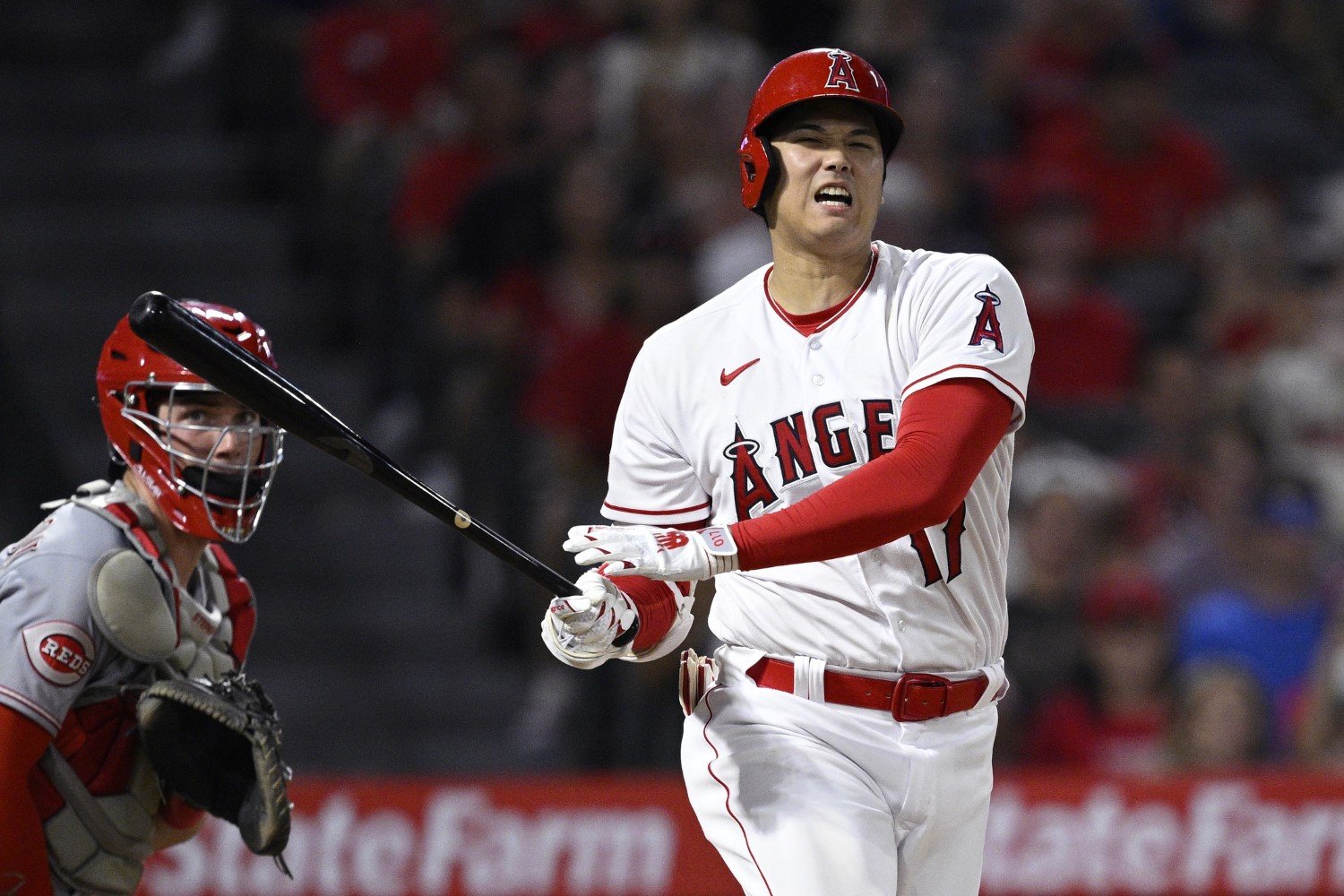 Image courtesy of © Orlando Ramirez-USA TODAY Sports
If you somehow missed the report, Shohei Ohtani reportedly has a torn UCL for the second time in his already-luminous career. He's currently seeking a second opinion, but there's a chance Ohtani will have to undergo Tommy John surgery for a second time. 
There really is no way to overstate the impact of this on the baseball landscape. What was going to be the most lucrative and frantic free-agent pursuit of all time has now been mired in a swamp of uncertainty. Ohtani's unique value of being both a top-five hitter and an above-average starting pitcher in the league could be a relic of the past--a dizzying reminder of just how fragile the status of being upper-echelon in this sport really is. If this is the end of his pitching career, or even merely the end of his Cy Young contending days, his fall from the mountaintop will be as rapid and precipitous as his climb was to get there. 
There will be hundreds of reports written from beat writers, national columnists, team doctors, fan blogs and every other corner of the baseball world about the fallout of this news. This was supposed to be the Winter of Ohtani. Contracts in the $500 million range began to sound like low-ball offers. He was going to break every single record for monetary value among athlete contracts in the major American sports. 
And at the center of it all: the few teams who had both the financial wherewithal and national spotlight to make a genuine run at the greatest player this sport has ever seen. 
I'll leave the other favorites (namely, the Dodgers, Giants, Yankees, Mets, and Padres) out of the discussion for now. Their own fan bases will be taking all the time they need to plot their team's best course of action. 
I'll also note that the Cubs were never the favorites for Ohtani, but they were always in the periphery of the discussion. They've been skirting the luxury tax all season in the hopes that Ohtani would force them to go over it for the next several years. But now, just what kind of contract Ohtani will get is a question. Perhaps he'll take a one-year rehab deal, akin to Cody Bellinger this season, playing out 2024 as some team's DH before re-entering free agency with the promise that his best days on the mound are somehow still in front of him. Odds are, though, some team will swallow the unfathomable risk associated with the combustible profile of Ohtani's unicorn talents and a second major elbow injury, giving Ohtani a contract that still dwarfs anything we've ever seen. 
The question at hand is: should the Cubs be that team? The Carlos Correa saga last offseason was enough to keep the Cubs at bay and led them to focus on Dansby Swanson. Is this Ohtani news enough to get the Cubs to reconsider their offseason plans around their in-house superstar? The latest reports had them waiting out Cody Bellinger until the Ohtani market came into focus. In other words, the Cubs wouldn't seriously negotiate with Bellinger's camp until they knew they were out on Ohtani (or if they somehow signed him, they would move on from Bellinger). 
To be completely candid, I have no idea what the answer to that question should be. The Cubs will have an Ohtani-sized hole burning in their wallet if they go stagnant this offseason, a path that would be morally reprehensible given the progress the team has seen this year. Jed Hoyer and company have always been a risk-mitigating bunch, but perhaps there is now a surplus value to be extracted from a market that may be too wary of an injury on an otherwise super-heroic titan of the game. 
If I can indulge somewhat briefly, and we take Thomas Rawls' famous "Original Position" thought experiment (or "Veil of Ignorance", for the classically trained) and extrapolate it to the Cubs' offseason plans, the obvious answer is that the Cubs should probably play it safe and re-sign Bellinger, forgoing a serious Ohtani pursuit. Then again, how "safe" would a Bellinger re-signing campaign be, now that he may be the most sought-after player on the market? 
The questions will continue to come. Ohtani will still make more money than almost any athlete who ever lived. Bellinger will be an oasis in an otherwise barren free agent landscape for position players. What the Cubs do is anyone's guess--including, probably, the Cubs' themselves.