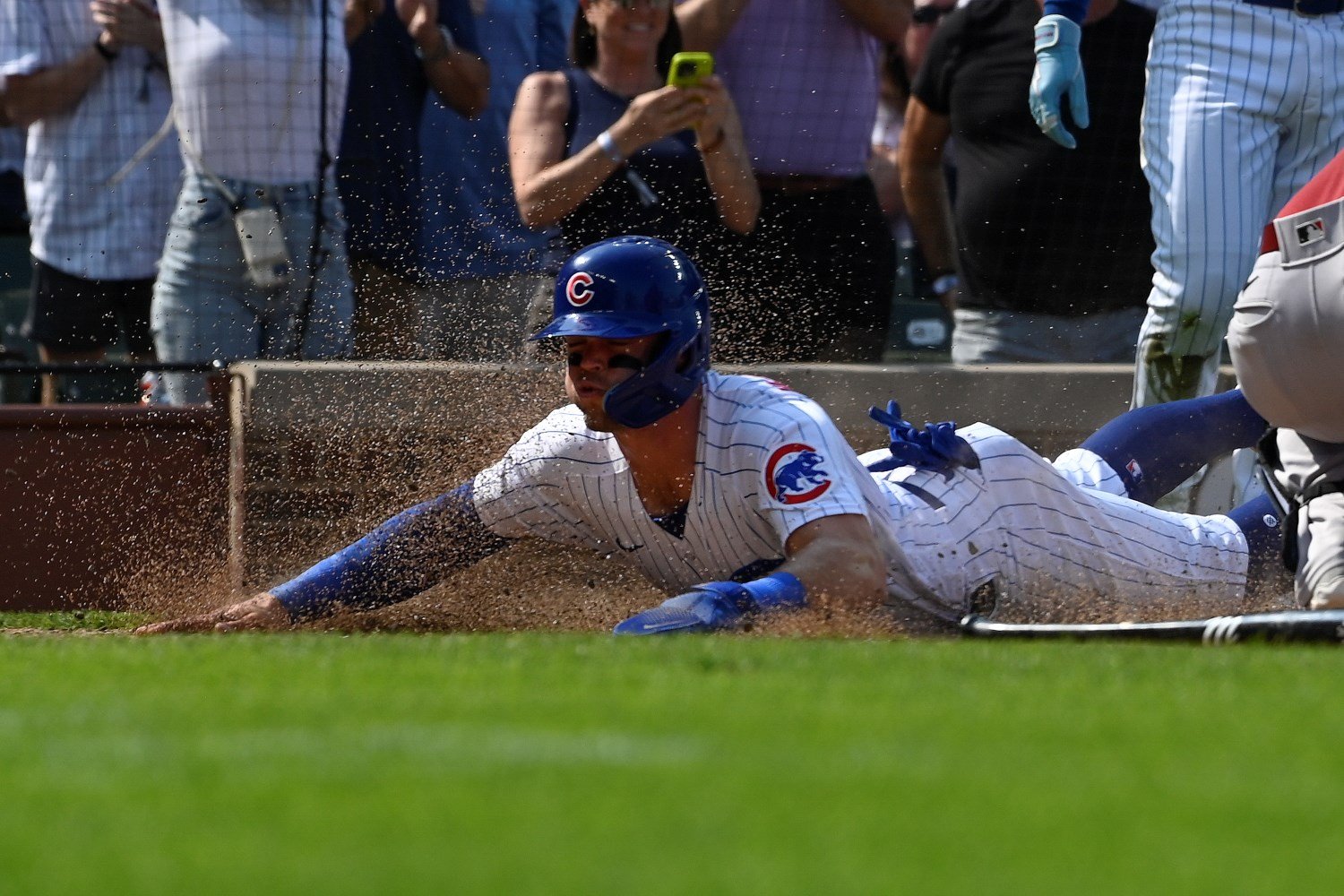 Image courtesy of © Matt Marton-USA TODAY Sports
The frustration was palpable for the Chicago Cubs this week as they lost two of three to the lowly Colorado Rockies. Despite pounding out 33 hits, the Cubs scored just 12 runs, in part because of all of the outs that were made on the bases.  
Seiya Suzuki was thrown out at home plate. Pete Crow-Armstrong and Nico Hoerner were thrown out stealing. Nick Madrigal was thrown out trying to turn a double into a triple. Cody Bellinger was thrown out trying to turn a single into a double. 
None of those events, in a vacuum, is a big deal. They happen. But when they all happen during a series loss to one of the worst teams in baseball while in the middle of a playoff race, those mistakes are suddenly viewed under a microscope and talked about for much longer than usual. 
FanGraphs measures baserunning value through their BsR stat. This stat takes all base running plays–stolen bases, caught stealing, taking extra bases, et cetera–and rolls them into one handy number to tell you how many runs above (or below) average a team or player has been worth on the bases. 
The thing is, by that one metric, the Cubs have actually been the best baserunning team in baseball this season. BsR currently has them as having been worth 15.5 runs above average, which is 0.9 runs above second-place Tampa Bay. 
Using the calculation that roughly every 10 or so runs is worth one win, the Cubs have added well over one win to their total this year with their performance on the bases. Funnily enough, this week's opponent, the Colorado Rockies, rank last here, as they have been 18 runs below average on the bases, costing them almost two wins. 
The team's high standing in BsR is thanks to having a few elite baserunners, without any major minuses on the basepaths. Nico Hoerner himself has been worth almost an entire win on the bases alone. He has been worth 8.6 runs above average; that is fifth in all of baseball. 
Dansby Swanson is 22nd with four runs above average, and Cody Bellinger is right behind him with 3.8 runs above average. Ian Happ also finds himself on the fringes of the top 30. He's 35th in baseball with 2.9 runs above average.
As a side note, since these two are inextricably linked in my mind thanks to both being a part of the 2022 free agent shortstop class: Carlos Correa has been worth 9.2 runs below average, according to BsR, and that is last in all of baseball. So in addition to performing better than Correa in the field and at the plate, Dansby Swanson has been well over one win better than Correa on the bases.
On the flip side, the Cubs' worst baserunner has been Seiya Suzuki. He has been 2.1 runs below average this year. Yan Gomes has been 1.6 runs below average, but that is (mostly) to be expected from a catcher.
The only other players that are still on the team that have been below-average base runners are Nick Madrigal and Patrick Wisdom, but neither has been worse than one run below average. Pete Crow-Armstrong has actually been worth 0.4 runs below average already, but due to small sample size and the fact that most are confident he will add value in this area, I am willing to excuse that one.
To be clear, this shouldn't make any of the losses this past week any less frustrating. Simply put, you have to take care of business when you're playing one of the worst teams in baseball in the middle of a playoff race. However, maybe it makes the baserunning mistakes a bit more palatable, to understand that the team might not have come this far at all if not for good baserunning throughout the season.
The Cubs probably should have been less aggressive on the basepaths in Colorado. On the other hand, they were aggressive on the bases, as they have been all year, and it just didn't work out. Clearly, over a larger sample size, it has worked out. Sometimes, that is just how baseball works.