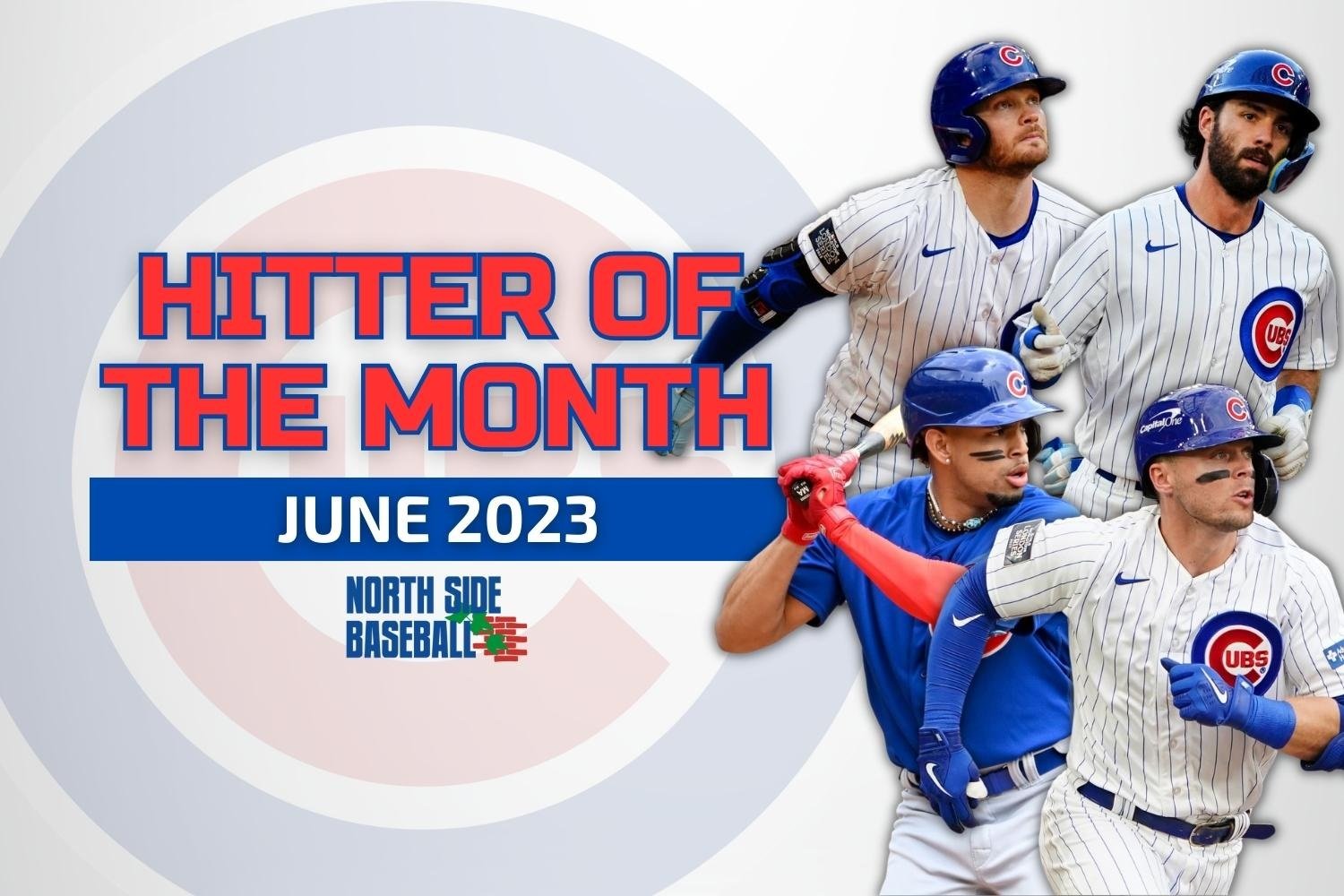 With April being a solid offensive month and May disappointing, it was nice to see the Cubs show a semblance of balance and produce a middle-of-the-pack performance in June. Despite starting the month off relatively slow, the Cubs picked up the pace toward the end, leading to an overall fun month of baseball. Admittedly, the Cubs hitting statistics are inflated by the offensive barrage that was the London Series, but it was a productive month nonetheless.
Many Cubs hitters stood out, but let's see who was the cream of the crop for June.
Honorable Mentions
Miguel Amaya - 13 G, 42 PA, .294 AVG, 10 H, 2 HR, .958 OPS, 166 wRC+
Amaya had a very impressive June, as evidenced by his "one-dot" OPS, but with a small sample size, it was hard to put him above any of the four core pieces of this team.
Nick Madrigal - 17 G, 64 PA, .340 AVG, 18 H, 0 HR, .898 OPS, 152 wRC+
Madrigal finally was able to be the player Cubs fans thought they were getting after he, alongside relief pitcher Codi Heuer, was acquired after trading Craig Kimbrel to the Chicago White Sox on August 30, 2021. Watching Madrigal spray the ball around the field in an Arraez-esque style was fun to see, but, similar to Amaya, with such a small sample size, it was hard to put him above the four players listed below.
Hopefully, Madrigal continues to hit at a high rate and becomes one of the Cubs' core players. 
Cubs Hitters of the Month

#4. Ian Happ - 25 G, 105 PA, .198 AVG, 17 H, 3 HR, 16 RBI, .727 OPS, 102 wRC+
Jomboy Media and Cubs fan-favorite Happ continued his strong 2023 season with a productive June. Despite having a relatively low batting average, Happ could drive in runs and hit for power, especially during the London Series.
Also, Happ did a great job in at-bats showing patience and the ability to get on base, as evidenced by his 16 walks and .361 on-base percentage (OBP). 
Happ did struggle with striking out in June and finished the month with a K% of 24.8%. Happ displayed a "three true outcomes" type of month, and while that is an effective way to play baseball, especially in 2023, it has hampered Happ's potential.
June was a good month for Happ, and if he can lower his strikeout rate even incrementally, he could reach a new level of performance and production. 
#3. Dansby Swanson - 24 G, 101 PA, .261 AVG, 24 H, 4 HR, 12 RBI, .740 OPS, 104 wRC+
Swanson, also known as the new face of the Cubs, continued to impress in June.
Swanson has been the best of the four big shortstop free agent signings this off-season, performing better than Carlos Correa, Xander Bogaerts, and Trea Turner. 
Swanson had a productive month but much like Happ, Swanson struggled with striking out, as shown by his K% of 22.8%. Unlike Happ, Swanson couldn't make up for it with power or walks.
What Swanson did do was put on display his ability to spray the ball around the field by generating 24 hits in 101 plate appearances. Swanson's BABIP for June was .308, so he was able to manufacture beneficial outcomes when he put the ball in play.
Swanson has been an incredibly consistent player for the Cubs, offensively and defensively. If the Cubs want to stay in the race for the NL Central pennant with the Reds and Brewers, Swanson will continue to have to play at the high rate he has been so far. 
#2. Christopher Morel - 21 G, 76 PA, .257 AVG, 19 H, 5 HR, .835 OPS, 121 wRC+
Upon getting called up in May, Morel has met the loft expectations placed on him by Cubs fans.
One of the more exciting aspects of Morel's June was how much power he continued to display. When Morel barrels the ball, he has as much power as any player in the game. 
Morel's June power surge is illustrated by his monstrous isolated power (ISO) number of .257 and impressive slugging percentage of .514. Morel's average exit velocity for the month was 89.8; in multiple games, it was as high as 109.0 and 105.5. 
Morel had a very promising June and has further supplanted himself as a young core piece of the Cubs present and future.
Winner: Nico Hoerner - 25 G, 111 PA, .301 AVG, 31 H, 1 HR, .769 OPS, 110 wRC+
Leading the Cubs with 42 RBIs, Hoerner has been an incredible hitter and fielder, making people on Cubs Twitter advocate for Hoerner to be a member of the 2023 MLB All-Star team. 
In June, all Hoerner did was hit the ball and get on base, leading to an on-base percentage of .342. Despite not showing much home run power, Hoerner hit the ball hard and into gaps and down the line, as shown by his six doubles and two triples. 
With the addition of Swanson over the off-season and the promotion of Morel in May, many Cubs fans wondered what Hoerner's role with the team would be this year, but he has supplanted himself as the everyday second baseman. 
Hoerner has been incredibly disciplined at the plate generating a K% of just 9.9%. Hoerner's keen eye at the plate and ability to hit the ball all across the field in June is why he has been bestowed the honor of Cubs hitter of the month for June.
Congratulations to Nico Hoerner on a very impressive June.
What do you think? How would you rank your top Cubs hitters of June? Comment below.