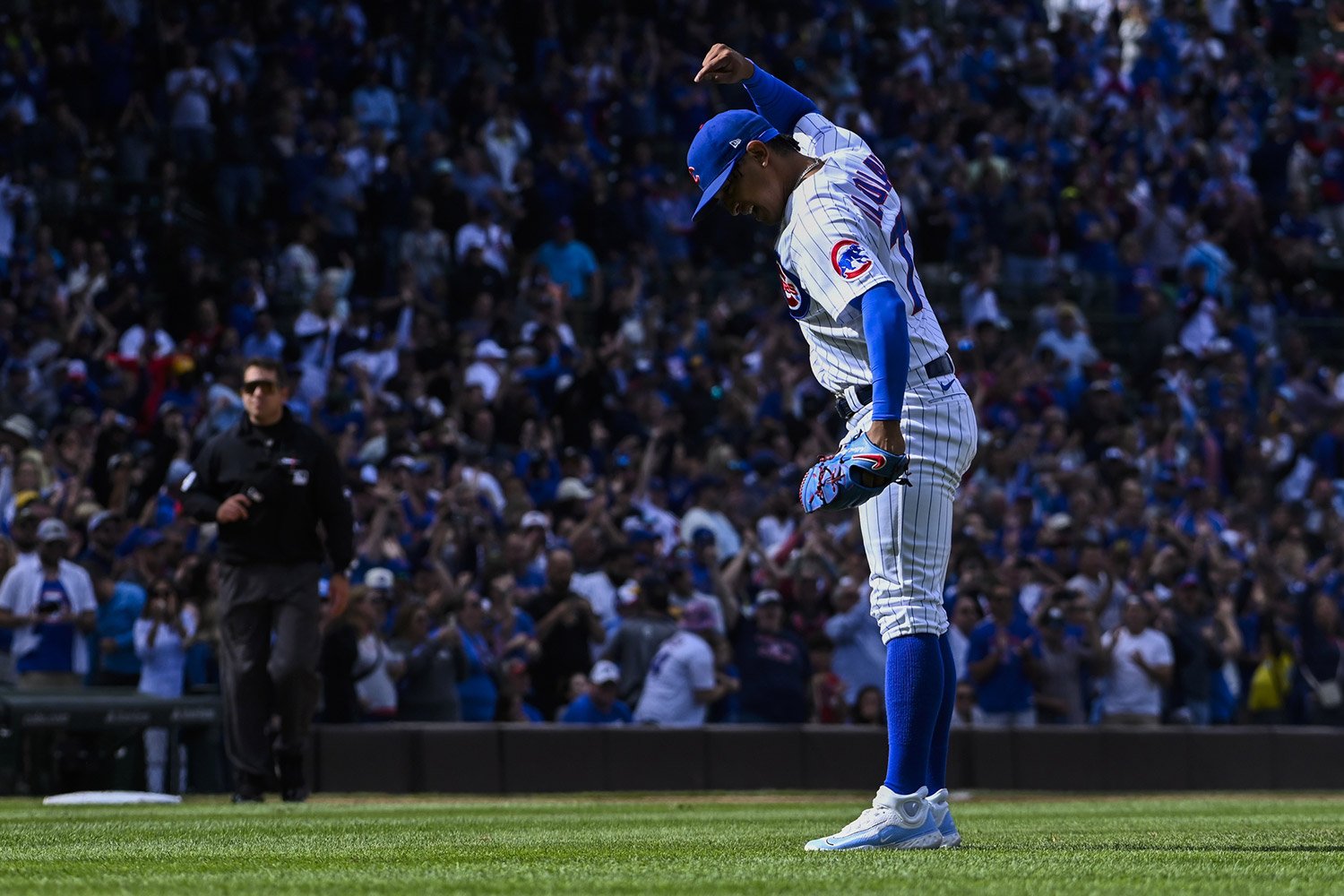 Image courtesy of © Matt Marton-USA TODAY Sports
Whoever said, "slow and steady wins the race," must've watched a lot of baseball.
What drove me crazy about Don Zimmer's 1989 Cubs was their whipsaw streakiness. They'd win six games, lose the next four, win the next seven, and lose their next five. When that kind of regression to the mean progression gets ingrained in players' brains, it becomes a self-fulfilling prophecy. And sure enough, the Cubs fell to the Giants four games to one in that sad first playoff round.
The Brewers are having the same kind of year, which doesn't bode well for their postseason, where the smallest losing streak means waiting until next year.
With some notable exceptions, the Cubs aren't running away with every game like the Braves, which is another good sign. Teams that run the regular season table never have to face adversity when "adversity" is the playoff's middle name. The 2001 record-tying 116-win Seattle Mariners are a perfect example. They beat the Guardians three games to two, but the Yankees got in their heads and trounced them in the championship round.
More recent examples are last year's Celtics and Bruins, both of whom enjoyed the kind of scintillating seasons that had oddsmakers tabbing them as a lock to win it all. But after decimating non-playoff foes with alarming precision, the Bruins couldn't make it past the first playoff round, and the Celtics bowed out in the second.
Meanwhile, the Cubs keep chugging along, winning series after series, which goes a long way toward mitigating the worst of the regression to the mean possibilities. And tough, scrappy teams that have figured out how to win close games tend to go a long way in October.
Can David Ross get the Cubs over the playoff hump?
There's always a hitch in any playoff giddyap, isn't there?
Talk to any serious MLB fan, and at some point in the conversation, they'll regale you with a tale of a great manager who consistently produced winning records but never took their team to the playoffs or didn't get very far when they did. There's Gene Mauch, Bill Rigney, Clint Hurdle, Art Howe, Ron Gardenhire, and Felipe Alou, to name just a few.
I don't want to jinx anyone or anything, but I'm starting to wonder if David Ross will soon be joining that infamous pantheon. Here's why.
There will never be another Billy Martin. But having read Rossie's superb autobiography, Teammate: My Journey in Baseball and a World Series for the Ages, I thought we were getting a saner version of the Yankees managerial legend when Theo hired him. I fervently believed Ross would kick the requisite player ass required to jolt the Cubs out of their perpetual post-2016 rebuilding phase.
He certainly performed that drill sergeant task with aplomb as a player, but after terrible 2022 and 2023 starts, I wasn't so sure he was the right man for the job. I'm still not.
As indicated by last year's strong finish and this season's second-half resurgence, manager Ross certainly has some redeeming qualities. The patience to let his team gel and to allow good players to work their way out of serious slumps are two of them. But patience is the kind of thing that suits minor league managers and rebuilding MLB skippers, not those destined for the playoffs.
To be more specific, what worries me about Ross is his willingness to stick with liabilities like Drew Smyly at a late point in the season when they can't afford to give away games. Despite Drew's 7+ August ERA at the time, Ross let him start against the Tigers on the 22nd to the tune of eight earned runs in 3.2 innings. To his credit, he relegated Smyly to the bullpen shortly after that, where he's had mixed results.
I realize the Cubs are losing starters left and right but if the question is "Which starter can keep the Cubs in a game," the answer certainly isn't "Drew Smiley." I'm all for giving players like Seiya Suzuki and Nick Madrigal a chance to right the ship. Still, I wouldn't be so magnanimous with aging veterans, particularly those of the pitcher variety.
I suppose, in the inimitable words of that proverbial Chinese farmer, "We'll see."
Who took Javier Assad in the best-pitcher-to-replace Marcus Stroman poll?
I seem to recall a nascent NSBB sportswriter claiming Hayden Wesneski was the best option to fill that vacuum, only to be swiftly corrected by my adoring public, who correctly noted that Hay doesn't have much luck against lefties. In my defense, I don't remember anyone predicting that Javier Assad would replace Stroman and come up with four consecutive quality starts, going six or more innings in three of them.
One of my favorite baseball phenomena is when a previously marginal player gets thrust into an important role and suddenly lives up to it. So, here's to Javier Assad for keeping the Cubs in it when Stroman's loss could've sent the team into a tailspin.
Kerry who?
I might be courting the jinx possibility here, and the Cubs' newest rookie certainly rookie didn't strike out 20 Pirates. Still, Jordan Wick's August 26 five-inning, nine-K, two-hit, 1-walk debut against the Bucs was certainly great cause for optimism.
I'm looking forward to his next start.
Adbert…
You can't take to the mound in the bottom of the eighth only to hit a batter with the bases loaded, allowing your first-place opponent to tie the game. And you can't do this because you can't count on Cody Bellinger hitting a ground ball that caroms off the pitcher's ankle, letting the go-ahead run score.
No one can argue with Mr. Alzolay's record since he won the closer role, but even though he has much better control, watching him close out games reminds me of Mitch "Wild Thing" Williams's pitch for those 1989 Cubs mentioned above. You never knew whether the next pitch would be a wicked strike or sail into the Wrigley Field mezzanine.