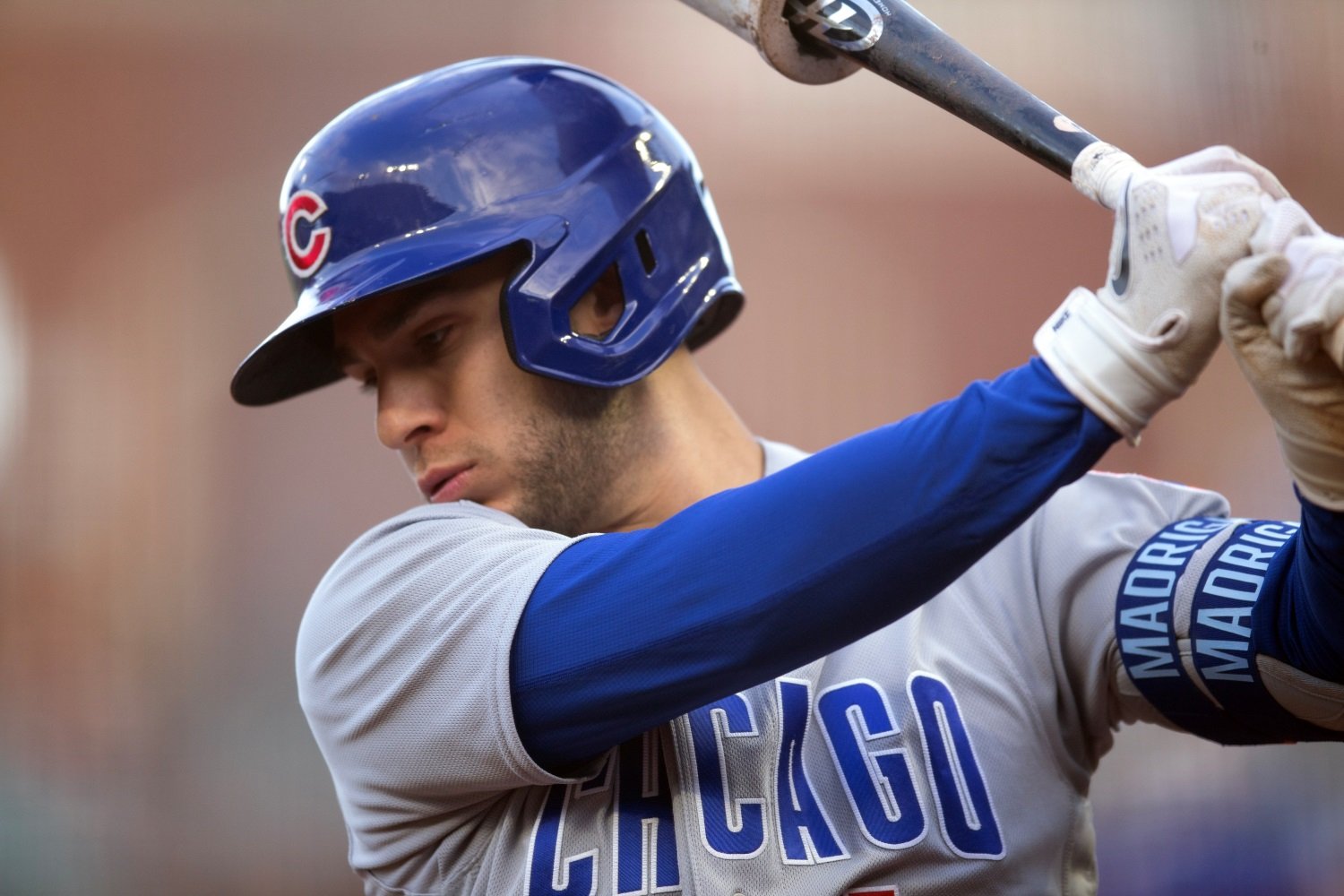 Image courtesy of © D. Ross Cameron-USA TODAY Sports
Earlier this month, we discussed the concept of the current "core" of the Chicago Cubs. The results, alas, were inconclusive. The discussion did feature the notion of locks within the group, including Ian Happ, Dansby Swanson, Nico Hoerner, and Justin Steele. It also dealt heavily with players on the fringes of such a discussion, with Marcus Stroman the most notable among them. Where things got really murky, though, was with respect to Nick Madrigal. 
Whether out of my own cowardice or legitimate apprehension, I dropped Madrigal into the second tier within the discussion. The name of the tier itself–the Maybe, Potentially Tier–indicated an unwillingness to commit to any name mentioned with any certainty. Even after a June in which he finally appeared to turn a corner offensively, such ambiguity with respect to Madrigal's Cubs future remains very much intact. 
It's not just that Madrigal has largely underwhelmed in his time with the Cubs. It's not just that he's had a difficult time staying on the field. But those two factors are under strong consideration as we pose the question as to whether or not there's a place in the current core for Madrigal moving forward. 
Madrigal made his Cubs debut in 2022, having been acquired as part of the Craig Kimbrel trade at the 2021 deadline. Of course, at the time Madrigal was still recovering from a hamstring tear that required surgery. His debut season, though, left plenty to be desired, both in performance and in health. His 2022 slash went .249/.305/.282/.588. He struck out at an 11.8-percent clip (high for his skill set) and walked 6.1 percent of the time. Unsurprisingly, there was virtually no power to speak of, to the tune of a .033 ISO. He ultimately turned in a wRC+ of 70. That's an extremely non-impactful bat. 
We're also coming off a winter in which Madrigal had almost no immediate future on the Cubs' infield. The signing of Dansby Swanson bumped Nico Hoerner over to the keystone, and locked in the middle infield for the next few years, at least. It wasn't until the organization decided to deploy Madrigal at third base this past spring–a move born of necessity, given a lack of depth and impact at the position–that a longer-term future could be even mildly speculated upon. 
While Madrigal's still a below-average hitter sporting a wRC+ of 95, the overall numbers do look better. He's slashing .278/.335/.364/.700. The strikeout rate sits at 9.6 percent, which is still a touch high given the high volume of contact, but is an improvement, nevertheless. It's his June performance, though, to which we can really attribute the bump in his stat line. Therein, Madrigal hit .340, reached base at a .417 clip, and wRC+'d 148. His ISO sat at .132 for the month. This was a stretch far closer to the player that many had expected as he was coming up through the system on the other side of town. 
He's also provided shockingly stable defensive work at the hot corner. Having only played second base at any level of professional ball, the overwhelming reaction was that this experiment would be short-lived. But through 38 games (33 starts), Madrigal had a Defensive Runs Saved of four and an Outs Above Average of five. He's shown to be more than adequate with the glove there, at minimum.
There's a place for that iteration of Nick Madrigal in the Cubs' core. The June Madrigal that initiated seemingly constant contact and played exceptional defense at a position where the team does not have a long-term answer secured could very well be a core member in a pretty safe fashion. The contact itself started to become more impactful, given the uptick on the ISO side. But the other caveat noted above is what could ultimately hold him back from ever being a part of any legitimate core discussion: the health. 
Madrigal arrived on the North Side physically broken. He made his debut at the outset of last season, but dealt with injury woes on four separate occasions–predominantly groin issues–that limited him to just 59 games and 228 plate appearances last year. This time around, he's been out since July 3 with a hamstring issue. Yes, the same one that was surgically repaired back when he was still with the White Sox. While a return is on the horizon, it's exceedingly difficult to trust him as a regular lineup presence, regardless of performance. 
That's what continues to make tackling any discussion of Nick Madrigal as a member of the "core" of the "next great" Cubs team so daunting a task. For him–or anyone, I guess–to be classified as such, we're looking for impact and a steady presence. Does Madrigal's skill set allow him to be an impactful enough bat to be considered? Can he stay on the field long enough to make that discussion even matter? 
June Madrigal is the type of player who could be deemed a core guy. He's never going to be a power hitter, but more barrel contact seems like a necessity in order for him to drum up the kind of "impact" to be a part of the discussion. At a 6.3-percent rate, we saw Madrigal's first Barrel in his time with the Cubs (not an exaggeration, he had a Brl% of 0.0 in 2022). That player can be a core guy. The absence of power be darned, startingly high contact compounded with occasional gap power and steady, if not above-average defense can be a key cog. 
Especially because, again, the Cubs don't have a surefire, long-term answer at the position (the closest is likely B.J. Murray Jr.). The free agent market doesn't present one either (Matt Chapman, sure, but that's about it before the appeal of names craters). Even with his fairly unique skill set, there's very much a version of Madrigal that could be considered an essential component of future Cubs teams. It's the June version. But we need a far larger sample of the June version when he returns from his latest IL stint before we can have a serious discussion about it.