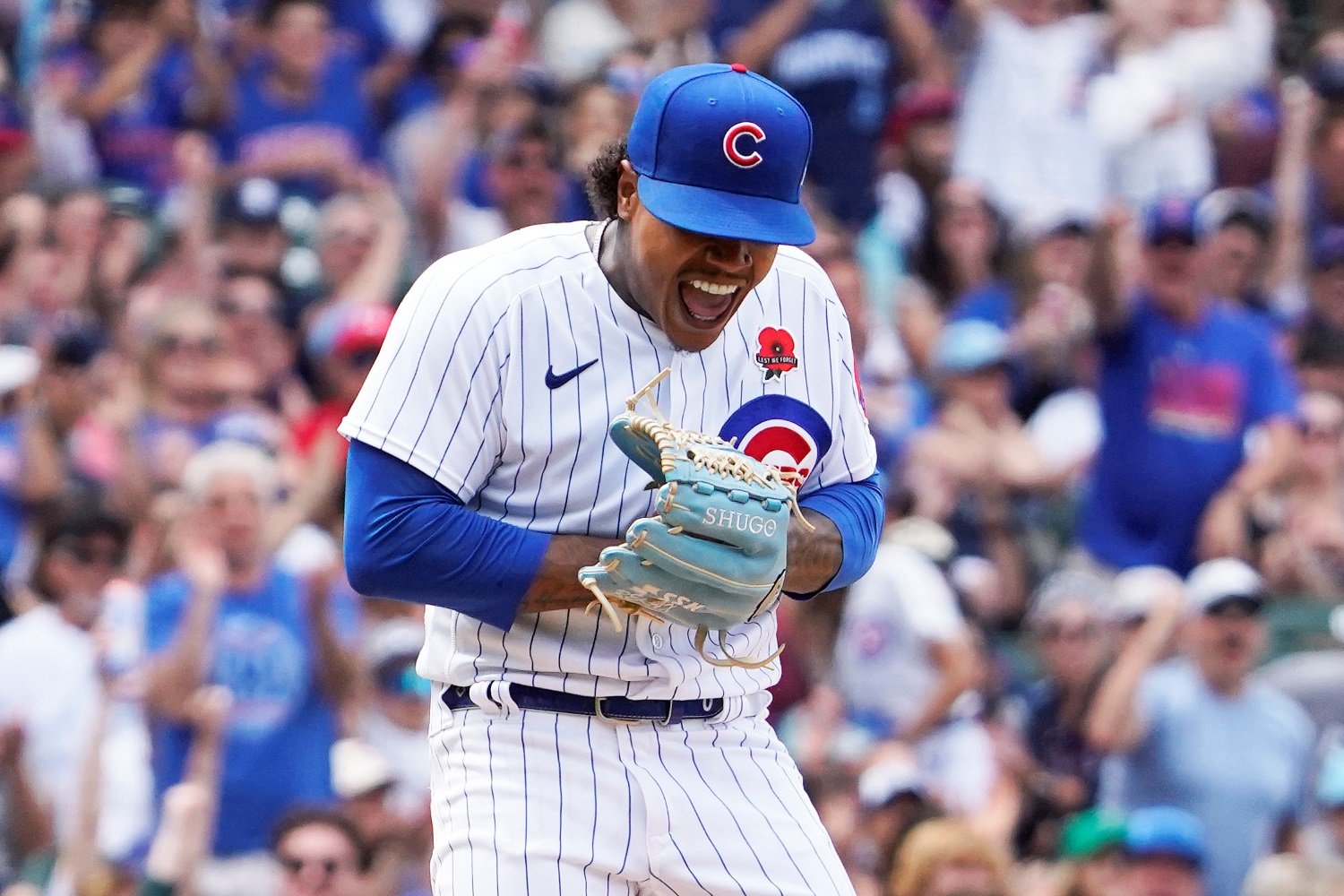 Image courtesy of © David Banks-USA TODAY Sports
Tom Ricketts, with exactly the same mealiness of mouth to which we've all become accustomed, keeps telling interested fans (including those who chanted passionately for a Stroman extension at a public event in London this weekend) that that decision rests with Jed Hoyer and the front office. That's a feckless copout, but it's also the right thing for an owner to say at the moment, in this particular case.
As I've written about in two recent articles here, the Cubs have an acute and important problem in their starting rotation: a dearth of whiffs on pitches within the strike zone. The starting corps for this team is good, but their greatest weakness is a lowish strikeout rate, and even when they find whiffs, they have to do so by inducing opponents to expand their strike zone. Stroman, with his heavy sinker but sinker-heavy arsenal and focus on getting weak contact, is as guilty of this as anyone.
That fact looms over whatever negotiations the Cubs might enter into with Stroman. It can't help but do so. If the rest of the rotation were missing bats like the 2003 Cubs, they could afford to commit to a front-of-the-rotation guy with limited strikeout skills. When they already lag the league in that regard, though, it's hard to justify what would surely be an investment of over $20 million per year in a pitcher who would ensure that the problem persists for years to come.
Strikeouts aren't the end-all, be-all, of course. Stroman does so many other things well, and watching him pitch in 2023 has been a joy. If he sustains this level of dominance (even without an elite strikeout rate or the arsenal typical of the modern ace) all season, then the decision to extend him gets easier. It might well be that Hoyer isn't interested in a midseason negotiation for that very reason--because he knows the rotation needs a greater diversity of skills (and a greater proficiency in this one vital one), and isn't yet sure whether Stroman can fit into his grand plan for the unit.
There's a simpler, more likely reason, too, though. Right now, Stroman's $21-million option for 2024 hangs over every conversation the Cubs could have about him--with his agent, or with other teams. Assuming Stroman stays healthy, he's on pace to easily clear 160 innings this year, which would boost the option to $23 million. It's still a no-brainer for Stroman to decline that, if he reaches the end of the year and still has both his health and sparkling numbers, but that's the figure with which the Cubs have to deal.
As we learned with Carlos Rodon at last year's trading deadline, teams don't like trading for players on expiring deals that could, after all, not actually expire. Rodon had a longer and more worrisome injury history than Stroman's, but the same fear--that a player might come over in trade, get hurt, and squat on the team's payroll for a huge sum the following season--creeps into the picture. Even if teams don't authentically feel a concern about that, they'll try hard to convince the Cubs that they do.
Thus, Stroman's trade value will be mitigated. Obviously, the hope (especially during this hot streak for the team) is that it will also be irrelevant, because the Cubs won't want to trade him, anyway. In that case, though, we still have to grapple with how the option affects leverage in an extension discussion. Through the deadline, it's a huge roadblock to those talks, because it creates such a leverage imbalance between the two sides. Even later in the campaign, it's likely to do so, especially as it becomes more clear that Stroman will earn his incentive bonus for innings pitched.
Even if Hoyer badly wants to keep Stroman, it's very unlikely that the Cubs and their star right-hander will find the common ground needed to get a deal moving (let alone finished) before the end of the year. Once the team forces Stroman to actually exercise his opt-out, they can get aggressive about keeping him, without either side having a cudgel to wield. There's tremendous risk in that approach, because another team could just as easily get aggressive with Stroman at that point. He's been tagged with a qualifying offer before. The Cubs can't tie him to draft-pick compensation, and they won't get anywhere during a minuscule exclusive negotiating period.
This, though, is where we circle back to what Stroman does (and doesn't do) well, and how it fits into the Cubs' philosophy of pitching. It's not really a coincidence that the team landed him in the first place, just as it's not a coincidence that they were able to re-sign Drew Smyly or that they acquired Jameson Taillon this past winter. Those guys all have the same flaw. None miss bats with regularity in the zone. On the free-agent market, almost every team dings them for that flaw more than the Cubs do, because almost no team believes as much in the ability to have success without that skill as the Cubs do. 
In a bit of a reversal of the Stroman situation, the Cubs have a club option on Kyle Hendricks for 2024. If he continues to pitch well, they could (just through inertia) retain Hendricks, Smyly, Taillon, and Justin Steele as the nucleus of their rotation next year. Hendricks hasn't yet qualified for this list, but of the 300 pitchers who have gotten at least 150 swings on pitches in the zone this year, Taillon ranks 167th; Smyly is 220th; and Steele is 244th. Stroman is all the way down at 268th. However good these guys are at skills like keeping the ball on the ground, getting weak contact, and earning called strikes (and each is pretty good), that's a problem.
Hayden Wesneski (215th on the list of 300) is not a solution to this problem, at least in the short term. Ben Brown could be, as he seems to be earning plenty of whiffs in Iowa, but inserting him means moving on from at least one (and likely two) of the incumbent starters. The only ones not firmly under contract or team-friendly cost control for 2024 are Hendricks and Stroman.
This is why, in the very near term, the team really could look to trade a starter at the deadline, even if they're acting primarily as buyers during that window. It's also why Hoyer hasn't yet engaged Stroman on extension talks. To be worth keeping at all, he needs to be an ace, and while that's what he's been throughout the first half, it's a hard thing to be without the ability to miss bats in the strike zone. If Stroman demonstrates a lasting ability to thread that needle, he could sign a deal worth over $25 million per year, for as many as five or six seasons. The Cubs could be the team to give that to him.
First, though, he has to get to the finish line of this season with the egg on his spoon intact, and then the Cubs would have to make some tough decisions about what to do with other members of the current and prospective rotation. For that matter, committing that much to another starter (with, presumably, Taillon locked in for big money over three more seasons) would force some dilemmas on the positional side of the roster, too. In all, it's easy to see why the team has elected to wait on working out a long-term deal with their short king. It might come back to bite them, but their existing roster, his skill set, the parameters of his current deal, and the questions that remain about so much of their future make it impossible to act immediately.