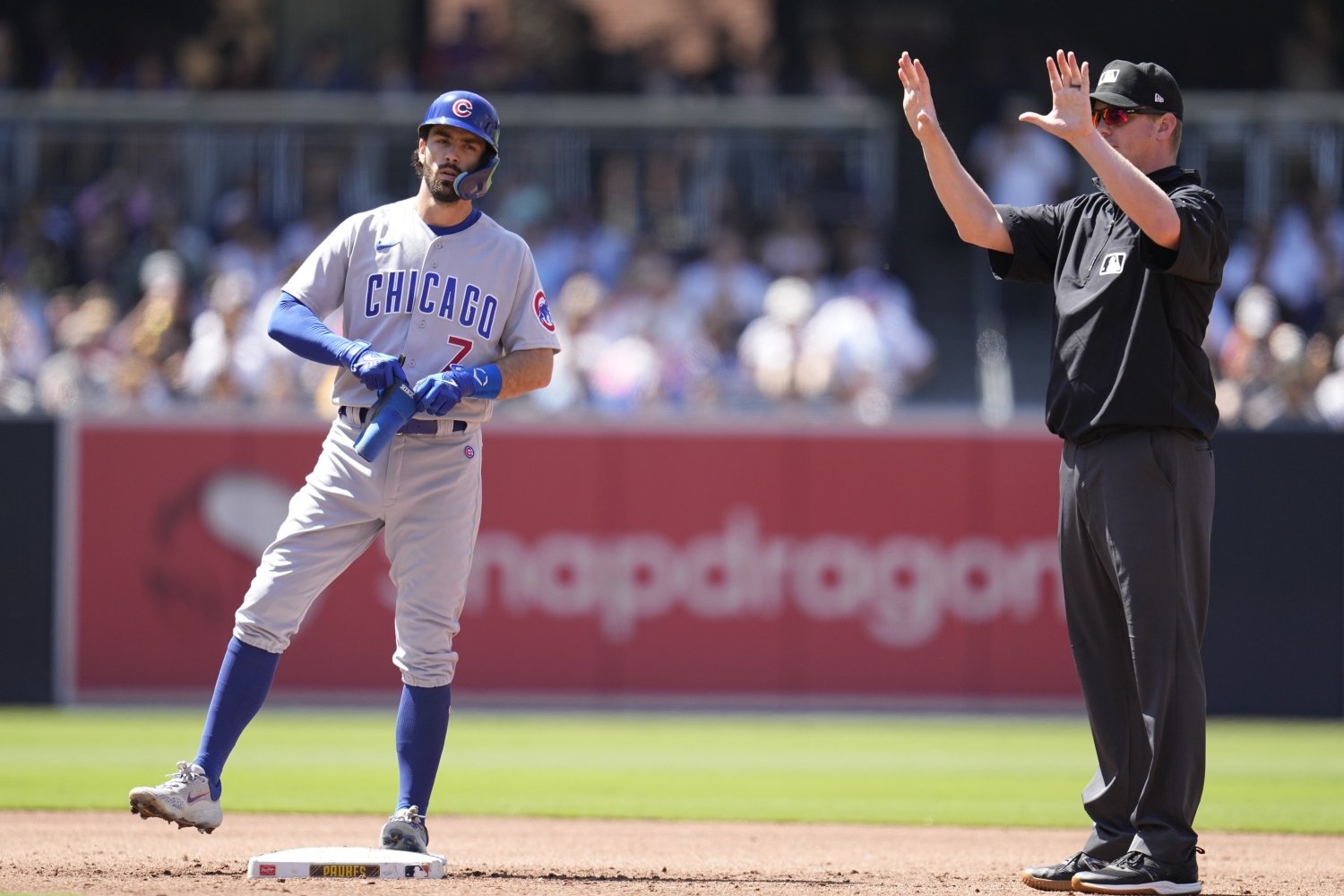 Image courtesy of © Ray Acevedo-USA TODAY Sports
A major and important narrative around Dansby Swanson, when he hit free agency last fall, was his inconsistency at the plate. Often, hitters get slapped with "inconsistent" in error, and just as often, "inconsistent" is a euphemism for bad. In Swanson's case, though, it genuinely felt like he was a good bet to produce average-ish offense for the season--but that it would come with high peaks and low valleys.
Here's a chart that tracks a rolling average of Swanson's expected wOBA (xwOBA; essentially, overall production at the plate, adjusted for what would have been expected based on how often he swung and missed and on the quality of his contact on batted balls) over 50-plate appearance windows throughout 2021.
As you can see, he was capable of getting very, very hot, but he could crater to well below the league average (that red line) for noticeable stretches, including a true meltdown that September.
Though his bat came back to life for the memorable 2021 postseason, Swanson started 2022 cold, as well. His chart for that season is less extreme, but paints a similar picture.
He got hotter than ever in late June that year, and did manage not to bottom out as completely when things went badly, in mid-August and in late September. Still, one can see how he struggles with prolonged stretches of below-average expected production.
This season, with a new team and a new role, Swanson has taken a new approach. Obviously, he's been very good, but he also seems to be a bit less hot-and-cold.
This could still easily change, of course, but so far, Swanson has only very briefly and very mildly slumped this year. At the other end of the spectrum, when he's hot (as he is now), he seems to be every bit as able to dominate as he's ever been.
So much of this is due to his impressively disciplined approach. Last month, The Athletic writer Eno Sarris used data to show that players who join new teams--especially via free agency--tend to swing more upon arrival than they did before, perhaps in an effort to impress people and earn their big paydays. Swanson has not only resistend that, but gone the other direction. He swung at nearly half of all pitches last year, but that number is down to 44 percent this year--a career low. He's attacking the first pitch less often. He's expanding the strike zone less often. Pick an indicator of a calm, patient approach at the plate, and Swanson is demonstrating it.
None of that means that he will never slump. Even with an increasingly refined approach, he could tire as the long season goes on, especially given his insistence upon playing every day at the diamond's second-most demanding defensive position. Fatigue has seemed to play a role in his previous slumps. He'll have to meet the challenge of playing that often and being this good even as he nears an age at which players at his position usually begin to decline. 
Still, this start is extraordinary, and there couldn't be a more thoroughly encouraging set of signs. Swanson has been as advertised defensively, and he's been the OBP threat (with enough slug to cash in unlikely rallies started by the bottom of the order) the Cubs have needed in the top two spots in the order for years. With an improved approach, he might have put his truly disastrous month-long slumps behind him, and if so, he's taking the step from star to superstar on our watch.
1