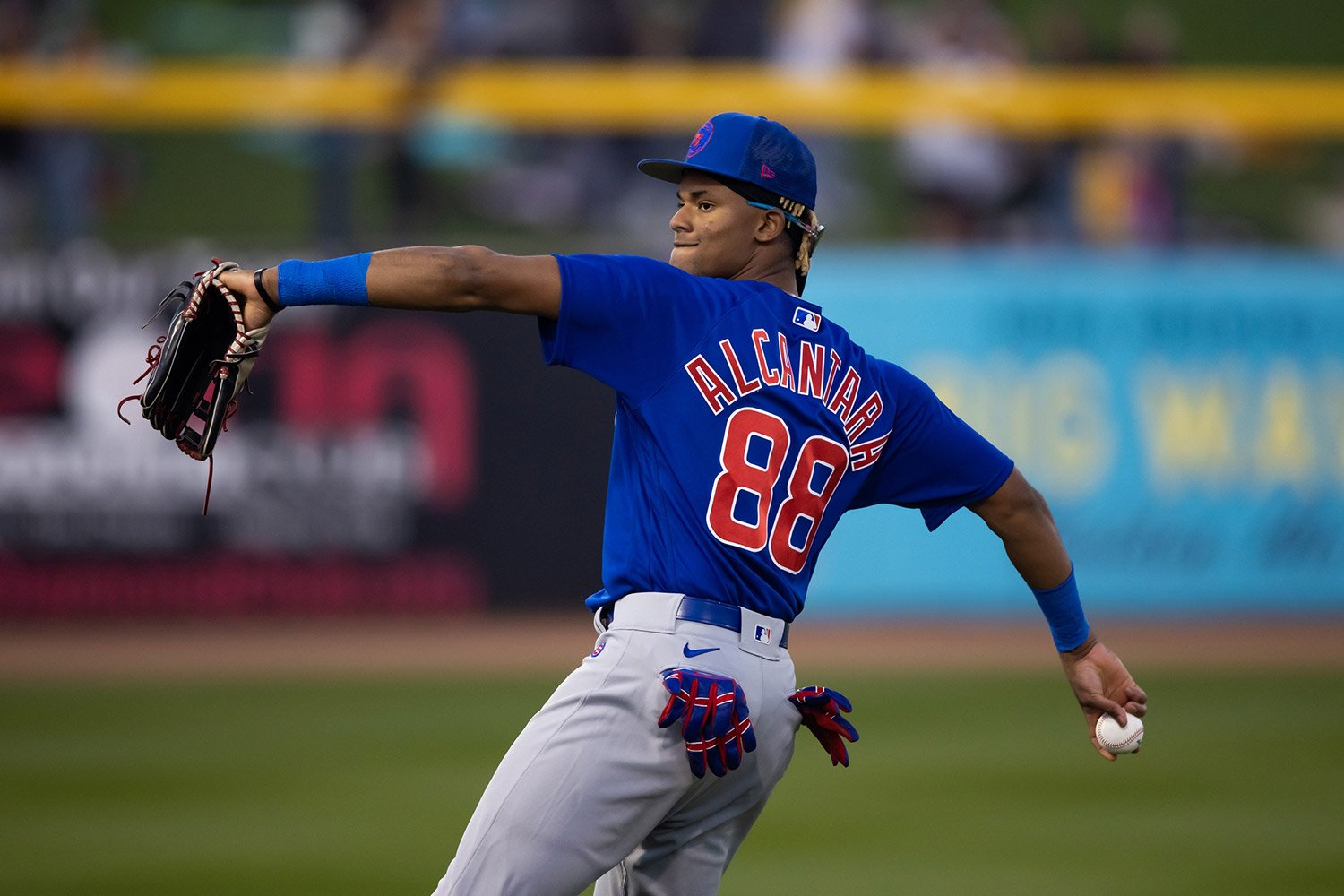 Image courtesy of © Mark J. Rebilas-USA TODAY Sports
Odds are the Cubs will be "soft" buyers, which is another way of saying they'll be looking in the bargain bin at the deadline, trying to exploit market inefficiencies without having to trade away any of the top prospects they have so meticulously accumulated over the last three-plus years. Likely, players who are blocked at the major league level (e.g., Nelson Velasquez) or are staring down an offseason 40-man roster decision (e.g., Yonathan Perlaza) will be the Cubs' preferred outgoing assets this year, as well as some of the major league depth pieces that may not wholly suit the roster's needs right now (e.g., Patrick Wisdom, Miles Mastrobuoni, etc.). And those pieces should be enough for the assumed Cubs' targets at the deadline this year (bench bat, lefty reliever, corner infielder) to grease the wheels on a trade or two.
But what happens if Jed Hoyer and Carter Hawkins, and the front office decide they want to jump right into the deep end this year? Are there any remotely available players that could convince the Cubs to part with any of their prized prospects? It seems unfathomable to suggest Pete Crow-Armstrong would be going anywhere, as well as other top-100 types like Cade Horton, Ben Brown, and Kevin Alcantara. And yet, what if a guy like Juan Soto becomes available again? Could the Cubs willingly pass on the opportunity to acquire such an elite talent for the sake of "trusting the process"?
Below are a few examples of players who: 1) are among the best players at their respective positions, 2) fit the Cubs roster as currently constructed (so don't expect to see shortstops or second basemen on this list) and 3) are team-controlled beyond this year (with Shohei Ohtani off the market, there are approximately zero rental players worth a top 100 prospect still on the market). 
Note that we'll be using MLB.com's midseason list for prospect rankings, though there are plenty of prospects in the system who have received more love from elsewhere (e.g., Jordan Wicks, Owen Caissie, James Triantos, etc.). 
---
PETE ALONSO
With the Mets officially waiving the white flag on their season following the blockbuster trades of David Robertson to the Marlins and Max Scherzer to the Rangers, it's safe to say Uncle Steve and co. will be open for business over the next two days. 
Anyone who has followed the Cubs this year knows that first base has been a black hole, offensively and defensively. And astute observers have also noticed that the team has a distinct lack of power. If a player on the Mets that could kill both birds with a single stone (bat?) comes to mind, then we're probably on the same wavelength. 
Alonso is not having his best season by any means, but a slash line of .218/.314/.506 and an OPS+ of 124 will more than play for the Cubs, who still are forced to play Trey Mancini (he of the -1.3 WAR this season) against lefties at first. And given that he's having a down year and is only controlled via arbitration through 2024, his price tag shouldn't be too prohibitive for the Cubs. 
Given that the Mets' farm system is top-heavy and dominated by position players (not to mention guys already in the majors like Brett Baty and Francisco Alvarez), one could make the assumption they'd be interested in plucking one of the top pitchers from the Cubs' system. However, they'd certainly ask for PCA back (which the Cubs would immediately decline). Perhaps a swap of Wicks and more for Alonso could make sense, or the Mets could add someone like old friend Brooks Raley to the deal to get a package headlined by Brown, Triantos, and others. 
Like all of these deals, this feels a little unfeasible given that the Cubs aren't quite in prime contending status just yet, but the fit here is undeniable. And it's also fun to engage in a little bit of LOL-Mets when the chance presents itself (which is dishearteningly often for Mets fans, it seems). 
---
JUAN SOTO
The pie in the sky dream—the ultimate deadline blockbuster. 
The Cubs watched Soto get traded from the Nationals to the Padres one year ago, as the Padres forked over an absurd haul to acquire the young phenom (and rental bat Josh Bell). Now, Soto has a year less of control and is more expensive - meaning he'd hypothetically cost less than he did last time.
Now, it's up for debate whether the Padres will even sell following a weekend sweep of the Rangers, placing them just 2.0 games below .500 on the year. Their roster is still wildly talented (and expensive), and their window for contention is open right now. But if the Padres decide to restock the farm amid a down season, the Cubs must get on the phone immediately. 
This deal would start with a major league-level contributor: one of Seiya Suzuki or, more likely, Ian Happ. Soto would immediately displace one of them in a corner of the outfield anyways, and Padres GM A.J. Preller has always targeted proven Major League players with team control remaining. Beyond that, though, the entire Cubs' farm is fair game. 
The Padres would almost certainly insist on PCA, who would headline the package with Happ or Suzuki. From there, you'd probably see one of the two big pitchers (Brown and Horton) go, as well as one of the better bats in the system (Alcantara, Christian Hernandez, etc.). That would probably get the deal done for 1.5 years of Soto, though it's possible a desperate team like the Yankees calls and drives the price to stratospheric levels. 
Whether the Cubs choose to go shopping in this corner of the market or not, it's worth noting that they finally have the depth and top-end pieces to do so. The offseason feels like a more likely time for them to dive in head first (Ohtani signing anyone?), but perhaps the Cubs can toe the line between development and contending with the right trade this year. 
---
AARON CIVALE
Before we could hit "Publish" on this article, Aaron Civale was traded to the Tampa Bay Rays
Perhaps the most realistic target here, rumors have been flying that Civale is on the market. As a guy with a 2.34 ERA in 77 innings who also has two-and-a-half seasons of club control remaining, Civale may be the grand prize of this deadline. 
Cleveland is only half a game out of first in the AL Central (tied with the Twins in the loss column), so trading away one of their few precious, healthy starters may seem unreasonable. But Cleveland is a pitching factory, and they have a wealth of young arms in or on their way to the Majors. And as a small market team with a perennially miniscule budget, it would make sense for them to sell high if the right offer comes along.
The fit here is obvious. The 2024 Cubs have only two guys locked into the rotation: Justin Steele and Jameson Taillon. Marcus Stroman is probably gone one way or another, Kyle Hendricks has a $16m team option, and Hayden Wesneski and Drew Smyly are complete wild cards at this point. A guy who can help solidify the rotation this year and beyond is extremely valuable for any team, especially these Cubs. 
There's a pretty close approximation as to what Civale might cost: the Jose Quintana blockbuster. The White Sox got two top 100 prospects at the time (Eloy Jiminez and Dylan Cease) as well as two smaller pieces in exchange for Quintana, who had 3.5 years left of control. While Quintana likely costs a little more due to the crosstown rivalry (and extra year of control and more established track record), the very seller-friendly market this year will also drive up Civale's price. 
Cleveland has been shopping for young positional talent for years, which is where they'd likely target the Cubs' system. PCA is probably off the board for a non-ace, but Triantos, Alcantara, and Caissie would all be in play. You'd also likely see the Cubs give up a few projectable guys in A-Ball or the Rookie League, though none feature in any Top 10 lists yet. 
It's also worth noting Hawkins' long tenure and familiarity with Cleveland - he was there when the Guardians drafted Civale. If anyone knows whether Civale is worth the price tag, it's him.